Philippines Cracks Down on Problem Gamblers in Wake of Casino Rampage
Posted on: June 16, 2017, 06:27h.
Last updated on: June 17, 2017, 12:10h.
Philippine gaming authorities had alerted all casinos in the country not to allow Jessie Javier Carlos on their properties, just two months before he embarked on a violent rampage that resulted in one of the largest mass murders in Philippines history.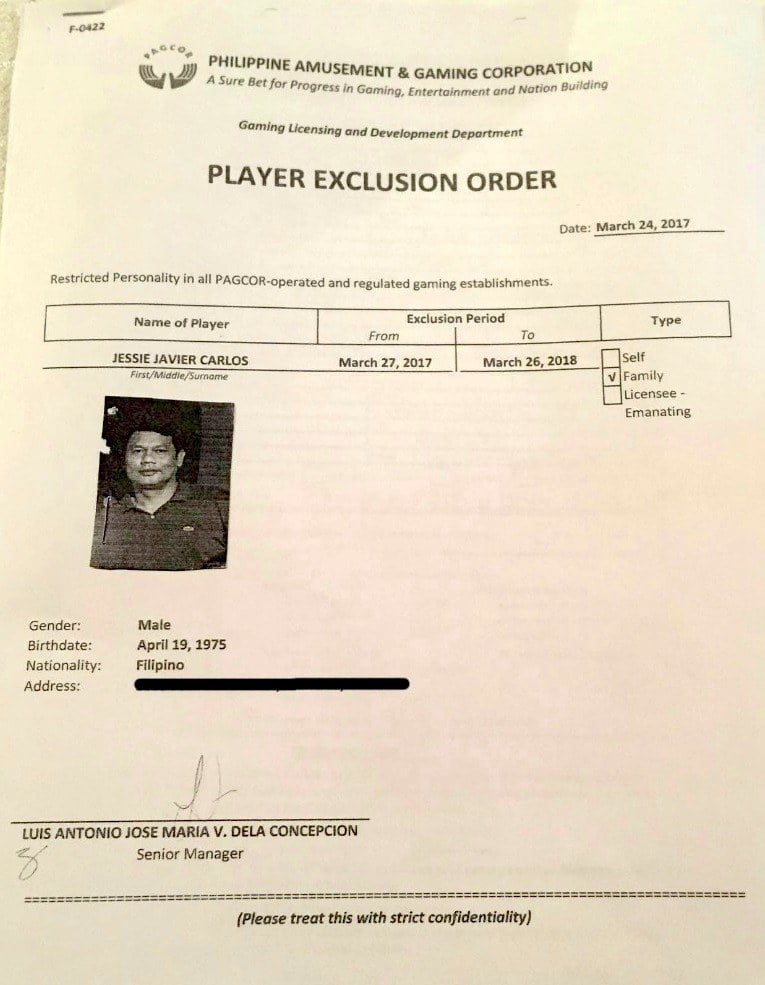 As government officials and police investigators try to understand why Carlos's presence at the Resorts World Manila casino in June didn't raise any red flags, the Philippine Amusement and Gaming Corporation (PAGCOR) declared its intention this week to vigorously enforce a ban on players who had been placed on a national registry of problem gamblers.
The campaign will consist of strict implementation of the country's player exclusion program, PAGCOR chairperson and CEO Andrea Domingo said at a press conference, in addition to increased offers of aid and counseling for people identified as having serious gambling problems.
One possibility Domingo is said to be considering would entail deploying "monitoring teams" to roam casino floors looking for players on PAGCOR's exclusion list.
Path to Exclusion
PAGCOR's list of excluded gamblers currently has more than 400 people on it. The number has been growing since the program started in 2013.
That year, six people were registered as gamblers who shouldn't be allowed on any properties run or regulated by the agency. Three years later, the list had grown to 290. For the first quarter of 2017, 74 new players were added, with Carlos among the new registrants.
"They asked us to ban them for 3 months, 6 months, 1 year, 5 years," Domingo said. "They are saying, 'I can't help myself, please don't allow us to come here,' and we do that."
According to Domingo, of the 406 gamblers on the list, about half have personally volunteered for self-exclusion, while the other half come primarily from family members, who can petition PAGCOR to ban their relative from all casinos in the country.
Carlos's family had asked PAGCOR to place him on the list because his gambling addiction had cost him his job at the Philippines Department of Finance and left him $81,000 in debt. PAGCOR complied with the request and put him on the list for one year, from March 27, 2017 to March 26, 2018.
Philippine casinos can also put people on the list who show signs of severe gambling addiction or are otherwise disruptive to casino operations.
Different Rules in US
Most US casinos have responsible gaming programs that include self-exclusion, where a customer can request being "banned" temporarily or permanently. This means their picture is distributed to cashier cages, as well as marketing and security departments, with instructions to not allow them to gamble.
However, there is no uniform database of these players shared across casino companies, as is the case in the Philippines, and family members cannot place a relative or anyone other than themselves on the list.
Similar Guides On This Topic
Latest Casino Stocks:
Retrieving stocks data...
Retrieving stocks data...
Retrieving stocks data...
Retrieving stocks data...
Retrieving stocks data...