Palms Unveils $1M Weekend Package for Three-Night Stay at Refurbished Las Vegas Casino Resort
Posted on: April 4, 2019, 12:57h.
Last updated on: April 4, 2019, 12:57h.
The Palms in Las Vegas is offering Sin City's wealthiest visitors a three-night weekend package that costs a cool $1 million.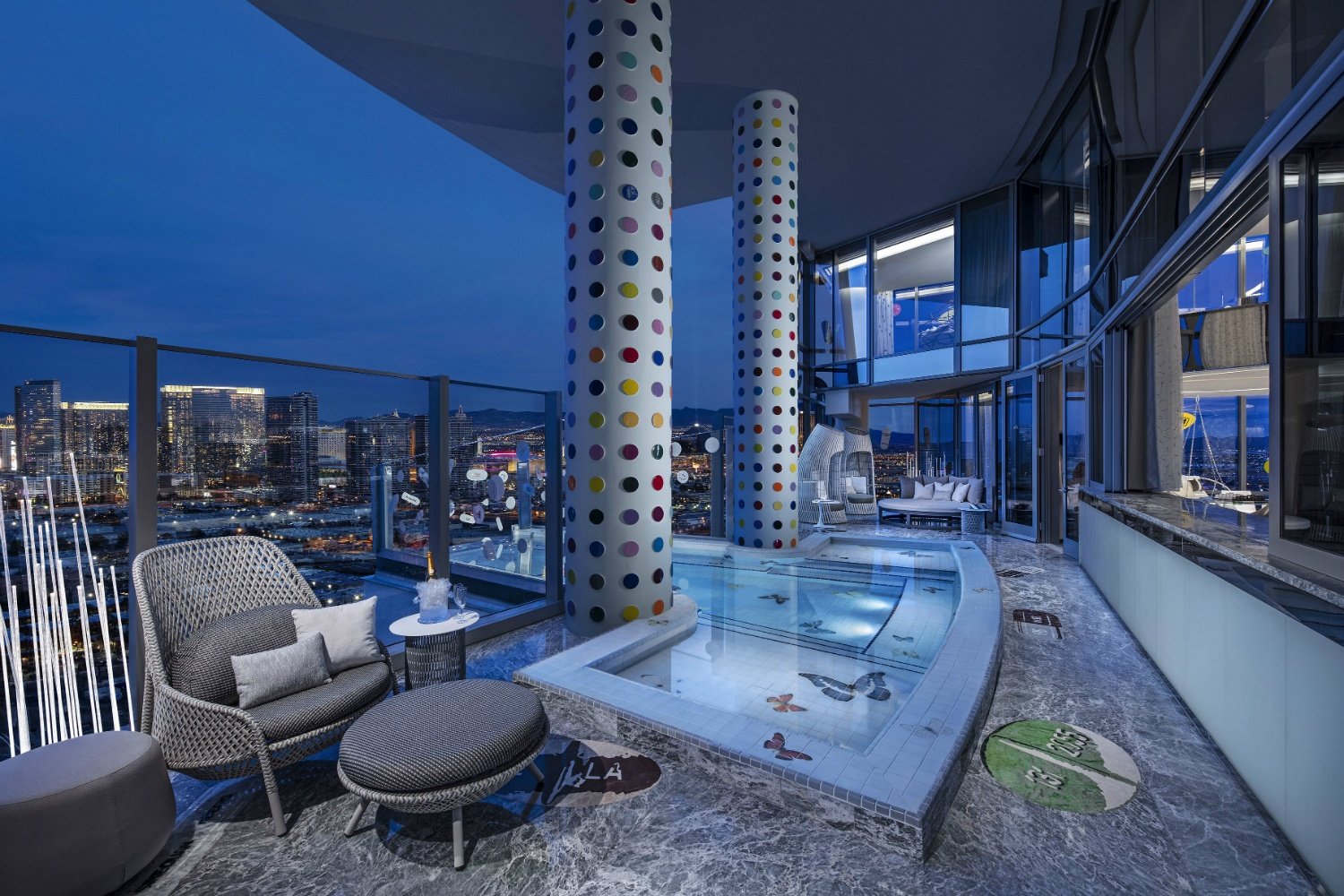 The off-Strip casino resort is undergoing a $690 million renovation by Station Casinos – the casino operator that purchased the property in 2016 for $312.5 million from the Maloof family. This weekend, the Palms' Kaos nightclub opens and the casino is hoping to lure in high rollers for the commencement.
The Las Vegas Sun says the Palms is offering a $1 million package that includes a three-night stay in the Empathy Suite – a 9,000-square-foot space redesigned by Damien Hirst that is regarded as Las Vegas' most expensive suite. Along with the three nights, guests who shell out the seven-figure rate will receive "white-glove" service and rare bottles of Dom Perignon and Ace of Spades champagne.
It wasn't revealed whether the $1,000,000 reservation is inclusive of the Palms' $39 per night resort fee, which the casino says is for in-room internet access, fitness center use, daily newspaper, and front-desk copies and faxes. $1 million for a 72-hour stay breaks down to $13,888 per hour.
Las Vegas Indulgences
The Palms is upping the ante when it comes to Sin City extravagances.
The Venetian recently unveiled a package called "Want the World" that runs at $450,000. The Strip casino bundle includes private airfare to McCarran International, ground transportation via Maybach, and four nights in the resort's 6,500-square-foot presidential suite.
For those who choose to spoil themselves," is how parent company Las Vegas Sands summarizes the experience.
As Casino.org detailed last month, Las Vegas is home to an abundance of ways to spend great deals of money for those who seemingly have excess amounts of cash. Options include a $5,000 Wagyu hamburger at Mandalay Bay, a "four hands" massage at Wynn's Encore for $600, and $250,000 to control the Bellagio's famed fountains (which also includes a 30-liter bottle of Ace of Spades bubbly).
Off-Strip Development
Located a mile west of the Strip across I-15, there has been much speculation as to why Station Casinos owners Frank III and Lorenzo Fertitta believe the Palms is worthy of more than $1 billion when all is said and done.
Last fall, Vital Vegas blogger Scott Roeben reported on rumors that the nearby Rio could be demolished to make way for an MLB ballpark.
"There's been a spike in investor interest in parcels around Rio. The speculation part: If an MLB ballpark plan is in the works, it's an 'Aha' moment for why Stations has invested so much in Palms when it can't possibly recoup the investment – unless they know something we don't," Roeben opined.
Caesars Entertainment, the parent company of the Rio, hasn't commented on the rumors. The casino will host the 50th World Series of Poker beginning late next month.
Palms is roughly a mile north of where the $1.8 billion Las Vegas NFL football stadium is being constructed. The Raiders are expected to begin playing there in 2020.
Similar Guides On This Topic