New Jersey Stakes Claim For Sports Betting At Appeal Hearing 
Posted on: March 19, 2015, 05:01h.
Last updated on: March 19, 2015, 06:15h.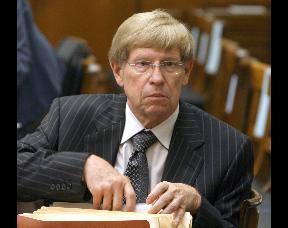 It's "advantage New Jersey," according to sports betting proponent Ray Lesniak. The senator uttered the words while standing on the steps of the US Third Circuit Court of Appeals in Pennsylvania in the aftermath of the Garden State's latest legal sparing match with the sports leagues.
The state is pushing to decriminalize sports betting at casinos and racetracks, a move that the sports leagues have contested.
This week's hearing sought to overturn a ruling of last October, in favor of the leagues, when a federal judge ordered an injunction temporarily banning the offering of sports betting at New Jersey casinos and racetracks, just days before the state's first sports book was due to open its doors, at Monmouth Park.
No Ruling till May or June
And while the appeal judges are not likely to issue a new ruling on the matter until May or June, Lesniak thinks New Jersey's attorneys have done enough to convince them this week.
"I think they'll say New Jersey can allow sports betting but not regulate it," he said.
Much of the debate hinged on the legal definition of the word "authorize." Rather than seeking to regulate, license and "authorize" sports betting, which would be prohibited by the Professional and Amateur Sports Protection Act, 1992 (PAPSA), New Jersey is attempting, essentially, to decriminalize the practice at certain venues by simply choosing not to enforce the prohibition.
"No law enforcement or prosecution agency or officer shall … make an arrest, file a complaint against, or prosecute any person involved in the operation of a sports pool by a casino or racetrack to the extent that such activity takes place consistent with this Law Enforcement Directive," declared New Jersey Acting Attorney General John Hoffman when stating New Jersey's official position towards the end of last year.
Orwellian Concept
The leagues argue that this is a tenuous stance and that New Jersey is implicitly regulating sports betting because it regulates the companies that will offer it. Paul Clement, representing the sports leagues, said that New Jersey is proposing to permit sports betting at "state-authorized venues for gambling," which, he believes, is contrary to the intention of PAPSA. "It's clear Congress didn't want sports betting at racetracks and casinos," he said.
Former U.S. Solicitor General Theodore Olsen, representing New Jersey in the case, said the state is simply adopting a "hands-off" and "agnostic" approach by not enforcing the ban.  It would be similar to the state deciding to stop preventing motorists from pumping their own gas, he said.
"If New Jersey decided to lift that prohibition in some communities, that's not authorization …It's an Orwellian concept that repeal in certain locations is somehow an authorization."
Judge Marjorie Rendell responded that it all depends on what the word "authorize" means. "To permit? To allow? We have to decide that," she said.