Nevada Casinos Could Ban Smoking in Near Future
Posted on: July 22, 2014, 05:30h.
Last updated on: July 22, 2014, 02:32h.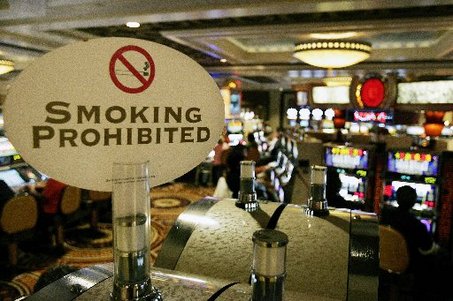 In the old days of gambling, the public image of the casino floor was one of smoke-filled tables and a cloudy haze throughout the halls. Over the years, that vision has largely changed: enter any major casino, and there are likely to be large swaths of smoke-free areas for patrons who would prefer a slightly more breathable gambling experience. Still, at least in Nevada, there has still been room for smokers and non-smokers alike.
But according to some analysts, that might be changing soon. Many states with casino gambling have already outlawed smoking in casinos, and Macau is already planning to implement a ban later this year. That and other signs have led Deutsche Bank gaming analyst Andrew Zarnett to predict that a smoking ban could come to Nevada in the next two years.
Zarnett cited a combination of the move by Macau, which could now be an industry trendsetter, as well as the continued study of the dangers of second-hand smoking as factors leading him to believe that such a ban could be coming sooner rather than later.
Smoking Ban Could Be Costly
But he also warned that such a ban could cost Nevada casinos a lot of money. He pointed out that other states have seen significant revenue declines after passing such laws in the past: Delaware's casino revenues fell 11.3 percent after a 2002 ban, while Illinois saw a 20.9 percent drop after their own 2007 ban. He predicted that Nevada could see perhaps a 7.5 percent decline if it were to do the same.
That might mean that such a ban wouldn't be complete, and would still give smokers an area where they could sneak in a few good puffs. In Macau, smoking would still be allowed in the high-end areas where VIP gamblers congregate, and there will be special smoking rooms with segregated ventilation systems. The latter is actually the solution now in place in Las Vegas' international airport, McCarran, where smokers sit inside large lucite-surrounded  free-standing "rooms" that are completely closed off from the main airport areas, where smoking is forbidden.
The Macau ban will go into effect on October 6, just after the Golden Week holiday ends. Any smoking areas that are built in casinos must account for less than half of the overall gaming area in each venue.
No Immediate Push for a Ban
According to officials in Nevada, there's no immediate push to ban smoking in casinos anywhere in the state, and there has been no public groundswell to do so. But even if it were to happen, it may not be the shock to the system that it sounds like it could be. In 2006, Nevada voters banned smoking in all public places other than casino floors. And some casino areas are already smoke-free, including many poker rooms and sports books. The entire World Series of Poker was played in a smoke-free environment this year.
And while those projections of major losses may be scary, not everyone agrees that smoking bans are directly related to casino profits.
"Bad weather, gas prices, market saturation, competition, casino debt, the recession that began in 2008 that severely affected all gaming revenues, including Vegas, are the other cards missing from this deck," said Stephanie Steinberg, chairwoman of Smoke-Free Gaming of America. "Smoking bans are not the cause of revenue declines, rather, it's poor business planning."
And even if the casinos aren't planning to put a ban into place right away, Steinberg agrees that it will come eventually.
"Casino smoking bans are everywhere and inevitable," she said. "Nevada is next and the gaming industry knows it."