Macau Casino Workers Want Better Pay
Posted on: August 12, 2014, 07:25h.
Last updated on: August 12, 2014, 07:30h.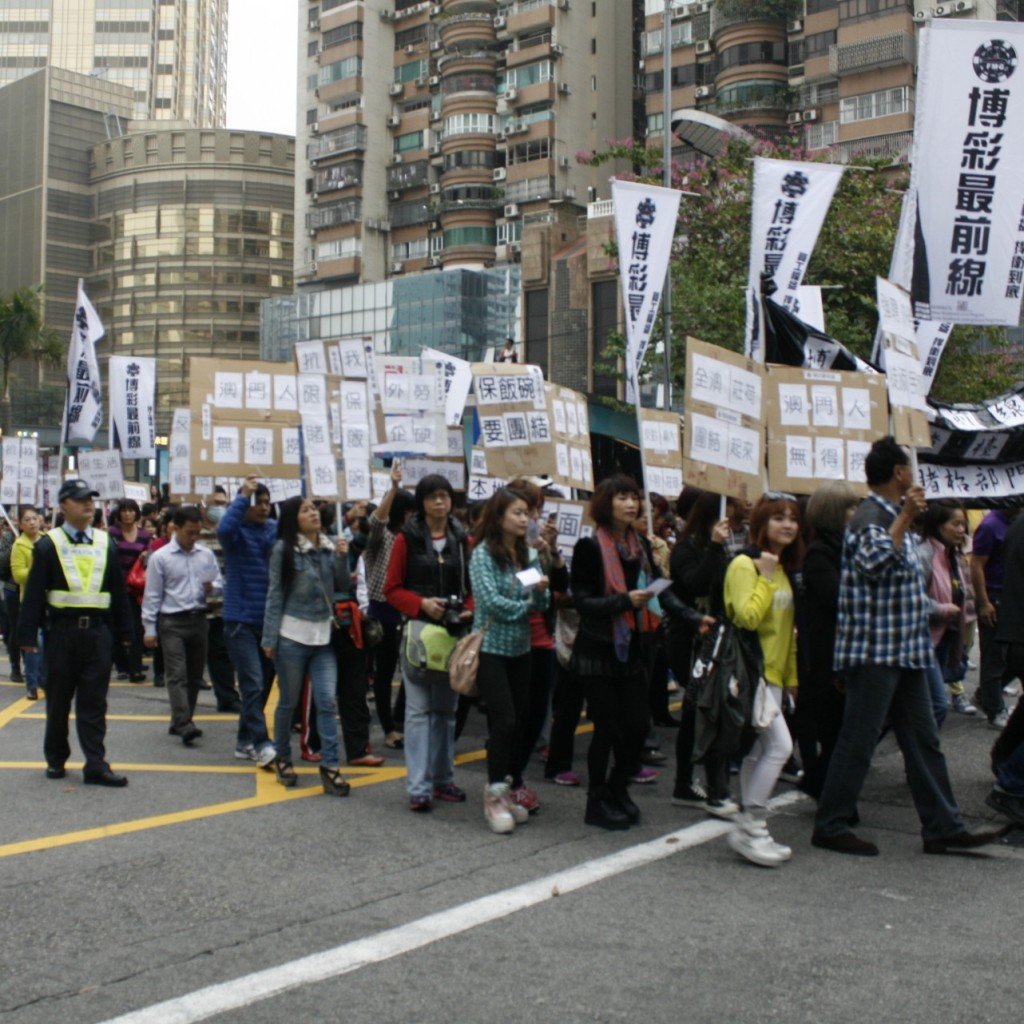 Macau casinos are taking in money hand over fist. Even though the rate of growth is slowly, revenues continue to rise in the Chinese gambling enclave, which takes in about seven times as much in casino winnings as Las Vegas each year. This suggests that there should be enough money to go around for everyone in the industry, but casino workers say that the wealth isn't finding its way into their pockets.
Employees at Galaxy Macau planned a protest last week at the resort in response to a local trade union's allegations that salaries at the resort were "disrespectful" to some workers. That follows protests a week earlier at the Venetian, which is owned by the Las Vegas Sands.
"For both Galaxy and Sands we are not ruling out a strike," said Ieong Man Teng, president of  a local labor group known as the Forefront of Macao Gaming. Local media reports have suggested that August 28, which is the Venetian's anniversary, could be a likely day for a strike.
Foreign Workers Barred From Many Jobs
In Macau, casino workers have a fair amount of leverage thanks to labor regulations that do not allow foreigners to work at casino tables. That has created an environment where locals enjoy an unemployment rate of just 1.7 percent, and in which casinos must offer competitive wages in order to retain their staff. That leverage is only expected to increase as more resorts open in the years to come.
"We think the bargaining power of casino employees will keep rising in the coming few years amid labor shortages and demand of labor for Cotai phase 2 over 2015-17," stated a Morgan Stanley report released in July. The report projected that by 2017 there will be a shortfall of nearly 14,000 local employees for the casino industry.
Yet despite these factors that work in favor of the labor force, Macau's workers are still underpaid when compared to their Las Vegas counterparts. A typical dealer will earn around 17,000-18,000 patacas ($2,130-$2,250) per month on average, which analysts say is only about half of what a similar job pays in Las Vegas.
Government Assures Workers
That has led to increased tensions between workers and the casinos. And with local government worried about further protests, officials have been busy talking with workers in an attempt to move forward on the issue. In late July, Secretary for Economy and Finance Francis Tam said in a statement that the government was focused on requests for higher salaries and promotions, and government officials held a closed-door meeting with workers and union representatives at the end of the month.
Last year, casino operators began suggesting that expanding the gambling industry in Macau would prove difficult under current labor laws, which resulted in a major protest and reassurances from the government that the ban on foreign workers will remain in place, at least in the near future. But those same casinos are also taking steps on their own to reward and attract skilled workers.
For instance, Wynn Resorts gave each of its employees 1,000 shares in the company as part of a bonus scheme, while Melco has offered scholarships to the children of their workers. Efforts such as these can be costly for operators: just last quarter, Wynn and the Las Vegas Sands Corp combined to report $50 million in unexpected labor costs in Macau.