Las Vegas Casinos, Police Working Together to Assess Security in Shooting Aftermath
Posted on: October 10, 2017, 03:00h.
Last updated on: October 10, 2017, 04:10h.
As Las Vegas tries to move forward after last week's massacre on the Strip, police are still investigating what happened while working with casino security operations to figure out what happens next. Changes to security tactics are inevitable, and determining best practices will rely on coordinated efforts between federal agencies, local law enforcement, and private casino security.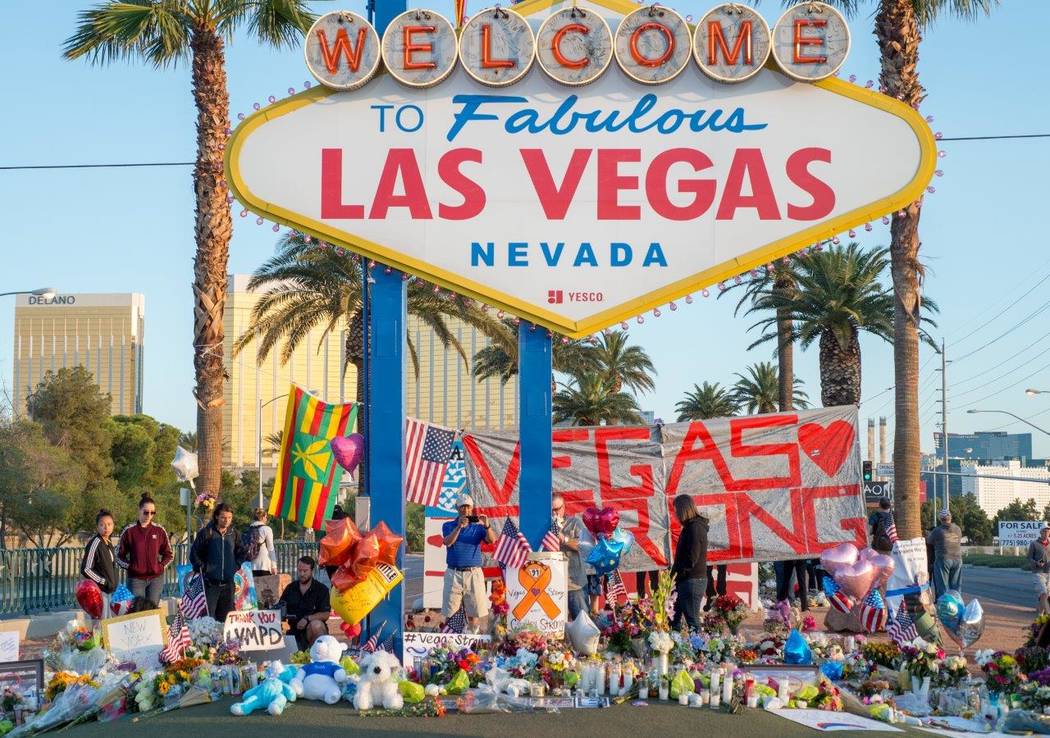 In the immediate aftermath of the Oct. 1 attack that killed 58 innocent concertgoers and injured nearly 500 more, Sheriff Joe Lombardo of the Las Vegas Metro Police Department championed systems already in place coordinating command between police, fire, and medical emergency services for saving a tremendous number of lives.
Steve Wynn echoed these sentiments on Fox News Sunday, explaining how casinos have been working with law enforcement for years, as it was essential due to the nature of the city as a tourist destination and because Las Vegas was clearly identified as a "soft target," a fear confirmed when Sin City started showing up in Islamic State videos calling for violence.
Las Vegas had already approved earlier this summer the expenditure of 700 traffic bollards to prevent vehicular assaults downtown and on the Strip, partially in response to mass attacks in Barcelona. They had been scheduled for installation in later this month.
Added Security 
The Las Vegas Sun ran a story Tuesday looking a little deeper into how police and casinos work together. In Nevada, each casino resort is responsible for securing its own property, and in Las Vegas, operators go to great lengths to protect their guests. But in light of the Mandalay Bay incident, the resort industry and law enforcement agencies are expected to make changes to how the Strip and surrounding area safeguards against future threats of mass casualty.
In 2009, the Las Vegas Convention and Visitors Authority (LVCVA) and the Metro Police established the Southern Nevada Counterterrorism Center. The office is staffed by Metro officers, along with federal agents from the FBI and Department of Homeland Security.
A full-time analyst works at the center, and sends a weekly email to security heads regarding threats. The terrorism expert also meets regularly with the Las Vegas Security Chiefs Association, a group of more than 7,000 members that includes nearly all of the Strip's major resorts.
"There is not a day goes by that anything which is remotely deemed as a security threat or concern is not robustly addressed by multiple parties at once," Wynn Resorts security chief John Choate told the Sun. "These aren't little tribal pieces in separate casinos. It's one system. We are Las Vegas, and the harm to one is harm to all."
As a city reliant on tourism, Las Vegas will be reassuring travelers in coming months that casinos in Southern Nevada are safe. To convey that message, more security personnel will likely be hired, and potentially seen.
Las Vegas security expert Lenny Davis told The New York Times recently that more armed security guards, both in uniform and plain clothes, are likely to be deployed around the city's busiest lobbies and casino floors. While many resort security guards are unarmed, Davis believes more will be trained to carry.
He maintains, however, that the primary role of a security guards is to protect guests, not become the first line of defense against an active shooter.
And while Las Vegas has successfully protected itself from such scenarios where a terrorist attacks from the ground, Las Vegas shooter Stephen Paddock slipped in under various radars of federal and local authorities, despite acquiring dozens of firearms and semiautomatics in the past year alone, while also routinely depositing and withdrawing tens of thousands of dollars at casino cages.
Paper Trails
But a player habitually gambling with tens of thousands of dollars isn't exactly out of the norm for a Strip cashier to see, and since he had no criminal record other than a routine citation several years ago, Paddock didn't raise any red flags.
CBS News and ABC News are both reporting that there were "numerous" suspicious activity reports (SARs) filed by casinos in regards to Paddock's financial activity. One of the responsibilities for the Counterterrorism Center specialist is to analyze and review such files from casinos.
But with more than 57,000 SARs filed by US casinos last year, even a few filings regarding Paddock, a multimillionaire free of any criminal record, might not have attracted much attention. Even if it did, SARs are filed for potential criminal activity, and Paddock's high volume of money movement could have been fully legal, and even unrelated to his deadly actions.
Similar Guides On This Topic