Jamaica Moves to Legalize Online Gambling, Consolidate Gaming Regulators
Posted on: June 19, 2017, 03:00h.
Last updated on: June 19, 2017, 02:56h.
Jamaica is ready to jump on board the online gambling train, with government ministers proposing fast-track legislation that would allow the government to collect taxes and charge licensing fees for interactive casinos operating in the country.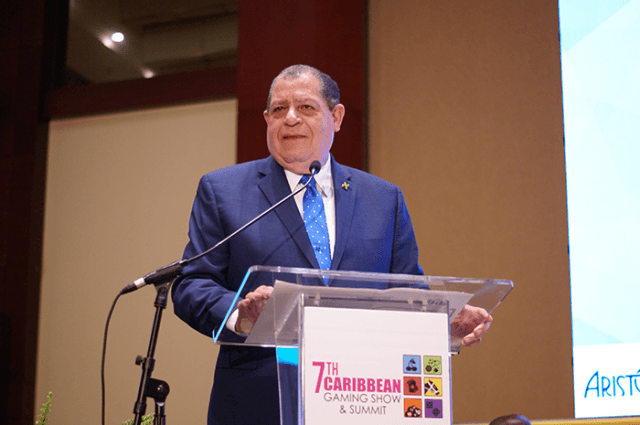 Speaking at the 7th Caribbean Gaming Show & Summit, held last week at the Montego Bay Convention Center, Audley Shaw, Jamaica's minister of finance and public service, said iGaming is a rapidly growing industry, and called for the island nation to regulate a currently illicit marketplace, and profit from it.
He explained why the government has decided to move forward aggressively with legislation to legalize online gambling.
"It will allow us to better position Jamaica to take advantage of the emerging product offerings that now characterize the global landscape, such as internet and mobile gaming, which includes virtual and fantasy betting," Shaw said at the conference, according to the Jamaica Information Service.

"It will also provide the authorities with the flexibility to guide and promote the continued growth of the sector," he said
According to Shaw, the iGaming legislation will call for the formation of the Jamaica Gaming Commission (JGC), which would oversee all betting on the island. The proposed umbrella regulatory agency would consolidate resources and oversight responsibilities of three current entities, the Betting, Gaming and Lotteries Commission, the Jamaica Racing Commission, and the Casino Gaming Commission.
Shaping New Casinos
Reporting from the conference didn't reveal any formally proposed tax rate or up-front licensing fees for online games. Previous efforts to shape gaming in Jamaica have prioritized relatively low taxes to help make casino resorts attractive to potential investors, and the low gaming tax was one incentive.
When Jamaica announced plans to allow integrated casino resorts in 2012, the bill came with the stipulation that gross gaming revenue would be taxed at 10 percent. That's considerably lower than elsewhere in the world, where tax rates of 15 to 30 percent have been tried.
Construction has begun on two land-based integrated casino resorts, Celebration Jamaica and Harmony Cove, but financial setbacks for both of them have slowed development, leaving the government short of initial anticipated revenues.
Shaw did say the government would have to determine what type of relationship a law authorizing iGaming in Jamaica would require between internet gaming operators and land-based licensed casino entities.
Virtual Gaming Opportunities
Jamaica amended its gaming law in 2014 to allow Caymanas Park, the country's sole parimutuel horse track and sportsbook, to take bets via text and mobile phone.
They also opened betting on syndicated races from US tracks that offer interstate wagering. These include Santa Anita Park in California, Philadelphia Park (Parx Racing), New York's Saratoga Race Course, and Belmont Park, home of the third and final leg of the Triple Crown.
These moves to embrace technological developments that make gambling easier has helped grow revenues at the Kingston-area track, to $77.5 million in 2016, a 12 percent jump year-over-year.
Similar Guides On This Topic