GVC's Bwin Deal Could be Under Threat as Shares Nosedive
Posted on: September 22, 2015, 04:11h.
Last updated on: September 22, 2015, 04:14h.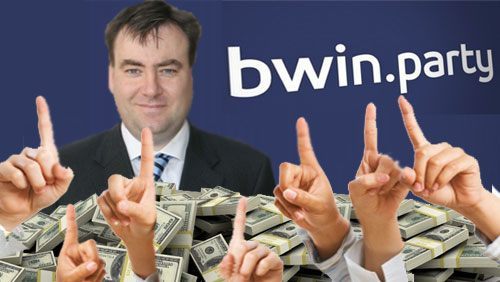 The bwin.party board may be starting to believe that it has backed the wrong horse.
The board's decision to choose GVC over 888 in the recent takeover bidding war seemed like a good idea at the time. GVC's bid was the highest, after all, and the promise of higher annual cost savings, coupled GVC's strong record of integrating acquisitions, apparently sealed the deal for bwin.
But GVC's nosediving share price since that decision was made, has reduced its offer to near parity with that of 888's. It may even throw the deal into doubt, according to the UK's Independent newspaper.
Because the accepted GVC offer was a cash and paper bid, much of it was to be funded by bwin shareholders receiving shares in the acquiring company instead of cash.
GVC's offer valued bwin at around £1.1 billion ($1.7 billion), or 130p per share while 888's rejected offer valued the company at around 115p to 116p per share. But GVC's weakened share price, today price, means that its offer is now also lying around the 116p mark. Meanwhile, 888's shares have remained steady.
Opinion Split
The battle for bwin.party was protracted, as two online gaming giants attempted to outmuscle one another with bid and counterbid. At one point, negotiations looked to be decided in favor of 888, but GVC's decision to ditch its backers, Amaya, and make an approved solo bid eventually convinced the major bwin shareholders. Or half of them, at least.
Bwin Chairman Philip Yea said that the board had polled company shareholders over the course of the week leading up to the decision to go with GVC and found their opinion to be evenly split between the two offers. However, the board itself preferred GVC and was able to convince a significant group of majority shareholders to follow its lead.
"On that basis, you cannot please all the shareholders and we hope that they will support us because it is in these circumstances that you need the board to show leadership," he said.
Dissenting Voices
But one major shareholder certainly had misgivings about GVC. Jason Ader, who owns around 5.2 percent of bwin told Bloomberg that there were a lot of "risks and uncertainties" surrounding the GVC bid and said the company would have to offer around 140p per share for him to sit up and take notice.
In terms of cost-saving synergies, he said he thought the projected figure from 888 was conservative and would be "at least double" the $78 million suggested. If Ader is right, then a merger with 888 could have yielded higher cost savings than the GVC deal.
Many also questioned whether it was wise for bwin to allow itself to be acquired by a much smaller company than itself in a deal that would likely result in the breaking up and selling off of its casino and poker operations.