Gunman Shot Dead at Station Casinos' Green Valley Ranch
Posted on: January 2, 2019, 06:06h.
Last updated on: January 2, 2019, 09:34h.
Security guards at the Green Valley Ranch Casino in Henderson, Nevada shot dead an armed man in the casino lobby at around 3:40 pm Tuesday.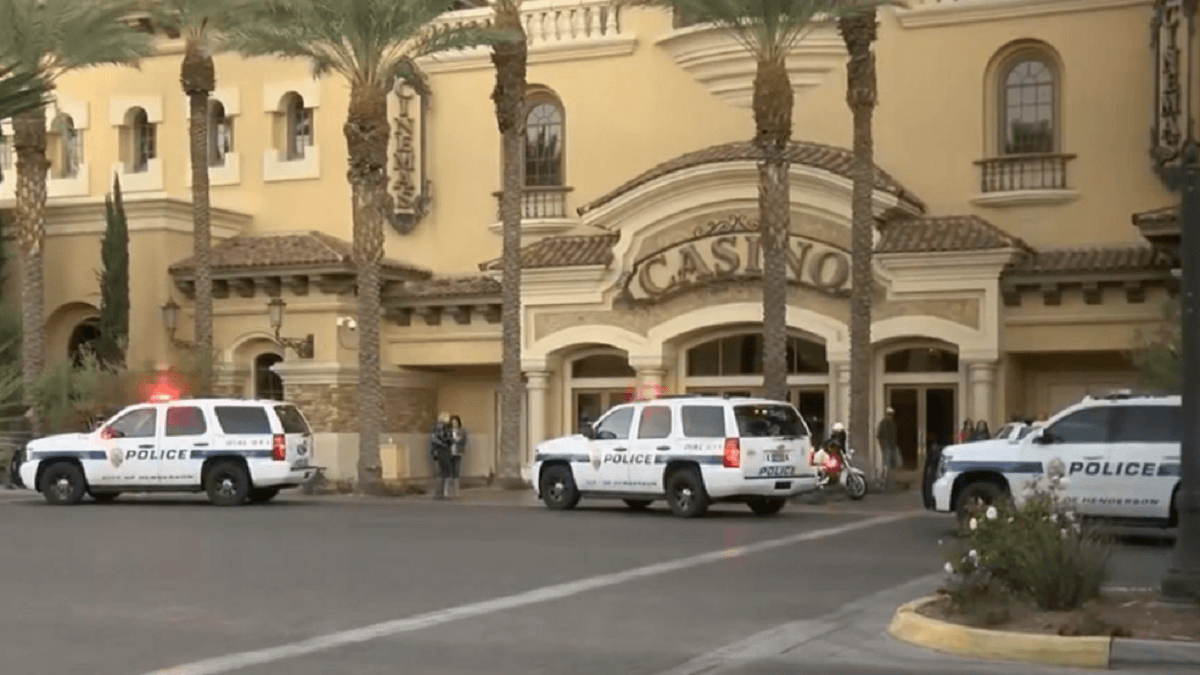 According to police reports, frightened casino patrons alerted security after seeing the man walking through the casino with a handgun. When confronted in the east tower lobby, the unnamed man drew his weapon and was fired on by two security guards.
Henderson Police Department Lt. Kirk Moore told the Las Vegas Review-Journal that he did not yet know if the man had returned fire or how many shots were fired, although News 3 Las Vegas reported that witnesses at the scene heard six gunshots.
Police said no one else was injured in the incident and the casino was not evacuated. Nevertheless, News 3 LV's Gabby Hart reported that officers sealed off exits after rushing fleeing patrons out of the casino.
Countering Threat
Casinos have been forced to beef up security in the wake of the Las Vegas shootings of October 1, 2017, when Stephen Paddock opened fire on a country music festival from his room on the 32nd floor of the Mandalay Bay Hotel & Casino, killing 58 people and injuring hundreds more.
Some Las Vegas operators — including MGM and Caesars — have since assembled armed civilian rapid-response units composed of highly trained former military and law enforcement officials to neutralize active-shooter threats before police arrive. It is not known whether Green Valley Ranch-owner Station Casinos has adopted a similar policy.
Experts have long warned that Nevada's casino sector is vulnerable to shooters, due to the vast footfall passing through Las Vegas, coupled with a famously welcoming open-door policy that does not lend itself to stringent, airport-style security checks.
Casinos Under Fire
But shootings inside casinos remain relatively rare. In July 2007, Stephen Zegrean entered the New York-New York Hotel & Casino on the Las Vegas Strip with a 9mm handgun and 249 rounds of ammunition hidden under his trench coat.
He fired 17 shots from a balcony onto the casino floor, injuring four people, before he was wrestled to the ground by a member of the public. Zegrean died in prison in 2010 of natural causes, aged 54.
In 2013, Benjamin Frazer ran amok with a handgun following an argument with door staff at Drai's nightclub, which was then housed at Bally's. Frazer shot and injured two security guards before killing a member of the public who tried to tackle him. Last year he was sentenced to 26 years to life.
The first instance of multiple murders inside a Nevada casino occurred in 2002 when a fight broke out between the rival Hells Angels and Mongols biker gangs at the Laughlin River Run. The casino-floor riot left three bikers dead, two from gunshots and one from a knife wound.
In 2015, a man turned a gun on himself while waiting in line for the Mother's Day buffet at M Resorts. John Noble, 53, was said to have a grudge against the casino.
Nevada is an open-carry state — meaning residents may carry visible firearms legally anywhere — although many casinos post "no gun" policies. Concealed weapons require a permit in the state, but it is easily obtained.
Similar Guides On This Topic
Latest Casino Stocks:
Retrieving stocks data...
Retrieving stocks data...
Retrieving stocks data...
Retrieving stocks data...
Retrieving stocks data...