Greyhound Trainer Cheat Imprisoned in Landmark UK Trial
Posted on: December 7, 2015, 02:57h.
Last updated on: December 9, 2015, 01:40h.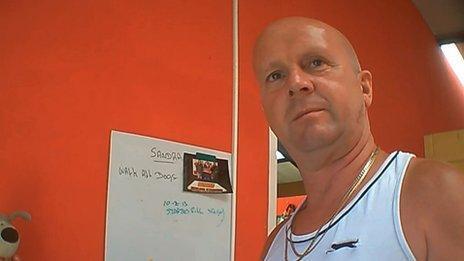 A greyhound trainer in the UK has been handed a prison sentence after he admitted on camera that he drugged his dogs in order to fix races.
Chris Mosdall, a trainer at the Wimbledon Stadium dog track in South West London was filmed by undercover journalists for the BBC's Panorama current affairs program boasting that he had been getting away with the scam for a decade, during which time he had pocketed £150,000 in winnings from rigged bets.
Mosdall told the Panorama investigation that he drugged dogs in his care with the antihistamine cyclyzine, despite being aware of the potential health dangers.
He explained that he would wait a couple of months before doping a dog for a second time so as not to "burn her kidneys out."
The case has prompted animal rights groups to call for stricter governmental controls over the greyhound racing industry, which is largely self-regulated.
"Biggest Crook in Wimbledon"
"If you get caught you're out the door, but you take your chance," Mosdall told the undercover reporters, who had approached him on the pretext of buying a dog from him and were fitted with concealed cameras. He later bragged about being the "biggest crook in Wimbledon."
The Panorama tapes formed the bulk of the evidence used to convict Mosdall, but subsequent doping tests came up positive on two of eight dogs tested by authorities.
The trial was significant because it is the first time that that a case had been brought by the UK Gambling Commission against someone suspected of cheating the betting markets. It's believed its success will pave the way for further prosecutions.
Strikes at the Heart of Gambling
"This case shows that under the 2005 Gambling Act, cheating is treated as a serious criminal offense which can attract a custodial sentence and punishment beyond any sanction applied by the Independent Disciplinary Committee of the GBGB," a Greyhound Board of Great Britain spokesman told the Racing Post.
Judge Peter Lodder QC sentenced Mosdall to four and a half months imprisonment.
"You knew all too well that [fixing races] strikes at the very heart of gambling," said Lodder. "Ordinary gamblers are entitled to assume they have a fair chance and to assume that betting markets are open and above board. Your behavior corrupts the process and significantly damages that trust."
By doping, or "stopping," his own dogs, Mosdall was able to get them priced at longer odds by bookmakers for future races, so he could back them when they were drug-free.
He could even get them regraded so that they would only be eligible for lesser races, greatly increasing their chances of winning.