Gambling Ship in Hot Water for Refusing to 'Outrun' Hurricane Irma
Posted on: September 28, 2017, 02:00h.
Last updated on: September 28, 2017, 12:30h.
US Coast Guard authorities are investigating why a casino cruise ship remained docked at Port Canaveral during Hurricane Irma, despite having been ordered to leave well before the storm hit the Florida coast.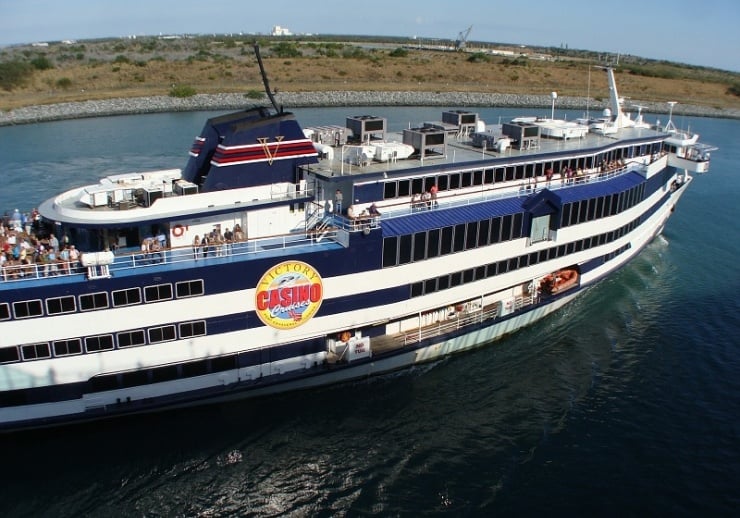 Port Canaveral Chief Executive Officer John Murray said that had Victory I, owned by Victory Cruises, broken free during the storm it could have "caused catastrophic damage."
"Neither the port nor the Coast Guard wanted that boat in port during Irma," Murray said, adding that all vessels had been ordered to either leave the area or be stored on dry land."
But the ship's captain, Tim Levensaler, is sticking by his decision to stay put. He says that the Victory is simply not fast enough to outrun a Hurricane and attempting to do so would have put his crew at risk.
"It's my prerogative not to risk my crew," he said. "There was no safe harbor to take it. I know what to do during a hurricane."
Cruise Continued After Order to Leave
But officials said that Victory I continued to operate a gambling cruise on September 7, after the order was given to leave the port and three days before the hurricane hit.
Levensaler claims he explained his position to Coast Guard officials and was given permission to remain at the port, something that Coast Guard Lt. Cmdr. Jason Kling denied this week.
The investigation is likely to take a month and will seek to determine if any violations have occurred and, if so, whether a penalty, likely a fine or a warning, is warranted.
It's not the first hurricane-related controversy linked to a casino cruise ship this year, although we do hope it will be the last.
For Better or Worse 
In August, the Jacks or Better floating casino, which takes gamblers from Galveston, Texas, out into the Gulf of Mexico where they can gamble legally, raised eyebrows by opting to continue its operations as Hurricane Harvey ravaged the state.
The operator posted on its Facebook page that it wanted to offer a level of "normalcy during a difficult time," which must have come as a huge comfort to the thousands of people whose homes were damaged or destroyed by the hurricane.
But then again, Jacks or Better's social media marketing strategy is notoriously "tone deaf." In April, just over a week after beginning its operations, the casino ship crashed into a jetty while returning from its evening voyage.
The casino's social media gurus subsequently asked its Facebook followers to vote on whether they should fire the captain.
Similar Guides On This Topic
Latest Casino Stocks:
Retrieving stocks data...
Retrieving stocks data...
Retrieving stocks data...
Retrieving stocks data...
Retrieving stocks data...