Galaxy Entertainment First Macau Gaming Operator to Accept WeChat Pay
Posted on: November 4, 2017, 02:00h.
Last updated on: November 4, 2017, 04:29h.
Galaxy Entertainment, one of just six licensed gaming operators in Macau, announced this week that it will soon begin accepting WeChat Pay mobile transactions at its three major properties, Galaxy Macau, StarWorld Macau, and Broadway Macau.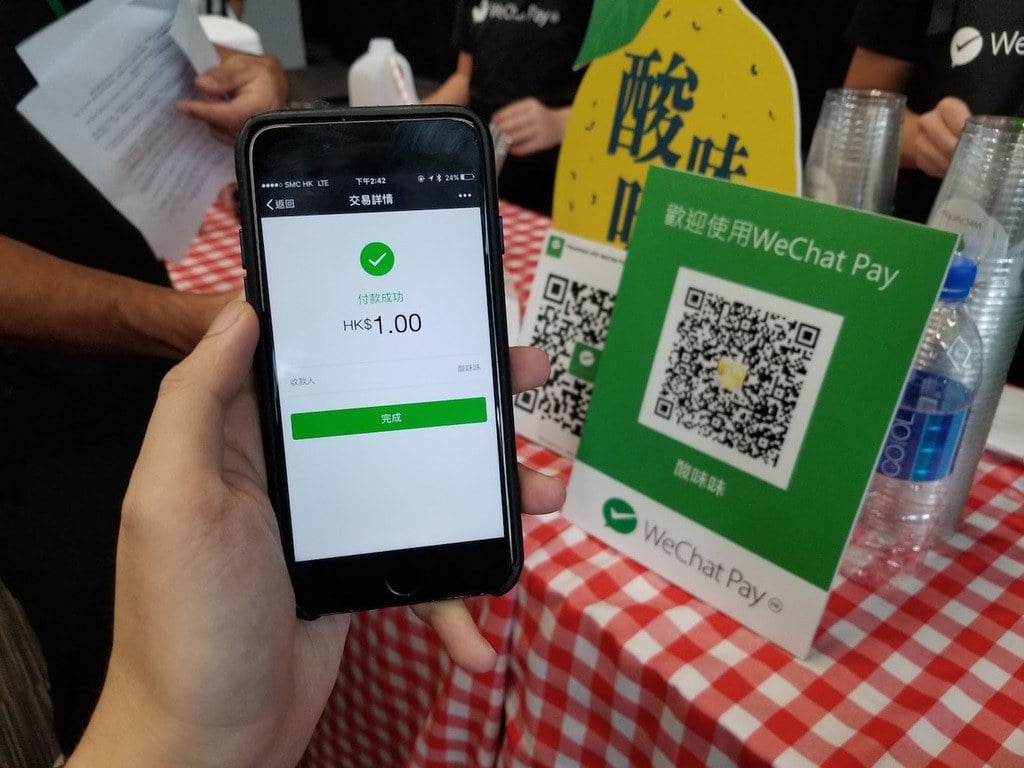 WeChat is a popular social media platform in China that has almost a billion monthly active users. Its Pay digital wallet component allows users to link the app to their bank account in order to pay bills, order goods and services, transfer money, and pay in stores by scanning merchant QR codes.
In addition to the yuan, WeChat Pay supports numerous currencies including the Hong Kong dollar, US dollar, Great Britain pound, and euro. Exchange rates are calculated through one of the Chinese government's commercially owned banks.
In a statement, Galaxy Entertainment said the inclusion of WeChat Pay "answers the needs of mainland Chinese visitors … who overwhelmingly prefer to pay with e-wallets."
What the company didn't reveal, however, is whether casino patrons will be able to purchase gaming chips and spin the slot machines through their mobile devices. That might hint that the service won't be immediately available on the gambling floors. Galaxy only confirmed that WeChat will be accepted "at a wide range of establishments" including hotels, food and beverage establishments, retail shops, and entertainment venues.
Galaxy Entertainmentwas founded in 1988 by Hong Kong billionaire Lui Che Woo. In addition to the three casino resorts, Galaxy also controls three CityClub casinos in Macau.
WeChat Controversy
Galaxy Entertainment welcoming WeChat use into its resorts might come as a surprise considering the recent gambling scandals involving the social platform.
Just last week, Macau's Judiciary Police arrested seven men for operating an illegal gambling operation that offered baccarat to remote players and took bets via WeChat Pay.
Even more startling was last April's sting that uncovered a betting ring that used WeChat to livestream video footage of an actual baccarat table inside a Macau casino. Bettors were given 70 seconds to place their bets, and online facilitators collected or paid out on the wagers after the results of each round were displayed. The allure was apparently that there were no betting limits.
Macau police also announced this week that a loansharking operation that facilitated money for gamblers through WeChat Pay had been disrupted.
Asian Appeal
The Asian gambler is a coveted demographic, as they often have a strong belief in luck, fortune, and fate. An anonymous Chinese gambler once said, "If you don't gamble, you don't know how lucky you are." The same, of course, can be said about how unlucky one might be.
Regardless, a substantial portion of Asians enjoy gambling. Behind only the United States, China loses the most money gambling each year of any country.
That's why over 7,000 miles away in Las Vegas, Caesars recently incorporated WeChat Pay at Caesars Palace, Paris Las Vegas, and LINQ Hotel & Casino. "We want to do this for our Chinese customers to make them feel at home," Caesars VP of International Marketing Bruce Bommarito said last summer.
WeChat Pay users at the three resorts can purchase food through the app, as well as concert tickets and retail items. However, gambling through the app isn't available.
Similar Guides On This Topic
Latest Casino Stocks:
Retrieving stocks data...
Retrieving stocks data...
Retrieving stocks data...
Retrieving stocks data...
Retrieving stocks data...