Former Secretary of Defense Donald Rumsfeld Enters Online Gaming With "Churchill Solitaire" App
Posted on: January 31, 2016, 03:34h.
Last updated on: January 29, 2016, 03:37h.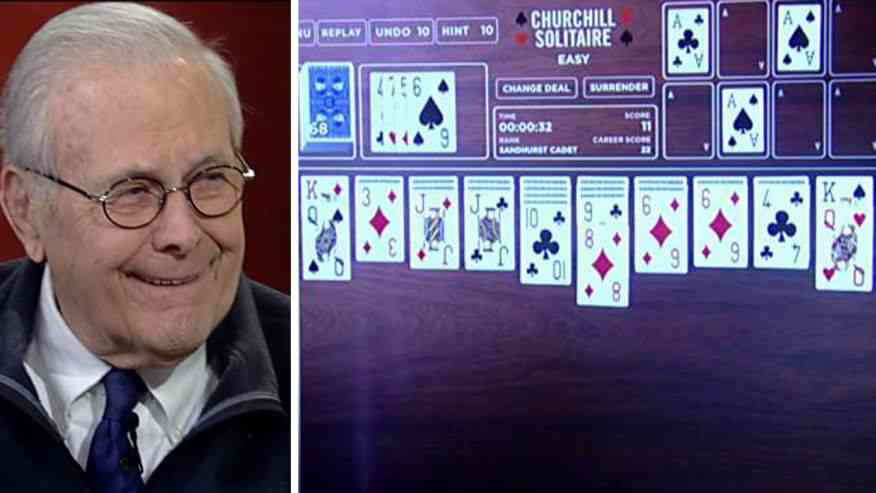 At 83 years old, Donald Rumsfeld can't believe the world in which he's living. Vermont Senator Bernie Sanders is leading the Democrat primary race in Iowa and New Hampshire, and Donald Trump is the Republican favorite to become the next commander-in-chief.
"If I told you 20 years ago that in 2016 Donald Trump was going to be the frontrunner in the Republican side of a presidential campaign, what would you have thought?" Matt Lauer asked the former two-time Secretary of Defense on Monday.
"It was out of the question," Rumsfeld responded. "It's just amazing, this election year is so different."
To exacerbate the inconceivable political present-day climate, Rumsfeld, one of the most notable defense secretaries in US history, who oversaw the response to 9/11, is now focusing his attention on mobile gaming through a new app called "Churchill Solitaire."
"One of the best ways to stay young is to keep learning," Rumsfeld said on his app's Medium.com blog. "That's one of the reasons I've spent the better part of the past two years trying my hand at developing a mobile app."
Aptitude Required
Winston Churchill was one of the great 20th century leaders of the United Kingdom. Known for a penchant for many things, including a cigar and bottle of Scotch, Churchill passed what little free time he possessed by playing cards.
"The Churchill version, like the man himself, is far more demanding and complex [than traditional solitaire]," Rumsfeld declared. "Churchill Solitaire" uses two decks of cards instead of just one, and the traditional seven rows have been replaced with 10.
Rumsfeld estimates that only a dozen or so people around the world knew about Churchill's version of the classic card game before this week's release.
Churchill protégé André de Staercke taught the game to Rumsfeld in 1973, and the retired military leader continued playing the esoteric game throughout the decades.  
Noble Cause
"Churchill Solitaire" is free to download, but like so many others apps, comes with in-app purchases. The game features various battles the player must beat by winning at solitaire as they try to work their way up to the title of Prime Minister.
The free version comes with three trial runs. After that, users will need to purchase 25 game packages for $0.99 or an unlimited bundle for $4.99.
Rumsfeld has been on a media tour promoting the app, and says all of the proceeds will be directed to wounded military veterans and their families.
This probably means a portion of the profits, not the gross revenues.  A "portion of game proceeds" is how the app puts it.
But Will Seniors Play?
Rumsfeld could be tapping into a rather unreached demographic with the unique solitaire game. Older Americans and senior citizens play traditional card games at much higher rates than younger ones, who were weaned on video games and more interactive entertainment.
Gin rummy, bridge, and solitaire are all games that help keep the mind sharp and remain popular. Combining the historical figure of Churchill with the notoriety of Rumsfeld could bring a new segment of Americans to the online gaming world.