Endeavor Combining UFC, Wrestling in $9.3 Billion Bid for WWE
Posted on: April 3, 2023, 02:25h.
Last updated on: April 7, 2023, 04:59h.
Endeavor Group Holdings, Inc. (NYSE: EDR), the parent company of the Ultimate Fighting Championship (UFC), announced Monday it offered $9.3 billion for World Wrestling Entertainment (NYSE: WWE) in a transaction that would create a combat sports and sports entertainment Goliath.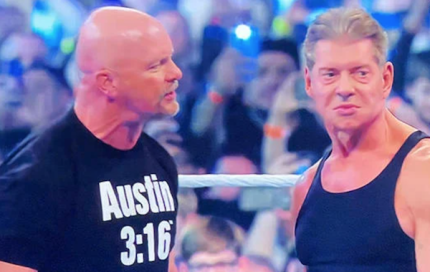 The suitor, which also owns IMG Arena and operates the Professional Bull Riders (PBR) and Euroleague, will control 51% of the new company while WWE investors will own the rest. Plans are in place to change the stock ticker of the newly formed company to "TKO," paying homage to the term "technical knockout."
Ari Emanuel will remain as CEO of the new company while Dana White will stay as head of UFC. Nick Khan will serve as president of WWE. WWE Executive Chairman Vince McMahon will also have a leadership role at the new firm, according to a statement.
This is a rare opportunity to create a global live sports and entertainment pureplay built for where the industry is headed," said Emanuel in the press release. "For decades, Vince and his team have demonstrated an incredible track record of innovation and shareholder value creation, and we are confident that Endeavor can deliver significant additional value for shareholders by bringing UFC and WWE together."
The deal, which is estimated to generate $50 million to $100 million in annual cost savings, is scheduled to close in the second half of this year.
Betting Angles in Endeavor, WWE Marriage
Beyond UFC's rising popularity with bettors, there are some gaming implications in Endeavor's bid for the prominent wrestling organization.
For example, the suitor's IMG Arena unit provides data to sportsbook operators. Last year, Endeavor bolstered that business with the acquisition of the OpenBet sports wagering unit from the company then known as Scientific Games. OpenBet clients include DraftKings, FanDuel, William Hill, and WynnBet, among others.
Additionally, there's been recent speculation that WWE approached Colorado, Indiana, and Michigan about allowing wagering on its scripted matches. Gaming regulators in those states later said they either hadn't been in contact with WWE or that they have no interest in approving betting on events in which the outcome is predetermined.
"The transaction represents a contribution price of WWE of approximately $106 per share (before any post-closing dividend). Additionally, UFC and WWE will each contribute cash to the new company so that it holds approximately $150 million. At closing, Endeavor intends to sweep all excess cash at UFC, and shareholders of the new company (other than Endeavor) are expected to receive a post-closing dividend," according to the statement.
Other Endeavor, WWE Rumors
Among industry observers, there's some speculation that Endeavor's WWE acquisition is modeled after the buyer's acquisition of UFC, which was completed in 2021. That transaction allowed Dana White to cash out while still maintaining day-to-day operational control. It appears the same will be true of Vince McMahon as he will have a leadership role at the new company.
There's also chatter that Endeavor could eventually move to spin off UFC and WWE into a separate publicly traded entity to unlock value for shareholders.
Plausible as such a transaction might be, there's no mention of it in the statement revealing Endeavor's takeover of WWE.