Downtown Las Vegas Prepares for Casino Worker Strike
Posted on: March 31, 2014, 05:30h.
Last updated on: March 31, 2014, 04:20h.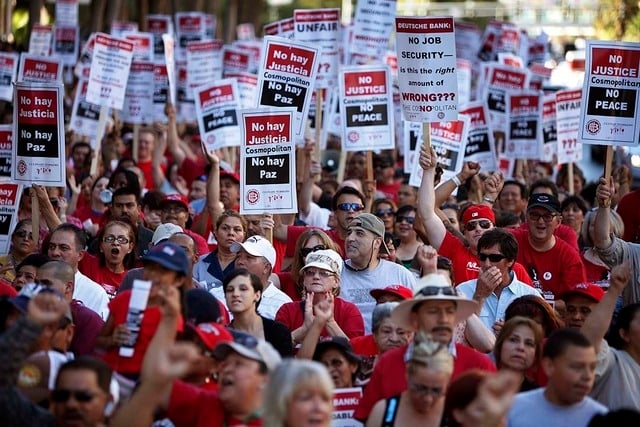 The last time unions representing Las Vegas casino workers opted for major industrial action, it resulted in members of five unions picketing the now-defunct Frontier Casino for six years.
Now, 20 years since the end of that particular stand-off, members of Culinary Union Local 226 – Nevada's biggest union – have voted to authorize a strike at 10 downtown casinos. The action will also include the Margaritaville restaurant on the Strip and Brady Laundries, a linen service-provider for casinos.
Majority Say Yes to Strike
Local 266, which represents around 5,000 cooks, cleaners, bartenders, cocktail waitresses, porters, and others across all the properties, said that 99 percent of workers who voted did so in favor of the action.
The downtown properties affected by strike action will be the Golden Nugget, Four Queens, Binion's, El Cortez, Fremont, Golden Gate, Las Vegas Club, Las Vegas Plaza, Main Street Station, and The D. Many of these are independent properties, which means that union representatives must negotiate with each separately.
The vote follows 18 months of deliberations between the union and the casinos on issues such as health benefits, better wages, and a guaranteed work week. An agreement was reached last week with the LVH casino, while MGM Resorts International and Caesars Entertainment Corp. – both of which have numerous Strip entities – settled earlier in the year, as did some independent casinos like the Stratosphere, Riviera, Tropicana, and Treasure Island.
These deals contain stipulations regarding the preservation of health benefits and add measures to protect housekeepers from dangerous working conditions, as well protecting restaurant workers who were laid off during the recession.
Obamacare At Issue
Obamacare has been a major sticking point in all this. The union feels that rising healthcare costs due to the (apparently not very) Affordable Care Act could put worker's traditional benefits in jeopardy, which include free healthcare coverage for workers.
"The biggest hurdle to reaching settlements in Vegas is the new costs imposed on our health plan by Obamacare," said the president of Local 226's parent union Unite Here, Donald Taylor. "Even though the President and Congress promised we could keep our health plan, the reality is, unless the law is fixed, that won't be true."
Barbara Chambers was one union member who voted for the strike. A status board operator at the Fremont for the past 35 years, she told media sources this week that she wanted to show her employers that "the Fremont wouldn't be the Fremont if it wasn't for the back-of-the-house workers.
"I'd strike for as long as I have to," Chambers said.
In 2013, workers agreed to increase their union subscriptions by $25 per month in preparation for a possible strike. Under that deal, each member will receive that money back in return for at least four hours of picketing, and it seems that many are raring to go.
Margaritaville prep cook Chad Neanover told media: "I'd strike for as long as I have to strike," explaining that without his benefits he'd struggle to support his two kids and to pay for his wife's diabetes medication.
Union Local 226 has yet to say when the action will start. However, it seems that, as well as negotiating the occasional light and sound show as they stroll down Fremont Street, tourists to "Glitter Gulch" may soon have to step over the odd picket line or two.