Detroit Casino Revenues Continue to Fall
Posted on: April 26, 2014, 05:30h.
Last updated on: April 23, 2014, 04:04h.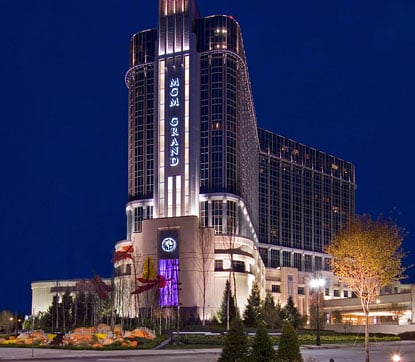 Detroit's financial issues have been covered extensively over the past year. As a result of the city's bankruptcy, it has also become common knowledge that the city is relying heavily on the revenues from Detroit's three casinos to help keep it afloat. Unfortunately, it seems like even those reliable revenue streams have been slipping in recent months.
According to the latest numbers from the Michigan Gaming Control Board, the three Detroit casinos saw their revenues fall 7.3 percent year-over-year in March. Combined, the three venues – MGM Grand, Motor City and Greektown – brought in about $125 million.
The MGM Grand was the leader with $50.8 million in revenue, though that was down 6.6 percent compared to March 2013. The Greektown saw the sharpest drop of the three casinos, with monthly revenues falling 10 percent to $31.2 million.
Tax Dollars Crucial for City
For the city, those reduced revenues also mean less in the way of vital tax dollars. Detroit collected $10.1 million in tax revenue from the casinos in March, down from $10.9 million a year earlier.
That continues a trend that has been ongoing for the last two years. In 2012, Detroit collected $114.8 million in tax revenue for the year. That fell to $109.3 million last year, and could fall even further throughout 2014.
Several Reasons for Drop Proposed
The timing of the drop might be traced to increased competition in the region. For instance, revenues are clearly down since the Hollywood Casino Toledo opened in 2012. Compared to the first quarter of 2012 – the last full quarter before Hollywood started doing business – Detroit's casino revenues were down 12 percent in 2014's first three months.
That's just one of several Ohio casinos that were approved by voters in that state in 2009. In total, four new casinos and two new racetracks have been opened in Ohio over the past two years.
But other factors may also be in play, as casino revenue has been down around the entire region, including in Ohio and Indiana. Along with a potential saturation of the casino market, the terrible weather that area residents suffered through was also cited as a possible cause. Some have also pointed to changes in player behavior, saying that casual players simply aren't spending money at casinos at the moment.
"I do think more than anything else it's the pressure they're feeling on their own budget that's affecting their spending with us and others in this industry," said Penn National Gaming CEO Tim Wilmott during a February media conference call.
Casino Revenues Critical to Bankruptcy Deal
After income taxes and aid from the state, casino wagering taxes are Detroit's next largest source of revenue, accounting for about 16 percent of the city's income.
That helps explain why casino revenues were such a contentious issue when the city filed for bankruptcy protection last year. Detroit had used the casino tax revenue as collateral in 2009 to avoid defaulting on the city's pension debts. But when that deal went sour and a settlement with the banks proved hard to come by, it appeared as though those casino revenues could potentially go to those institutions rather than the city – which could have caused an immediate budget collapse.
But last week, a federal bankruptcy court agreed to a deal that would see Detroit pay $85 million to UBS and Bank of America in monthly installments of $4.2 million, thus ensuring that Detroit could restructure its debt and continue to collect casino revenue.