Deadwood Brings Roulette, Craps, and Keno to Historic Gold Rush Town
Posted on: July 19, 2015, 11:52h.
Last updated on: July 18, 2015, 07:05h.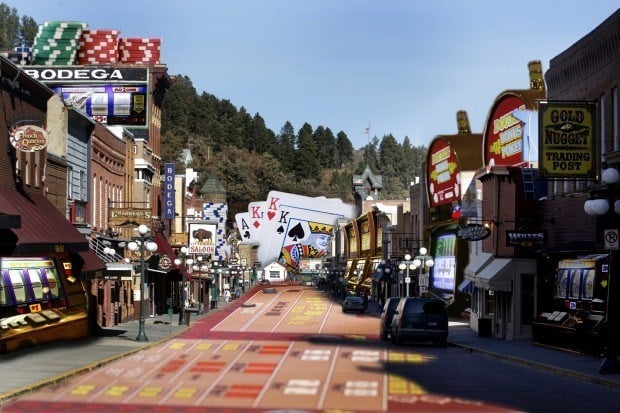 Deadwood, South Dakota, is less than four square miles in size, but with 24 gambling venues the town has more casinos than that of most states.
The historic settlement played an important role in the expansion of the American west, as miners and gold rushers journeyed into the Dakota Black Hills in search of treasure during the late 1800s.
The storied history of Deadwood is a fascinating read, but its recent history isn't much to write about.
The bustling town of the 19th century is no more, home to less than 1,300 residents in 2015.
Its economy that heavily relies on tourism is struggling to attract visitors, however that could change thanks to a new resolution put into place July 1st that now permits Deadwood casinos to offer roulette, craps and keno.
Only poker, blackjack, and slots were previously allowed.
"It's going to change the image of Deadwood," Mike Rodman, executive director of the Deadwood Gaming Association said. "Deadwood now is really a full-fledged gaming destination."
Boom to Bust, Bust to Boom
The once-lawless mining town didn't officially legalize gambling until 1989. That provided a spark in tourism that led to an economic boom.
Tax proceeds from gambling revenues were allotted to the preservation of historic buildings, with the Adams Museum & House, the former home of W.E. Adams being restored in 2000.
When HBO launched "Deadwood" in 2004, a television series that would go on to receive critical acclaim and run for three years, viewers flocked to the remote South Dakota location for a first-hand trip into the past.
Life was good, until it wasn't.
The Adams Museum & House went all-in on their growing income, setting out to create the Homestake Adams Research and Cultural Center (HARCC), a public housing of Black Hills archival materials from its most legendary events and citizens.
The museum sought to raise $3.6 million, with the city guaranteeing $1.5 million paid by the Historic Preservation Fund.
Then in 2006, "Deadwood" was canceled by HBO, and soon after the swarm of fans soon migrated elsewhere. Two years later, the nation as a whole suffered an economic collapse, and Deadwood was hit hard and left nearly, well, dead.
Today the downtown hotels, bed and breakfasts, cabins, restaurants, and casinos remain committed to revitalizing Deadwood, but they understand that is a challenge considering its remoteness.
The closest commercial airport is an hours drive away in Rapid City, and a regional airport at that.
Gambling on Gambling
Unfortunately for Deadwood, it doesn't have the fortune of being located near large metropolises of people or international airports, but it is located just minutes off Interstate 90, the longest highway in America that stretches from Boston to Seattle.
More importantly, it has history from Civil War Calvary commander George Custer to western legend Wild Bill Hickok, frontierswoman Calamity Jane, and Dr. Valentine McGillycuddy, physician to famed war leader Crazy Horse.
For gamblers, the so-called "Dead Man's Hand" took place in downtown Deadwood, the aces and eights two-pair hand famously held by Hickok when he was shot from behind in the head.
It seems only right that Deadwood should offer not only poker and blackjack, but also roulette and craps, as all four were played back in the 1800s. The additions are expected to bring $2 million in additional gaming revenue to the small town.
"It'll make a difference in Deadwood, "David Schneiter, general manager of Cadillac Jack's Gaming Resort said. "We've got everything."