California Board Gives Santa Anita Green Light to Continue Horse Racing as Other Tracks Join Push for Reforms
Posted on: April 19, 2019, 06:54h.
Last updated on: April 19, 2019, 07:04h.
The California Horse Racing Board took no action against Santa Anita during its monthly meeting Thursday. As a result, the Arcadia track will continue hosting races for the duration of its meet.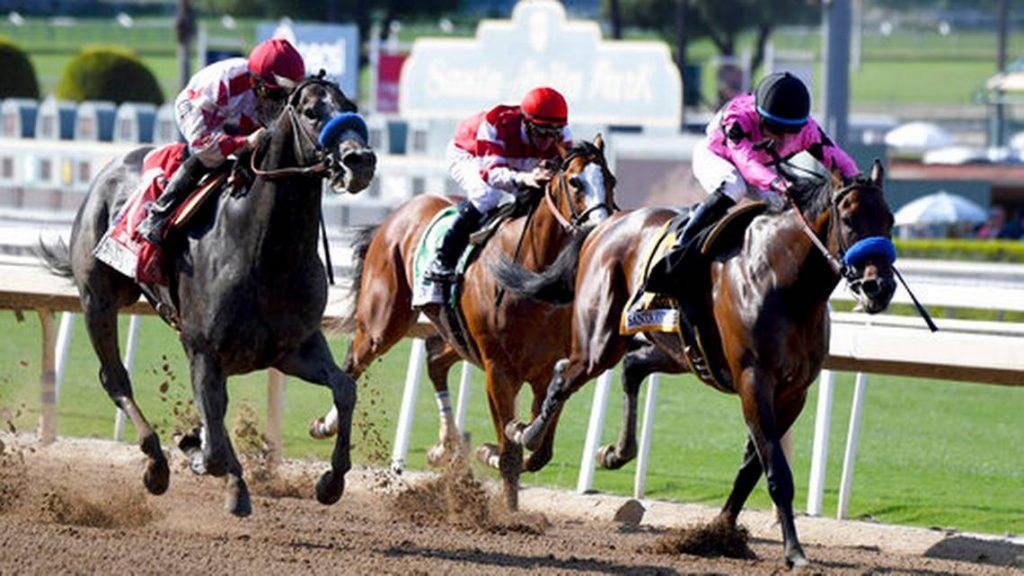 The Board scheduled time to give its members a chance to discuss the issue, which came about because 23 horses have died at the track since late December. Santa Anita officials shut down the track for most of March to examine the track surface but resumed racing on March 29.
Only CHRB Chairman Chuck Winner spoke as no board member offered a motion to reduce or suspend racing at the Southern California track.
Racing since Santa Anita has reopened has been really good," he said. "There have been no accidents. Personally, I see no reason to move the race dates."
In actuality, a gelding did die after sustaining injuries in a stakes race two days after racing resumed. However, most incidents in question took place in January and February.
The board, though, did hear from several speakers who lashed out against the sport, which they claimed promoted animal cruelty.
"We urge you to permanently close the Santa Anita Park and end the devastation and grief that Californians can no longer stand," said Rene Rowland, executive director of PawPAC, a state political action committee dedicated to animal rights issues.
Financial Impact
According to data from Horse Racing Nation, Santa Anita's temporary closure did impact the nationwide handle for March. Bettors wagered $935.9 million on races last month, a 2.7 percent decline from March 2018.
Santa Anita's drop was much steeper. In March 2018, patrons wagered $135.1 million on Santa Anita races. Last month, with 107 fewer races held, the handle reached only $50 million.
Since racing resumed, Santa Anita has seen a drop in both on-track attendance and wagering. TIn the nine days since resuming racing, attendance is down nearly 16 percent to  93,814. The on-track handle of $1.1 million represents a 10 percent decrease.
The equine deaths prompted organizations like The Humane Society of the United States and elected leaders, including U.S. Sen. Dianne Feinstein (D-California), to call for a suspension of racing until the completion of the investigations into each fatality.
U.S. Rep. Andy Barr (R-Kentucky) disagreed with that stance. The co-chair of the Congressional Horse Caucus visited Santa Anita two weeks ago. He met with officials The Stronach Group, which owns the track, and key horsemen to learn about changes underway at Santa Anita.
"If they didn't think that remedial measures had been taken, they wouldn't be running their horses out there," Barr told Casino.org last week.
Both Barr and U.S. Rep. Paul Tonko (D-New York), the other co-chair of the caucus, sponsor the Horseracing Integrity Act. The bill calls for all racing states to adopt the same drug and safety measures that would align the U.S. industry with international standards.
Coalition Advocates for Reforms
During Santa Anita's closure, TSG announced it would make wholesale changes to its drug and safety regulations. That included pushing for restrictions on the use of a riding crop and calling for a ban on race day medications.
On Thursday, several major tracks and other horse racing organizations across the United States announced an agreement that would eliminate the use of Lasix beginning in 2021. Those policies are included in the Horseracing Integrity Act.
"This is a huge moment that signals a collective move to evolve this legacy sport," said Belinda Stronach, chairwoman and president of The Stronach Group. "While there is still more work to be done, these reforms are a good start. This industry coalition has taken an important step forward toward a uniform policy, and we are committed to focusing our attention and resources on how to make further improvements that directly prioritize equine health and safety."
Besides TSG, other companies and tracks joining the effort include Churchill Downs Incorporated, the New York Racing Association and such other tracks as Oaklawn Racing Casino Resort, Del Mar, and Keeneland. The participating tracks represent 86 percent of the graded or listed stakes races in the country. The Breeders' Cup Limited, the Thoroughbred Owners and Breeders' Association and the Kentucky Thoroughbred Association also announced their support.
In a statement, officials from those companies and tracks said they would work with their respective state commissions to codify the proposed regulations.