American Gaming Association Ups Ante to Repeal Sports Betting Ban
Posted on: June 13, 2017, 12:00h.
Last updated on: June 13, 2017, 09:24h.
The American Gaming Association (AGA) is leading the lobbying effort in Washington, DC, to repeal the federal ban on sports betting.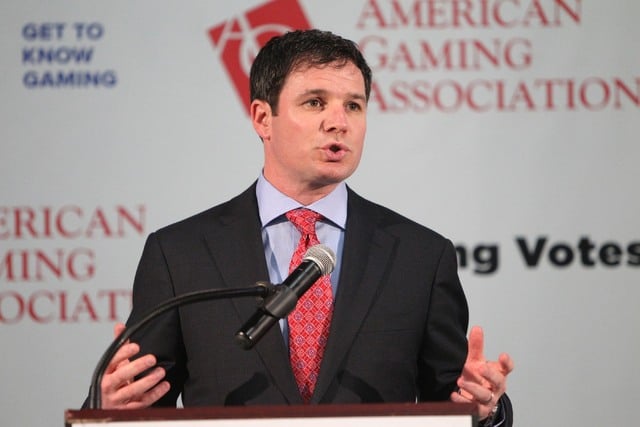 It continued those endeavors this week by sitting down with the players' associations representing the Big Four professional sports leagues, the NFL, MLB, NBA, and NHL.
The AGA, and its President Geoff Freeman, presented to the heads of the groups how sports betting functions internationally, and why they might consider supporting efforts in Congress to rewrite the longstanding law.
The Professional and Amateur Sports Protection Act (PASPA) was passed in 1992, and banned gambling on athletic events, both collegiate and professional, in all but Nevada, Oregon, Delaware, and Montana.
"What the unions are trying to do now, wisely, is learn everything they can," Freeman said on a conference call, as reported by ESPN. "I can tell you from the questions they asked us … they're thoughtful on this. They're going to be a key stakeholder."
Last month, Acting US Solicitor General Jeffrey Wall advised the Supreme Court to dismiss an appeal from New Jersey requesting the high court review its wishes to legalize sports betting. Federal appeals courts have been continually blocked the state from doing so.
Campaign Launched
In what the AGA says is "a wave of unprecedented support of legalized sports betting," the group on Monday announced that its American Sports Betting Coalition (ASBC) is launching a coordinated effort to begin the process of repealing or replacing PASPA.
"Big government's 1992 sports betting prohibition has failed to protect sports, fans, and communities," Freeman said in a statement. "We are partnering with local and state elected officials, law enforcement and other diverse interests to tell Washington to get out of the way."
According to numerous economic impact studies, allowing states to authorize sports wagering would provide a substantial fiscal benefit. Recent research from Oxford Economics found that, legal, regulated sports betting would generate upwards of $26 billion in total economic impact, create up to 152,000 jobs, and between $6 billion and $7.5 billion in wages.
The AGA estimates that Americans wager $150 billion on sporting events each year, with nearly all of it placed through illegal channels.
It's worth noting that Oxford Economics has no relation to the prestigious university in England. The craftily named firm is actually based in Pennsylvania, and was contracted by AGA to look into sports betting.
Coalition Moving Forward
Per the AGA's press release, the ASBC is trying to bring together a powerful unit to push for legislative action in Congress.
With a ruling from the Supreme Court on PASPA now unlikely, the sports gambling law's only chance of being amended is through Congress. In May, after Solicitor General Wall told the Supreme Court there are no grounds to accept the New Jersey case, US Rep. Frank Pallone (D-New Jersey) took matters into his own hands.
Introduced as the Gaming Accountability and Modernization Act (GAME Act), the congressman's shell bill seeks to amend the federal law and "provide that a person or governmental entity is not subject to civil or criminal liability under federal law for gaming activity that is lawful under state law."
"It's time to recognize that the laws are outdated, and the GAME Act will modernize them by increasing transparency, integrity, and consumer protections," Pallone said in a statement.
Latest Casino Stocks:
Retrieving stocks data...
Retrieving stocks data...
Retrieving stocks data...
Retrieving stocks data...
Retrieving stocks data...