Asian-Themed Lucky Dragon Casino Opens in Las Vegas, Absolutely Crushes It
A new casino resort has opened in Las Vegas, the Asian-themed Lucky Dragon, and we're pleased to report it's off to a fantastic start.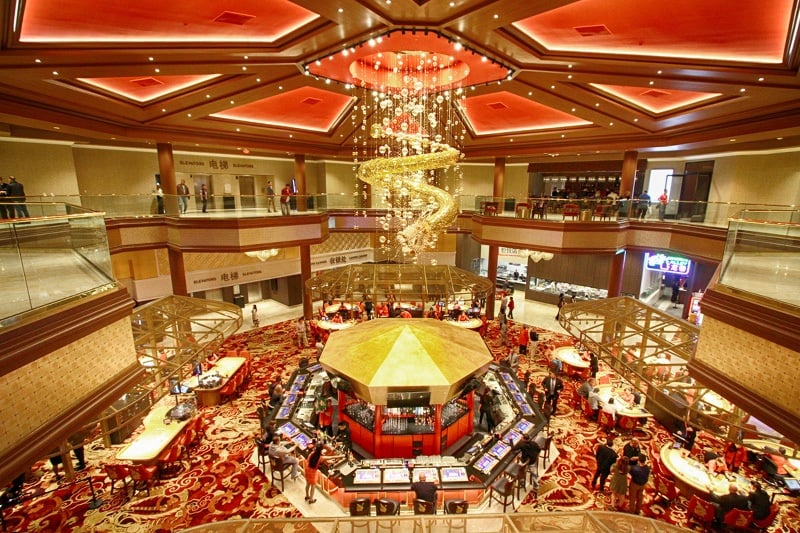 If you'd like to fancy up your computer, grab one of our wallpapers: 1024 x 768, 1280 x 1024, 1920 x 1080.
Lucky Dragon's official opening isn't until Dec. 3, 2016, but the owners of the boutique hotel-casino apparently couldn't wait that long to show it off. And with good reason. Lucky Dragon exceeds all our expectations, and is a great new addition to the north end of the Las Vegas Strip.
It's been six years since a casino was built from scratch in Las Vegas. The most recent was Cosmopolitan in 2010.
Lucky Dragon is located near the corner of Sahara Ave. and Las Vegas Boulevard, between the Bonanza Gift Shop and Golden Steer Steakhouse, not far from SLS Las Vegas and the Stratosphere.
Some good news right off the bat: Parking is free.
Lucky Dragon has done an amazing job with relatively little real estate. Lucky Dragon occupies about three acres of land. By comparison, Caesars Palace sits on about 34 acres.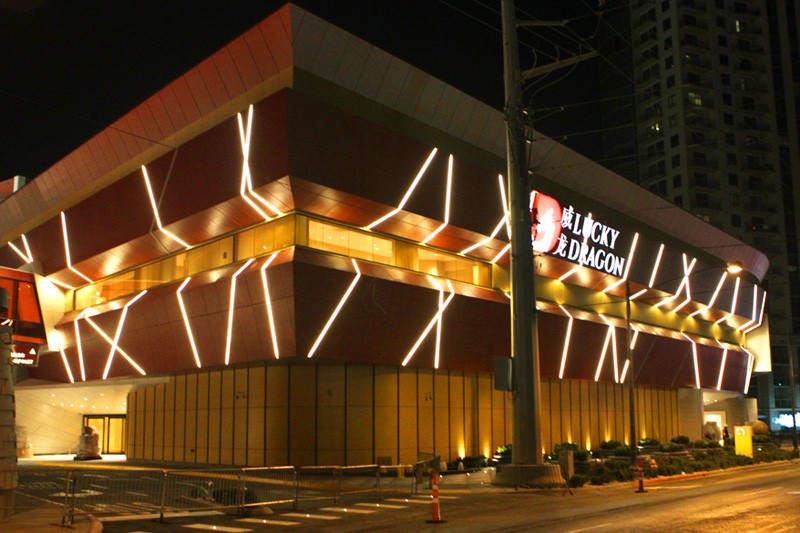 The biggest "wow" factor at Lucky Dragon is its stunning, quarter-ton dragon chandelier. The glass sculpture took 800 people to create, and has 288 glass balls. Sorry, orbs. The sculpture is 23 feet tall and is a dazzling centerpiece of Lucky Dragon's casino.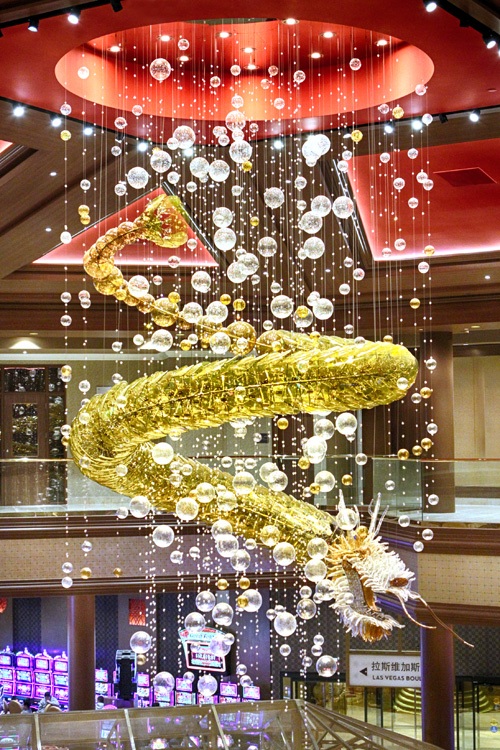 It should be made clear Lucky Dragon isn't your typical Las Vegas casino, attempting to be all things to all people. Lucky Dragon isn't just Asian-themed, its intention is to cater primarily to Asian players.
So, you won't find the usual mix of casino games or cuisines. Lucky Dragon's focus is on table games like baccarat and Pai Gow, and all the restaurant offerings at Lucky Dragon feature Asian food.
First, let's hit the casino.
Lucky Dragon's center bar is lively and comfortable. Luckily, drinks are poured from the bottle, so unlike in many Las Vegas casinos, you know you're getting the liquor you ordered.
The bartenders are hilarious, and provide some great entertainment for video poker players. The video poker machines feel loose, and you won't find any automated drink monitoring systems here.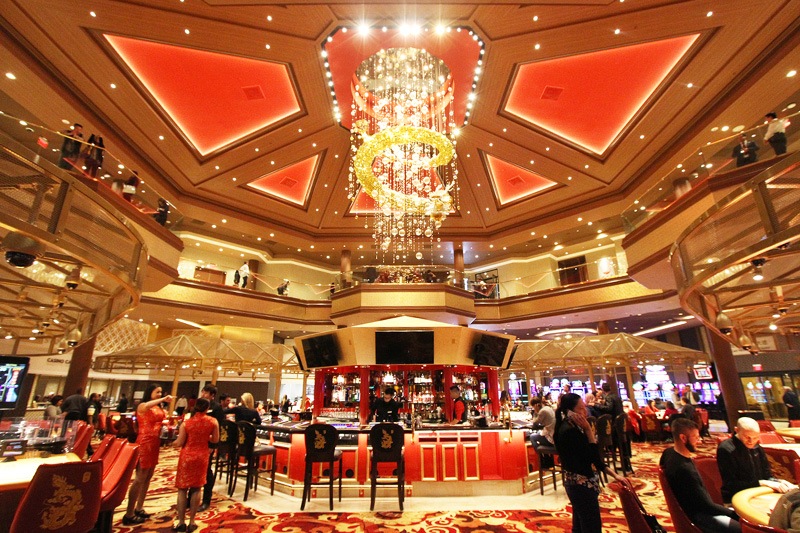 Just about the only qualm we had with Lucky Dragon's casino (aside from there being no Top Dollar slot machines) was the fact the reflection from the dragon chandelier made it a little difficult to see the video poker screens. Not a huge deal, but we expect changes to the screen angles will be made prior to the casino's official opening.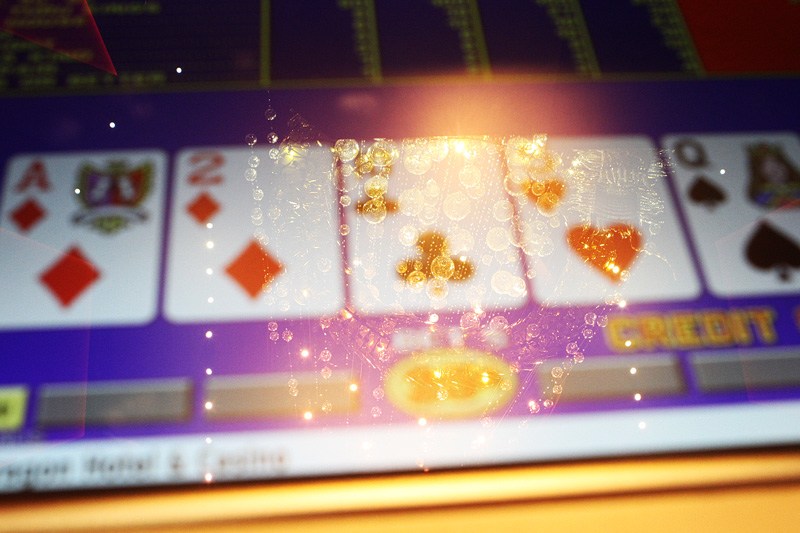 Everyone on staff was incredible friendly and helpful. The cocktail servers are lovely, and their uniforms are flattering and tasteful.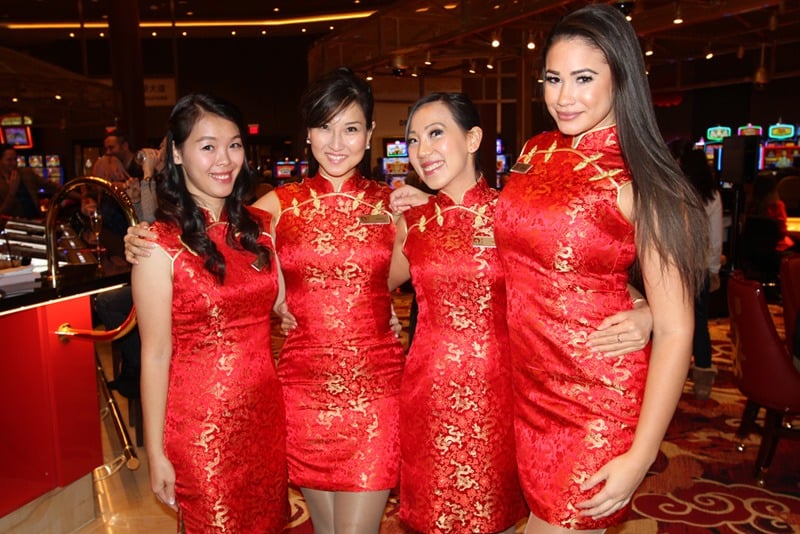 Playing at Lucky Dragon means you may have to shift your gambling priorities a bit. We found just four blackjack tables (thankfully, they pay 3-to-2, as opposed to the odds now more common on The Strip, 6-to-5), so for the first time we tried our hand at baccarat. Hey, when in Macau.
Baccarat (you don't pronounce the "t") is simultaneously the easiest and most confounding table game. You place a bet on "Player" or "Banker," and your dealer does the rest. You can do the math, but in our book, math is the opposite of fun.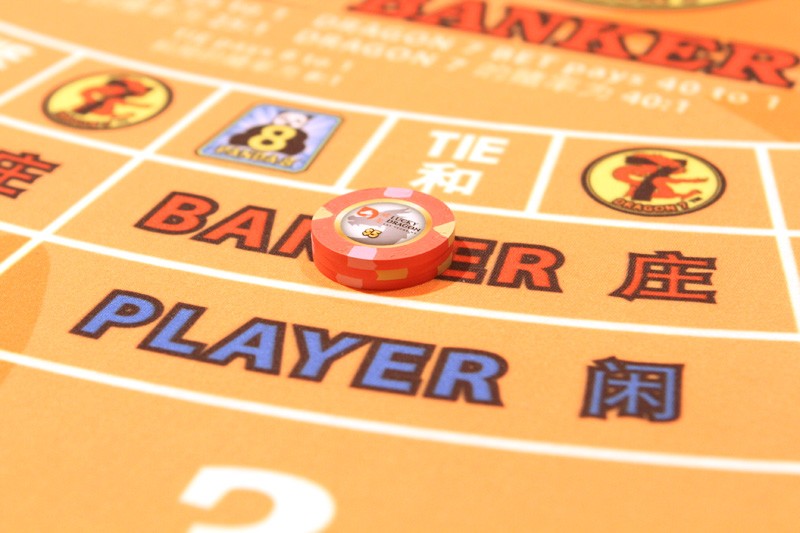 Of the 37 table games at Lucky Dragon, 25 are devoted to variations of baccarat. There are four Pai Gow tables and two roulette tables. Alas, no craps tables at all, but we'll live.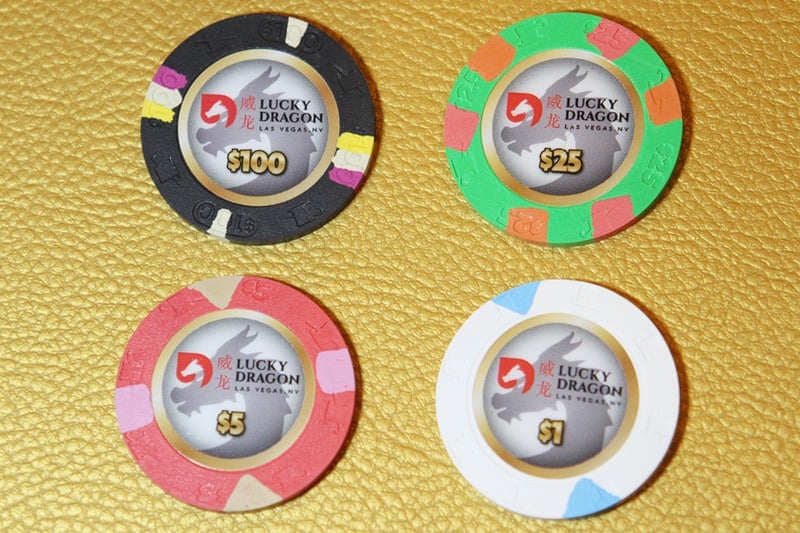 Slot machines take a back seat to table games at Lucky Dragon, but there's still a solid selection. Most of the games are Asian-themed, but you can still find your favorites like Wheel of Fortune and Buffalo.
One of the brilliant aspects of Lucky Dragon is how it combines a high ceiling with the feeling you're in a more intimate casino space. Studies have shown players gamble less in spaces with high ceilings, so Lucky Dragon's designers wisely covered the table games with faux "ceilings."
These structures allow guests to experience the grandeur of the place, while feeling cozy at the same time.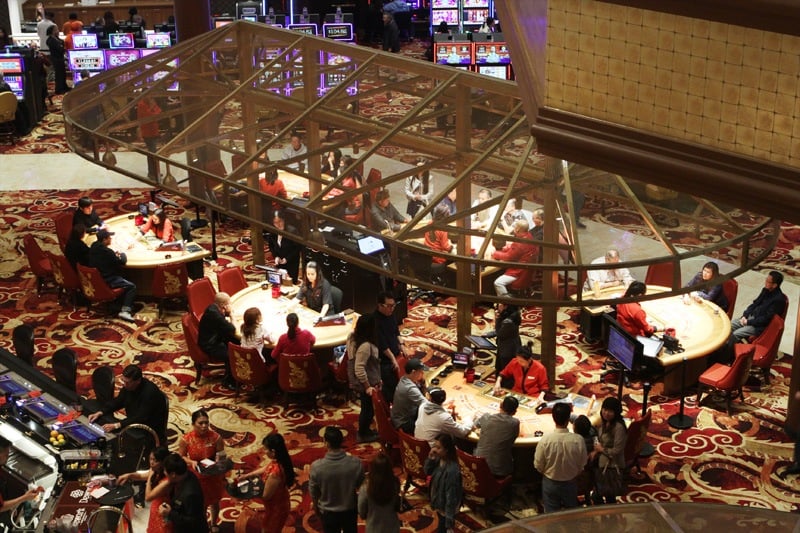 Off the main casino floor is a high limit table game area, the Emerald Room.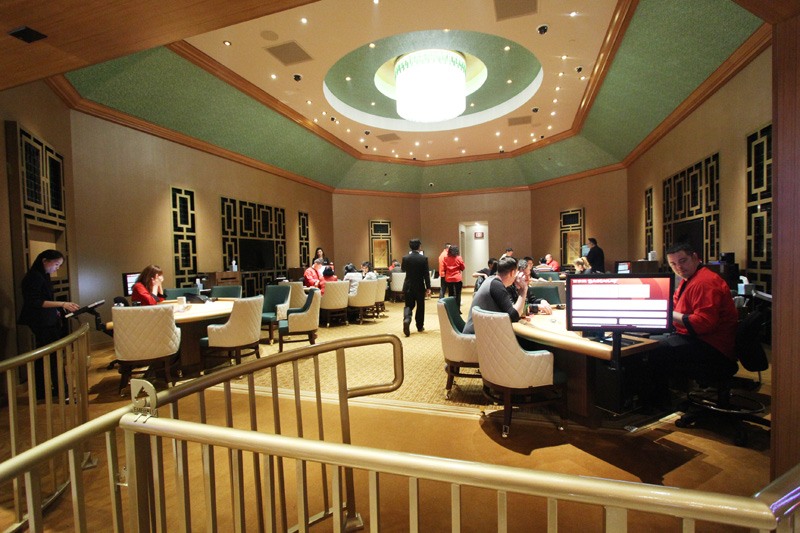 Players looking for an even more intimate space can hit Lucky Dragon's six VIP gaming rooms. These tastefully appointed, Macau-style rooms feel private, but they're open to the public, as required by Nevada gaming regulations.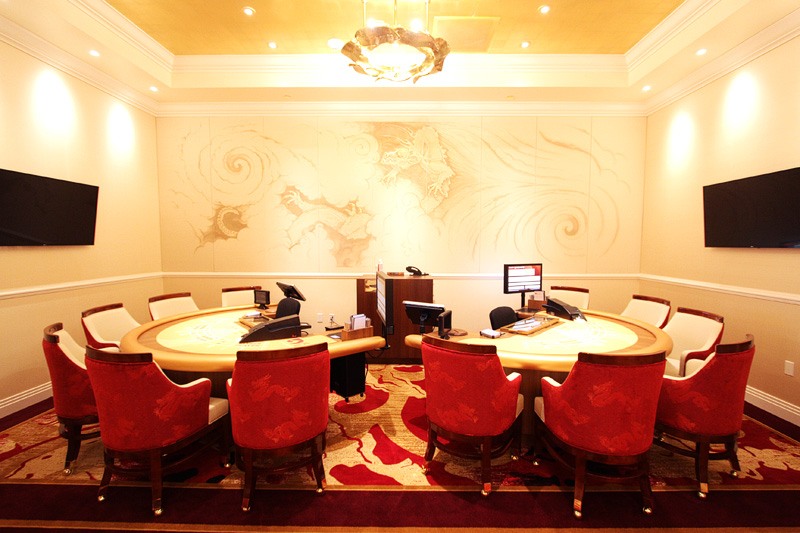 During our first visit to Lucky Dragon, we pretty much won at every game we played, both in machines and at the tables, so maybe there's something to this dragon thing!
As with any Las Vegas casino, it's important to sign up for the loyalty club. At Lucky Dragon, it's the Dragon Club. You can visit the loyalty club desk or asked for a loyalty club card at one of the gaming tables. A hundred points equals a dollar, and points can be used at Lucky Dragon's restaurants and hotel.
Beyond its great casino, Lucky Dragon has put together a rather extraordinary collection of dining options. The first you're likely to encounter is the 24-hour Bao Now, right on the casino floor.
The restaurant has dim sum, soups, noodles and other to-go dishes. You can tell it's a to-go counter since there are only about 10 chairs.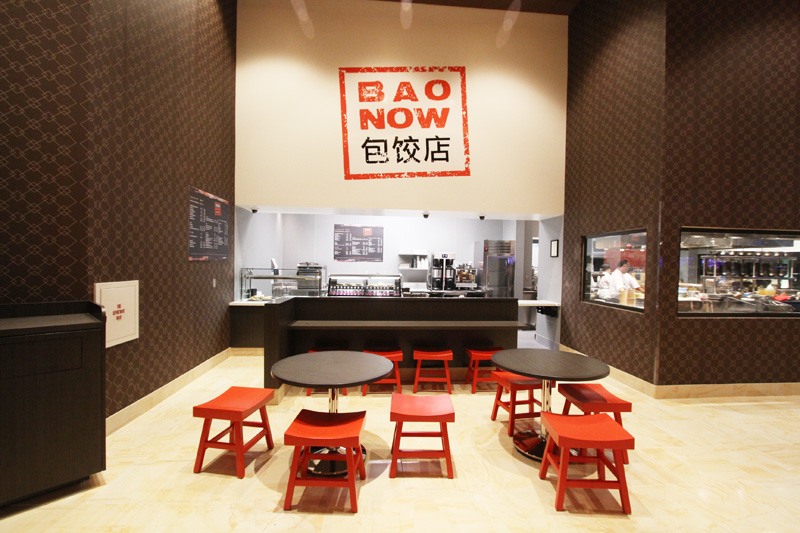 A majority of the food on the casino's first floor comes from a "show kitchen" called Jewel Kitchen.
There's a lot going on in there, and it's a great reminder of how much we don't know about how Asian cuisine is prepared. Lucky Dragon could sell tickets, but we don't want to give them any ideas.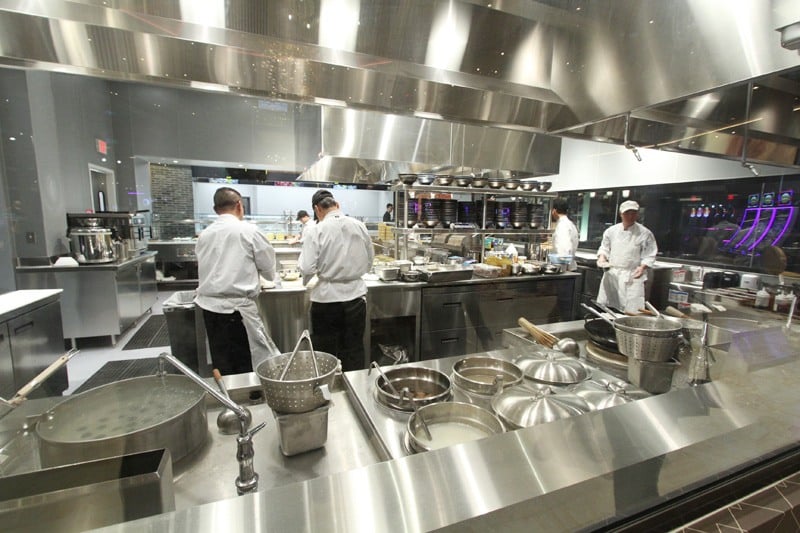 Also on the first floor is Dragon's Alley, meant to evoke the night market scene on Ghost Street in Beijing, whatever that might actually be.
Dragon's Alley could be described as a food court, but we consider it more along the lines of a buffet. Each station has Asian delicacies, and guests choose dishes a la carte. The chefs are extremely knowledgeable, so navigating the dishes isn't as intimidating as you'd think.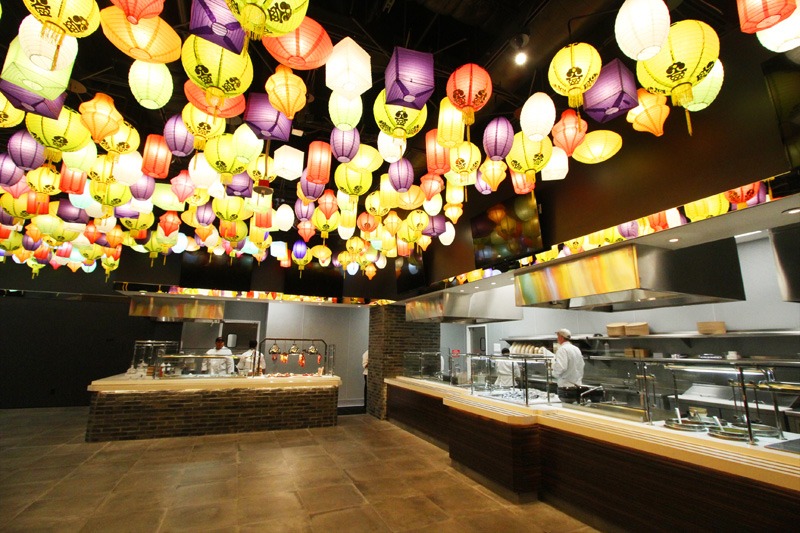 Guests can choose from a wide variety of dishes, each running $5 to $11. There's seafood and barbecue and dim sum and desserts of all kinds.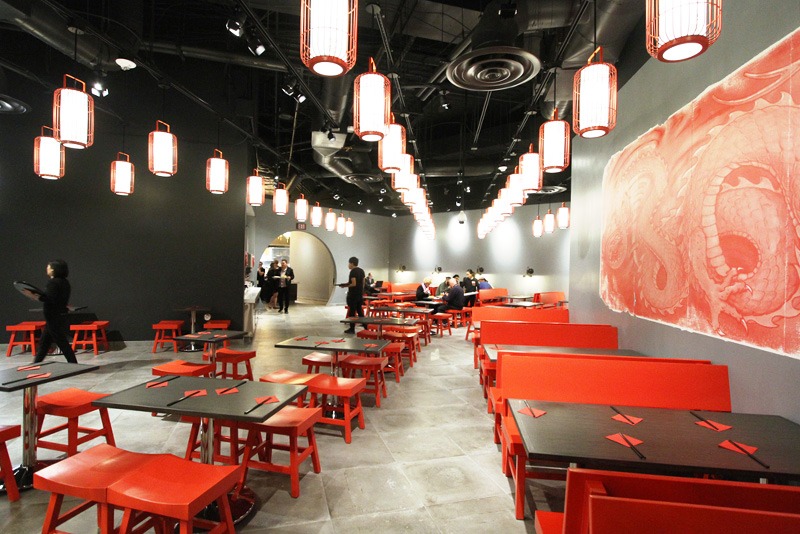 Unlike at other Las Vegas buffets, there's no signage to identify the dishes, and there are also no prices posted, so you're sort of winging it until you get to the cashier. We suspect this process will be refined prior to Lucky Dragon's official opening.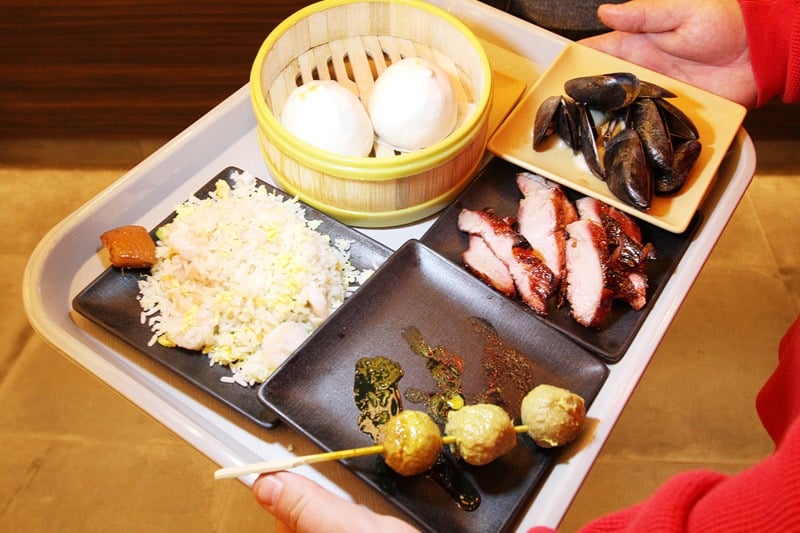 At Dragon's Alley, look for the art piece fashioned from bicycles.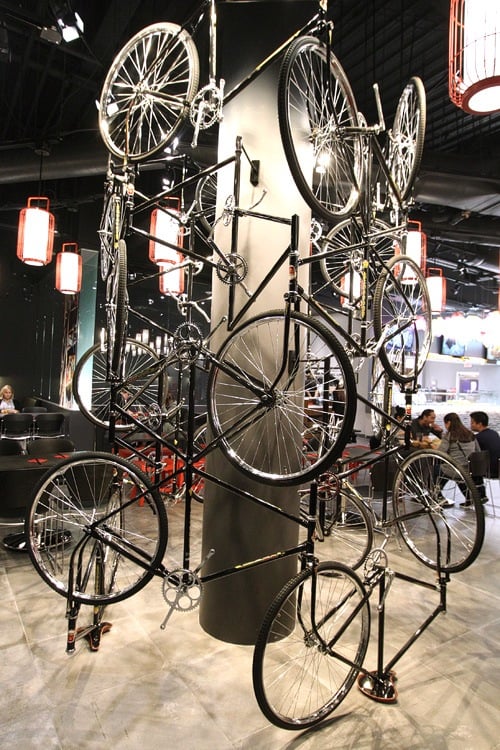 On the casino's mezzanine level, there are the Phoenix and Pearl Ocean restaurants. We'll definitely be back to do some damage to their menus.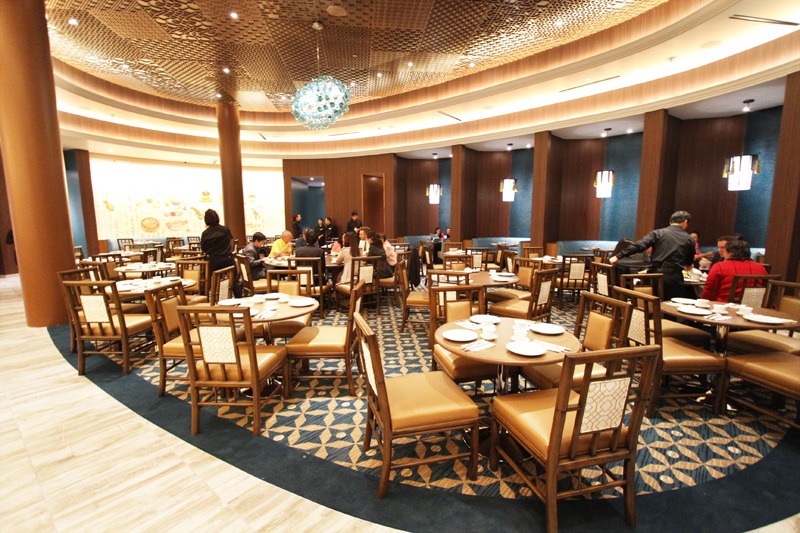 Roaming out of the casino and over to the Lucky Dragon's hotel, you'll find Cha Garden. It includes the hotel lobby and pool area, and serves as a lounge and tea garden.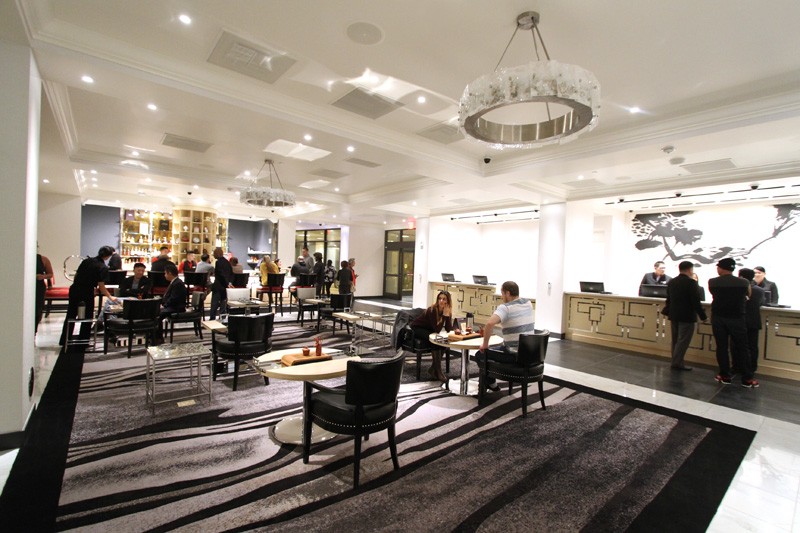 We are not a tea person, but the pool and lounge areas seem a great place to meet friends and enjoy yum cha. Yes, we looked that up. Yum cha are light snacks, like tapas.
The pool area isn't large, but again, Lucky Dragon has done a lot with a little, and guests should find the space a cooling diversion, especially during Sin City's sweltering summer months.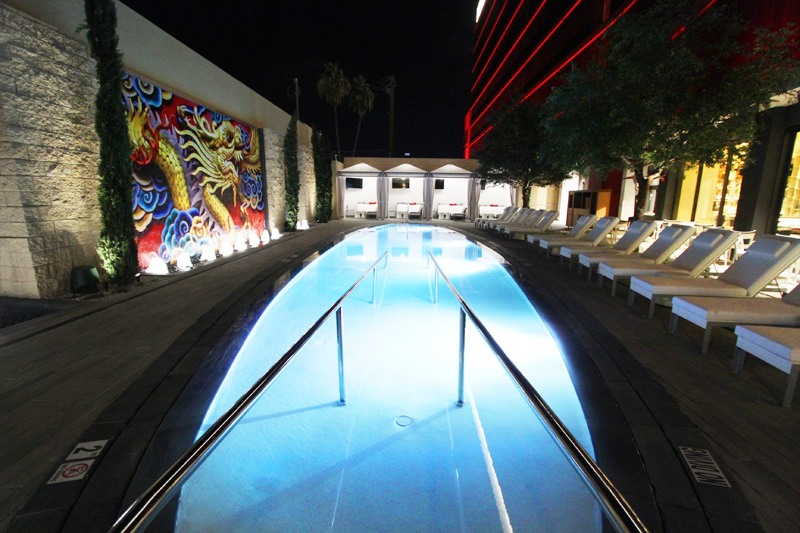 We stayed overnight in Lucky Dragon's 203-room hotel, and found our room to be clean and comfortable.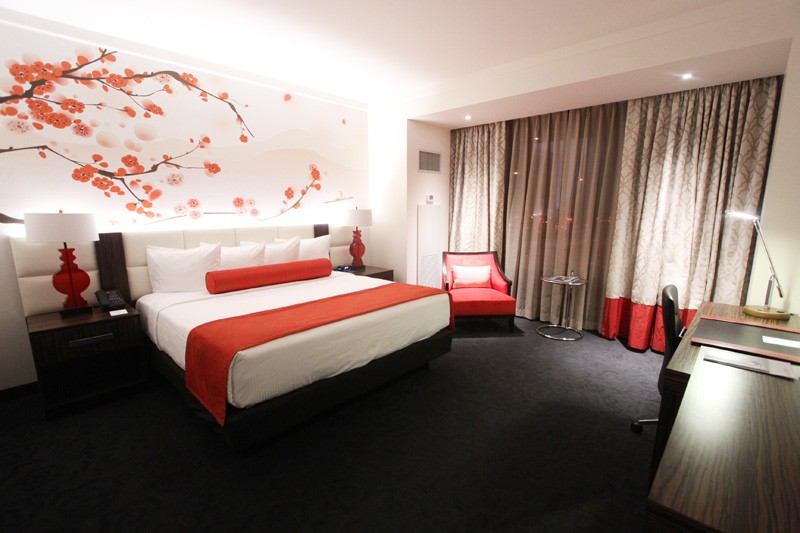 That's our first take on Lucky Dragon, the newest casino in Las Vegas. We had a completely enjoyable first visit, and it's a must-try during your next Las Vegas visit.
Lucky Dragon seems to have a thorough understanding of its target audience, a departure from the vast majority of Strip hotels that seem to only give lip service to wanting business from Asian customers. ("Look, a lion dance! Gamble here!")
While Lucky Dragon may have its eye on Asian guests (signs are in both Chinese and English), there's never a moment when non-Asian guests feel out of place. Whether you prefer chopsticks or a fork, you're going to find something to love.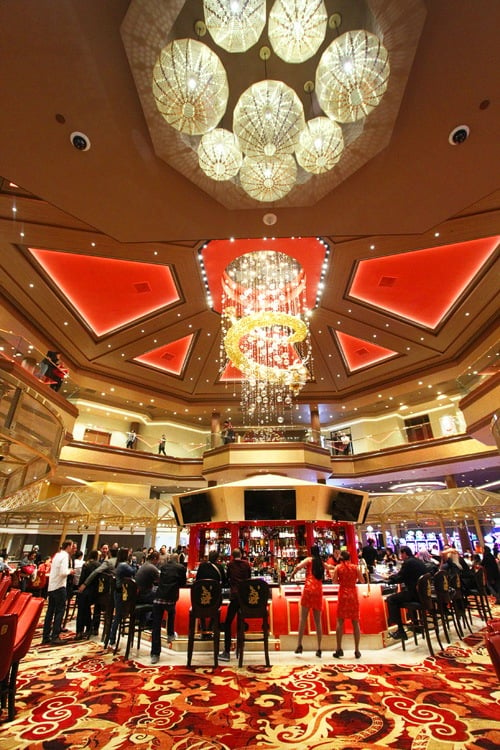 The north end of The Strip has proven challenging for SLS Las Vegas, but Lucky Dragon has chosen a bold strategy in wooing a niche audience. Lucky Dragon could very well end up being an unlikely success story, scooping up regulars from casinos known for being Asian-friendly, like Palace Station and Gold Coast.
Back in the day, opening a Las Vegas casino was pretty much a financial sure thing. That's not the case today. (Especially when you open a resort without a nightclub. Another reason to love Lucky Dragon!)
With its gorgeous, exotic decor, buzz-filled casino and delicious dining, though, Lucky Dragon could very well have what it takes to get lucky in Las Vegas.