Hard Rock Cafe at Hard Rock Hotel to Close
The Hard Rock Cafe adjacent to the Hard Rock Hotel & Casino will close at the end of 2016.
The restaurant, located on Paradise Road, opened in 1990. A quarter century is a great run in Las Vegas!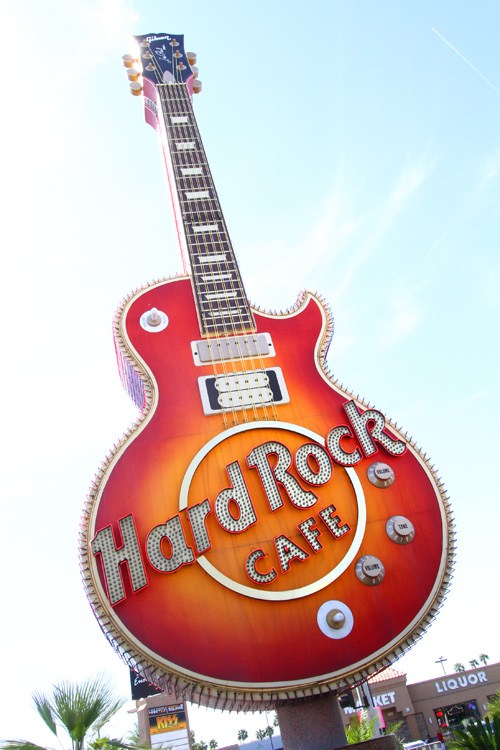 Those with a hankering for some Hard Rock Cafe action next year can still visit Hard Rock Cafe on The Strip. Having two Hard Rock Cafe locations has always been a little confusing, so looking on the bright side, this helps clarify things.

No reason was given for closing the Hard Rock Cafe, but restaurants don't close in Las Vegas when they're thriving.
Among the Hard Rock Cafe's more memorable promotional efforts was the "Rouge & Booze: A Drag Brunch," hosted by a Las Vegas drag queen named Kitty Litter.
In 2015, Hard Rock Cafe played host to a world record attempt for "Largest Drag Stage Show."

Hard Rock Cafe is the second "cafe" with iconic signage to close in recent months. The Strip's Harley-Davidson Cafe, with its massive motorcycle, shuttered on Oct. 31, 2016.
Here's the skinny on the relationship between the Hard Rock Cafe and Hard Rock Hotel & Casino. Since 2007, the Hard Rock global brand has been owned by the Seminole Tribe of Florida. All the Hard Rock Cafes and most of the Hard Rock hotels in the world are operated by the tribe. Hard Rock Hotel & Casino, though, is owned by Brookfield Asset Management through a licensing agreement and managed by Warner Hospitality.
Brookfield bought the Hard Rock Hotel & Casino Las Vegas back in 2011. Brookfield also owns the land upon which the Hard Rock Cafe sits.
Dibs on the giant guitar, obviously.