Las Vegas Casinos Look to Reopen in May
The big question in Las Vegas at the moment is, "When will the casinos open again?"
The other big question is, "Did you know a roulette table could have 10 zeroes and still have better odds than live keno?"
Let's focus on the first question, though. (See the bottom of this blog post for updates.)
The answer to "When will Las Vegas casinos reopen?" is "Nobody knows for sure." That answer would make for a very short blog post, so let's forge ahead.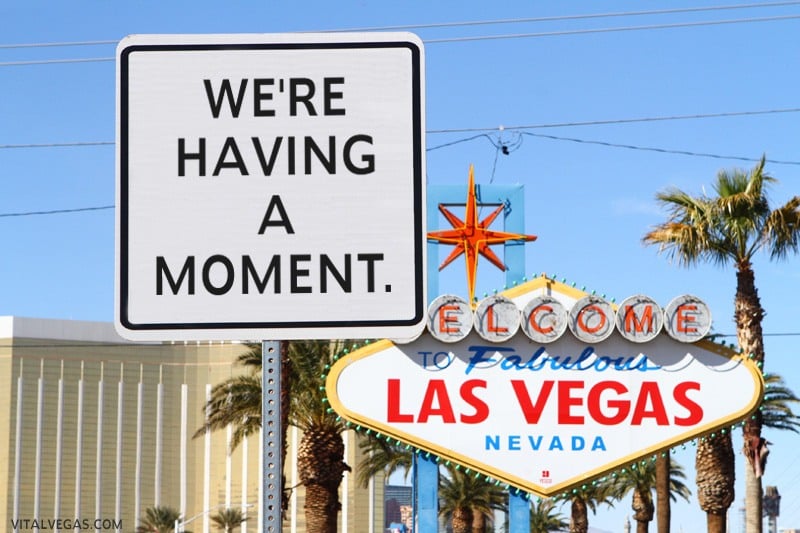 The coronavirus shutdown in Las Vegas has been brutal, of course. Nevada Governor Steve Sisolak shut down casino resorts on March 17, 2020.
Update (5/7/20): The shut down was extended through May 15, but the Governor now says "phase one" of the reopen will start May 9, 2020. Casinos are not part of phase one.
The casinos are looking to a number of sources to determine when they might reopen, including public officials, medical experts and, not surprisingly, each other.
Governor Sisolak said the decision to reopen will "strictly be based on medical decisions, medical guidance and statistics."
We called May 1 the over/under reopening date early on, and took a poll to see what vibe laypersons are experiencing.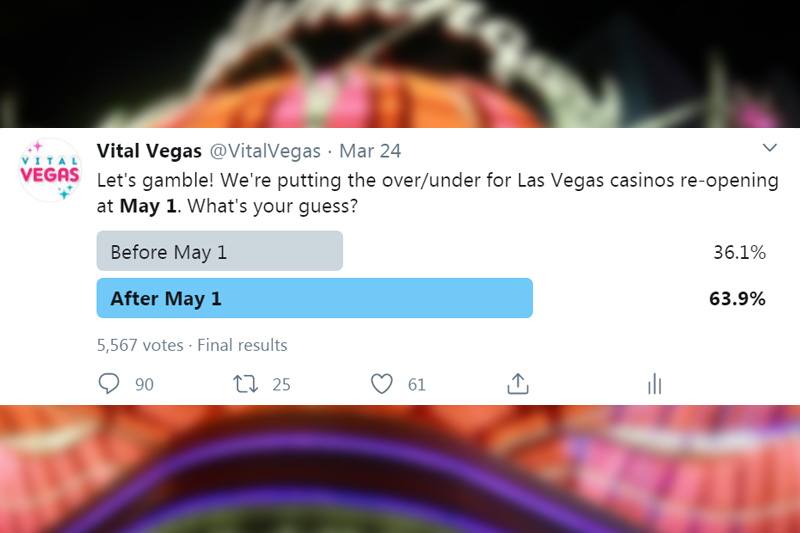 We took the "under," but the term that's become ubiquitous lately is "fluid," meaning nothing is certain, especially during very uncertain times.
No matter how the Vegas reopening timeline unfolds, there won't be a lot of celebrating as Sin City is going to look like a shadow of its former self. (Although, we've been advocating a big Grand Reopening Bash celebration at some point down the road. Memorial Day on May 25 could fit the bill.)
Demand won't instantly come flooding back, even if concerns about coronavirus subside. That means casino resorts will reopen in a phased approached, based upon demand.
Our vote is for casinos to open first, then hotels, restaurants and bars. There were rolling closures when the resorts closed, so there's likely to be "rolling openings" as well.
Shows are going to continue to face challenges, as venues where large crowds gather, like theaters, will probably remain closed the longest. This is rough news for independent productions in town, but agonizing news for our beloved Cirque du Soleil, as the company is reportedly on the verge of bankruptcy.
The basics of social distancing will become a part of Las Vegas in the foreseeable future, no matter when casino doors open again.
We've heard from several sources resort employees will be called back to their jobs two weeks before the casinos open again, so that will give us all a heads up efforts to reopen are underway in earnest.
A visible change will be the phasing out of a time-honored Vegas tradition, buffets. At least two venues have buffets that won't be coming back. Closed permanently are the buffets at TI (Corner Market Buffet) and Golden Nugget (The Buffet). The closure of Golden Nugget's buffet is unrelated to current events, from what we understand.
The Bayside Buffet at Mandalay Bay is also rumored to be closing permanently.
The debate about when Las Vegas resorts should reopen rages on, especially in social media. Due to the shutdown, people have a lot of time to express their opinions on the subject, and opinions run the gamut.
What's clear is we need to find a way forward, not just in Las Vegas but the country. We are going to have to make some collective decisions, based upon facts, not fear.
Our over/under date of May 1 seems a fair balance of concerns about public health and the reality we can't implode our economy in an attempt to save every life.
Here's one of the more thoughtful articles we've found grappling with this subject.
Our future is fraught with impossible decisions we're thrilled we don't have
to make.
Update (3/29/30): The federal government has extended social distancing guidelines to April 30, 2020. It's unknown what impact that might have on the planned reopening of Las Vegas casinos. The guidelines, issued by the Centers for Disease Control and Prevention, are voluntary.
Update (4/1/20): Governor Steve Sisolak has issued a "Stay at Home" directive and extended closures of non-essential businesses (including casinos) to April 30, 2020. Unless something changes, Las Vegas casinos will be reopening May 1, 2020.
Update (4/19/20): Wynn Resorts is the first to release its reopening plan and policies. The company's document suggests a mid- to late-May reopening for Nevada businesses, with myriad new sanitizing and other policies. Read more.
Update (4/24/20): Caesars Entertainment has changed its reservation system to take bookings from May 15, 2020. Several other casinos have shifted their reopen target dates as well: TI and Circus Circus, as well as Cosmopolitan, are taking reservations for May 15. Boyd Gaming (including Orleans, Gold Coast, Fremont, Main Street, California and others) are also booking May 15. Wynn and Encore have announced May 22. MGM Resorts has informed its reservations team the target date for reopen is June 1, 2020. In other news, Clark County's wedding license bureau is reopening April 27.
Update (4/30/20): Governor Sisolak has extended Nevada's stay-at-home order to May 15, 2020.
Update (5/7/20): Governor Sisolak says "phase one" reopening starts May 9, 2020. Businesses permitted to reopen (with restrictions) include restaurants, barber shops, hair and nail salons, retail stores and retail cannabis stores. All businesses are required to have employees wear masks during phase one. Get the latest news about when Las Vegas will be reopening.