Politics Meets Sports Betting as Washington, DC Lawmakers Push $215M Deal Forward
Posted on: June 12, 2019, 12:40h.
Last updated on: June 13, 2019, 08:24h.
Washington, DC Mayor Muriel Bowser and the city council are moving forward with a $215 million deal to get sports gambling up and running in the nation's capital — and no surprise, the pact is expected to benefit some folks with important political connections.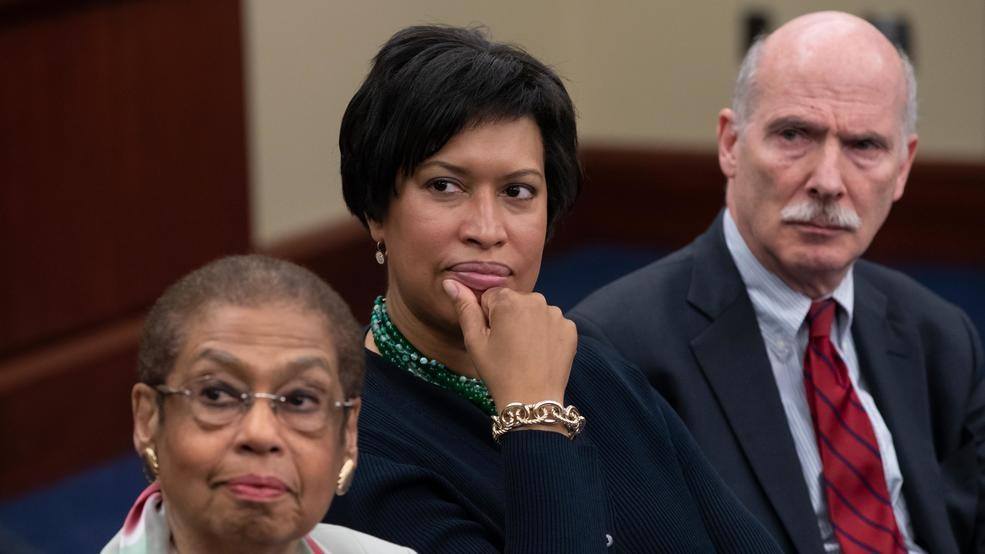 Earlier this year, the city council and Browser, a Democrat, permitted officials to skirt standard procurement procedures and award DC's sports wagering contract to the Greek gaming company Intralot. In February, the city rushed through legislation known as the Sports Wagering Procurement Practices Reform Exception Act of 2019 as an emergency measure to move swiftly into negotiations with Intralot.
Local officials sought quick action on the bill, hoping to maximize revenue from a sports betting mobile app that will be developed by Intralot.
Strange Bedfellows
A contract sent by the capital city's CFO Jeffrey DeWitt to the city council earlier this week highlights seven companies that would act as subcontractors over the course of the five-year deal, each getting a piece of about a $71 million pool, which is a third of the $215 million agreement.
Emmanuel Bailey, who acted as a subcontractor for DC's lottery contract, is expected to occupy a similar role in the sports wagering accord. Goldblatt, Martin and Pozen — a law firm that hired Bailey to lobby the city council to approve sports wagering — is also listed as a subcontractor, reports the Washington Post.
Another subcontractor, District Services Management, is run by a firm that's stirred up controversy in the past. Known as Life Deeds, it allegedly falsified personnel records, prompting the DC Department of Human Services to pull it from managing a homeless shelter, as well as halting a contract to manage cases for two dozen people living in subsidized housing.
As is often the case in Washington, there are more examples of political connections proving important in the sports gambling deal. Public relations guru Everett Hamilton, who runs the DC-based Octane PR firm, is another subcontractor involved with the sports wagering deal.
Hamilton ran the communications operation for Bowser's first mayoral campaign and did the same for DC council member Brandon Todd in 2016. Octane's web site describes Hamilton as an "innovative strategist" and a "connector."
Let's Make a Deal
Critics claim the deal wreaks of cronyism, and have also voiced concerns about Intralot's financial health. Earlier this year, Fitch Ratings lowered the Greek company's credit rating to B- from B, while putting that rating on "review watch negative," meaning another downgrade is possible.
Fitch's "B" ratings — of which B- is the lowest — "indicate that material default risk is present, but a limited margin of safety remains. Financial commitments are currently being met; however, capacity for continued payment is vulnerable to deterioration in the business and economic environment," according to the agency.
What's at Stake
DC's push to get sports betting off the ground comes after similar efforts recently failed in neighboring Maryland and Virginia, meaning the nation's capital could have something of a geographic moat for sports wagering, because the closest states where it's legal are Delaware and West Virginia.
The Sports Wagering Procurement Practices Reform Exception Act of 2019 grants Intralot exclusive rights to manage mobile gaming in the District, which city officials expect to be the preferred avenue for most bettors.
However, the bill also allows for sportsbooks at arenas and betting machines — similar to lottery offerings — at some retailers.
Earlier this year, Ted Leonsis, chairman and CEO of Monumental Sports, said the Capital One Arena in Washington, DC will have a sportsbook that will be accessible from the outside, and possibly the inside, depending on the event. 
The NFL's Washington Redskins play at FedEx field in Landover, Maryland, meaning wagering will not be offered at that venue until the state approves sports betting.
The city council has until July 25 to ratify the Intralot accord and local officials are hoping mobile betting will be operational by the start of the 2019 NFL season.
Latest Casino Stocks:
Retrieving stocks data...
Retrieving stocks data...
Retrieving stocks data...
Retrieving stocks data...
Retrieving stocks data...