UFC on ESPN 4: Welterweights Edwards, Dos Anjos Compete in Toss-Up Main Event
Posted on: July 20, 2019, 01:00h.
Last updated on: July 20, 2019, 11:23h.
Rafael dos Anjos and Leon Edwards will face off in what should be a highly competitive bout between welterweight contenders for the main event of an interesting card at UFC on ESPN 4 in San Antonio.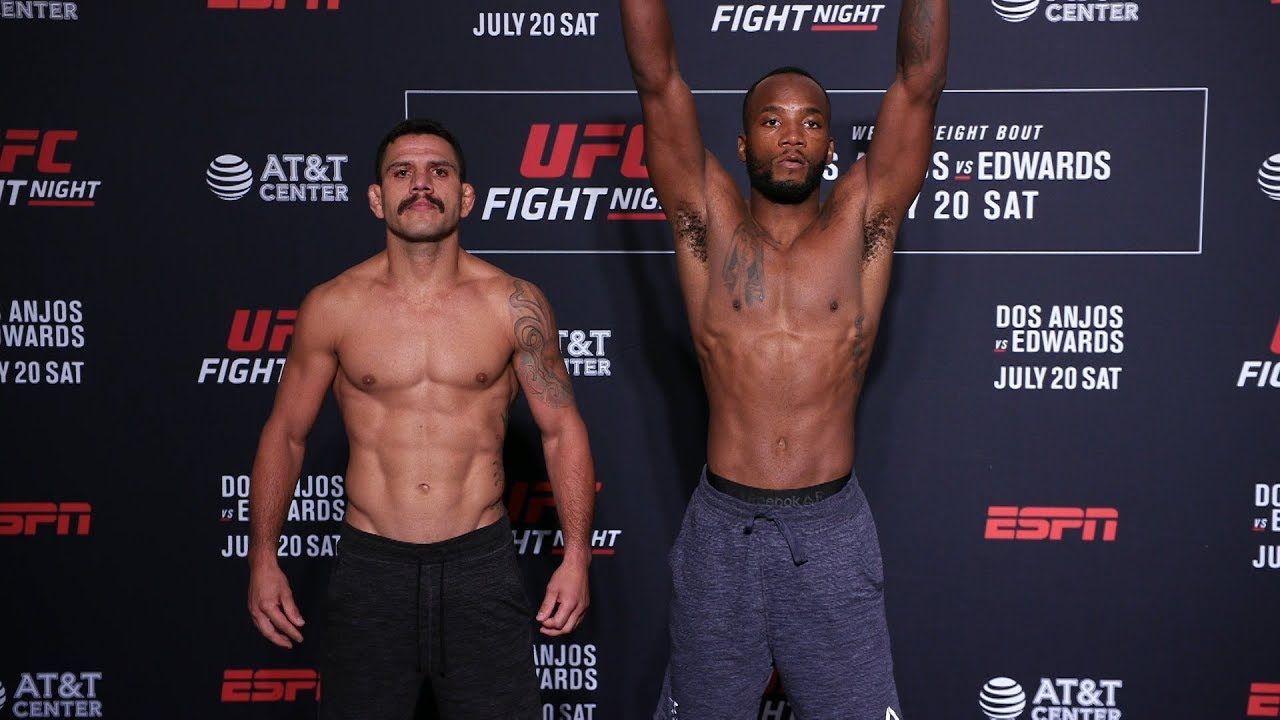 Edwards (-130) has been made the slightest of favorites over dos Anjos (+100) in the fight, according to online bookmaker Bovada.
Edwards Close to Entering Title Picture
The 27-year-old Edwards (17-3) may have more to gain from a win in the fight, despite the fact that he comes in ranked just No. 12 in the division. The English fighter is on a seven-fight winning streak and feels that a win over dos Anjos (29-11) – a former lightweight champion – could position him for a title fight against Kamaru Usman in the near future.
According to Edwards, he's exactly the type of opponent that the 34-year-old dos Anjos has struggled against throughout his career.
This wasn't his first option. Now he faces a young, hungry, up and coming killer," Edwards told MMA Fighting. "Once we get to the younger, hungrier guys, he always struggles. He struggles against bigger guys, against southpaws, that's what I am. I feel like he'll struggle against me again."
Edwards probably has the better all-around game, especially at this point in his career, and his cardio advantage could well prove decisive in a five-round fight. While dos Anjos is more likely to create offense early, Edwards should get the best of the bout as the action continues, and could well position himself as a title contender with a late stoppage or a decisive decision win.
Oleynik Nearing End of UFC Career
The co-main event features longtime pro Alexey Oleynik (57-12-1) taking on Walt Harris (12-7) in a battle of two solid heavyweights that are unlikely to ever see themselves in a part of the UFC's title picture. Harris has the power and athleticism to cause trouble for Oleynik, though the Russian's submission game has been enough time and again to get wins few expect him to achieve.
Still Harris (-155) is considered the favorite over the 42-year-old Oleynik (+125), who sees the end of his MMA career on the horizon.
"This could be the last time I fight, [or] maybe I fight a couple of more," Oleynik told BJPenn.com. "It just depends, no one really knows when I will end. But, my body feels good, I am just tired mentally sometimes."
Also on the UFC on ESPN 4 card is a heavyweight matchup between former NFL star Greg Hardy (4-1) and Jan Adams (5-1). Hardy has been a controversial and unpopular addition to the UFC, as the former defensive end was convicted of domestic violence in 2015, only to see it overturned when the victim in the case refused to testify during appeal proceedings.
That background is why Adams has been angling for a fight with Hardy, one he'll finally get.
"When I was six years old, I watched my mom get beat up in front of me," Adams told MMA Junkie. "That plays a big role in it, being able to do something about things I don't like. I can control the situation a bit more now…granted, we all make mistakes. But for him to show no remorse for it at all and still get better opportunities than me, that adds a little extra to it."
Bovada sees the fight as too close to call, with both Adams and Hardy fetching -115 odds.