Tiger Woods Finishes 40th at The Northern Trust, Frustrating Gamblers who Back the 2018 Winless Golfer
Posted on: August 27, 2018, 04:00h.
Last updated on: August 27, 2018, 02:07h.
Tiger Woods finished a disappointing 40th in The Northern Trust on Sunday, 14 strokes behind winner Bryson DeChambeau, who was 80/1 to win.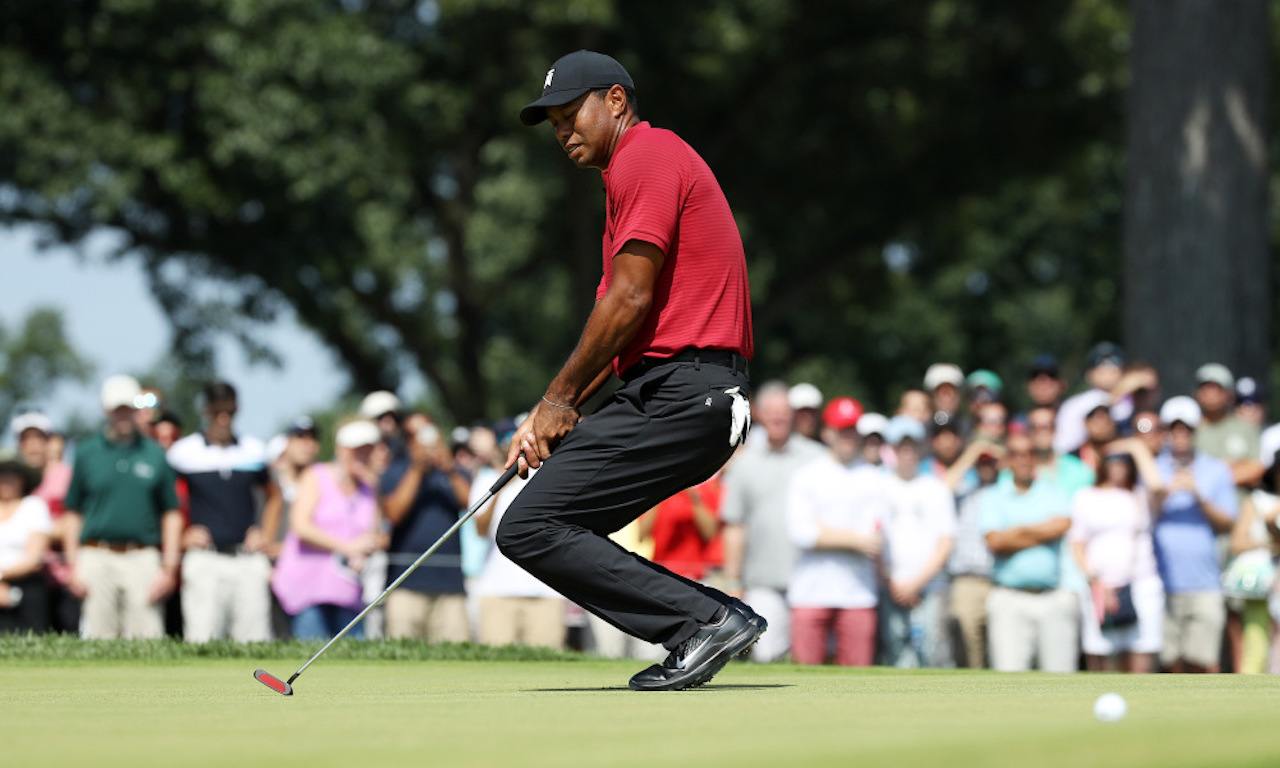 Woods, who was 14/1 to win the first tournament in the four event FedEx Cup playoffs, again failed to win for the first time this year after returning from his fourth back surgery. The last victory for the former No. 1 player in golf was in 2013.
This season Woods has been at times tantalizing to those that are putting money on him, and other times frustrating. The Northern Trust was a definite case of the latter.
The 42-year-old was never in contention. He shot two even-par 71's the first two days, and was 12 strokes back heading into the weekend. He did shoot a bogey-free 68 on Saturday, but by then there were far too many shots between him and the leader.
"I played a lot better than my score indicates," Woods told reporters after the round. "I didn't make any birdies this week. I didn't putt well and at the end of the day, I found a piece of my game that has been missing, which is driving it well, but you have to make putts. That's the only way we're going to shoot low rounds. I didn't do it this week."
Putter Failed Woods Again
The flat stick was the villain again. Woods didn't make a bogey in the third round, but also missed six birdie putts from 12 feet or less.
"You know, just the way it goes," Woods said. "You have good weeks and you have bad weeks. The greens, sometimes they look good to you. Sometimes they don't."
Woods is 26th on the PGA Tour in overall putting, but seems to have difficulty in the final round, where he ranks 74th in putts per round. He also is 176th in putts from 4 feet, and 177th from putts at 8 feet.
Two months ago Woods changed putters in an effort to revive his former prowess on the putting surface. It was the first time he had switched from a blade to a mallet.
"The way I've been putting, I wanted to look for a change," Woods said before the Quicken Loans National at the end of June. "That's all it is. It rolls it good. You never know. It has a little more swing than my putter does. It feels good."
Woods Not a Sure Bet
The change seemed to give his game a boost. He tied for fourth at that tournament, and earned a T6 at the Open Championship. That was his best finish in a major championship since a T4 at the 2013 Masters.
His finish at the Open Championship, gave gamblers hope that he could win his first major since the 2008 US Open at August's PGA Championship. He was listed at 28/1, and money poured in on the attractive odds. He teased fans for four days, finally finishing second.
Woods has maintained his game is close to being where he wants it, but making wagers on him might not be the wisest golfer to back. Even Woods has a different attitude now with his game.
"I'm sure you guys are used to seeing me win five times a year or more," Woods said on Sunday. "It's not that easy to win out here. That's what you're seeing is that I'm close and just one shot here, one shot there, per day, flips momentum."