Sports Betting Bills Move Forward in West Virginia, Iowa
Posted on: February 8, 2018, 09:00h.
Last updated on: February 8, 2018, 05:14h.
West Virginia's sports betting bill, HB 4396, sailed through the typically gambling-averse lower house on Wednesday by an 18-6 vote, as the state progressed its mission to become the first in the mid-Atlantic to offer regulated sports books.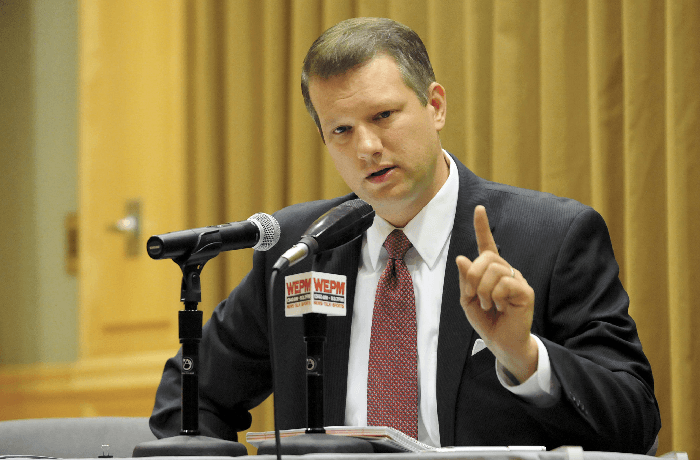 The Mountain State has been eyeing the legal landscape for some time and is anticipating that the US Supreme Court will strike down PASPA, the law that prohibits states from regulated sports betting within their own borders.
During a pre-vote hearing, Delegate Riley Moore (R-Jefferson) said that being the first in the region into the market would invigorate the state's casinos, protecting thousands of jobs throughout West Virginia.
Lottery Commission general counsel Danielle Boyd agreed.
We believe it's absolutely critical for West Virginia to have a law in place when, or if, the Supreme Court acts," she said.
Advantage West Virginia
Assessing the positions of neighboring states, Boyd noted that Pennsylvania had already passed its own sports betting bill, but an ill-advised high tax rate of 34.5 percent would make it uncompetitive and unattractive both to bettors and potential operators. By contrast, West Virginia is proposing a 10 percent levy.
Lawmakers in Maryland are also debating regulating sports betting, but they are at a disadvantage because such a measure would first require a referendum for an amendment to the state constitution, and that would take time.
Meanwhile, Boyd did not anticipate the legislatures of Ohio or Virginia beating West Virginia to the punch because they are traditionally slower in enacting gambling laws.
"They've typically waited to see what we do in West Virginia," she added.
NBA, MLB Oppose Iowa Legislation
Meanwhile, there has also been progress in Iowa, where lawmakers are hoping their HB 592 will be the first to get the job done in the Midwest, although there is competition from Illinois and Missouri.
On Wednesday, the Iowa bill cleared a House subcommittee and has been passed to the House Commerce Committee, where it is expected to be approved next week. Lawmakers have emphasized, however, that the bill is still very much in draft stage and that revisions are expected.
The NBA and the MBL are lobbying jointly against the Illinois bill. The two leagues have dropped their official opposition to sports betting, believing that SCOTUS will repeal PASPA, and are actively supporting legislation in some states – but only those states whose regulations promise to deliver a cut of the profits to the leagues.
Illinois' bill, as it stands, contains no such provision, and nor does West Virginia's, which means leagues are likely to register their opposition there too.