Singapore Casinos Singing the Blues as Gaming Loses to Shopping
Posted on: December 12, 2016, 05:00h.
Last updated on: December 15, 2016, 12:02h.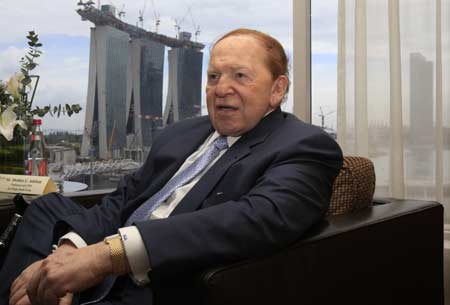 Singapore casinos are now second fiddle in the country's tourism industry. For the first time since the island city-state legalized commercial land-based gambling in 2012, casinos aren't leading the way when it comes to tourist spending.
Instead, travelers are opening their wallets and checkbooks at the malls. According to the Singapore Tourism Board, tourists spent more on shopping during the second quarter of 2016 than on anything else.
More than S$1.5 billion ($1.05 billion) was spent at retail stores between April and June, a 65 percent increase on the same period in 2015. Shopping represented 25 percent of all tourism receipts.
Spending on accommodations totaled $1 billion, while "sightseeing, entertainment, and gaming" came in around $760 million. The latter figure corresponds to an 11 percent loss during the quarter for casinos.
Chinese visitors accounted for the most money spent in the tourism data figures. Over 1.4 million travelers from China arrived in Singapore over the first six months of the year.
Singapore is home to only two casinos, Marina Bay Sands and Resorts World Sentosa.
However, Singapore's casino industry is the third largest in the world behind Macau and Las Vegas.
Shopping Small
8.2 million visitors arrived in Singapore between January and June. That's an 11 percent bump on 2015, and while that would seem to be a positive for Singapore casinos, the quality of vacationer is lessening.
Instead of high-roller VIPs descending on Singapore, a more middleclass guest is being welcomed.
"This news is not good at all," Bloomberg Intelligence analyst Deborah Aitken said citing a diminishing average spend by tourist. "Some of these tourists are on overland tours and therefore taking in cheaper markets as well as Singapore's high-end malls, unlike the higher-spending visitors who arrive by air."
The development is yet more unwelcomed news for Asian gaming operators who have seen their stock prices vary greatly on exaggerated rumors that Beijing is reducing ATM withdrawal limits in Macau. People's Republic President Xi Jinping has been active in trying to curtail the flow of money through Macau and heavy spending by wealthy mainlanders.
Show Me the Money
Macau casinos collected over $16 billion less in 2015 than they did just two years earlier. Jinping's inhibiting of junket touring companies bringing VIPs to the casinos has greatly hampered overall wins for casinos.
Gaming companies and international destinations are trying to become Macau's successor. But as 2016 begins to wind down, those lost billions remain untapped.
Japan is poised to emerge as the next gambling superpower should the country continue moving forward with proposed legislation to legalize casinos. Gaming companies from around the globe are closely monitoring the developments.
Las Vegas Sands, Wynn Resorts, MGM and others have all expressed enthusiasm in entering the Japan market if gambling becomes authorized.
One of Japan Prime Minister Shinzo Abe's primary goals is to increase tourism under his leadership. Abe wants to attract 20 million visitors annually by 2020, the same year it will host the Summer Olympics in Tokyo.  
Latest Casino Stocks:
Retrieving stocks data...
Retrieving stocks data...
Retrieving stocks data...
Retrieving stocks data...
Retrieving stocks data...