Plans for $100M LINQ 'Kind Heaven' Project Mushroom in Las Vegas, Strange Bedfellows Join Forces in Caesars Entertainment, Lollapalooza Creator
Posted on: March 14, 2018, 03:00h.
Last updated on: March 14, 2018, 03:32h.
Partnering up to create a new Las Vegas LINQ Promenade "immersive entertainment" vehicle, former Jane's Addiction frontman and Lollopalooza music festival creator Perry Farrell and Caesars Entertainment announced Tuesday that they are creating a "groundbreaking new destination" that will combine "leading-edge technology and Hollywood-style storytelling."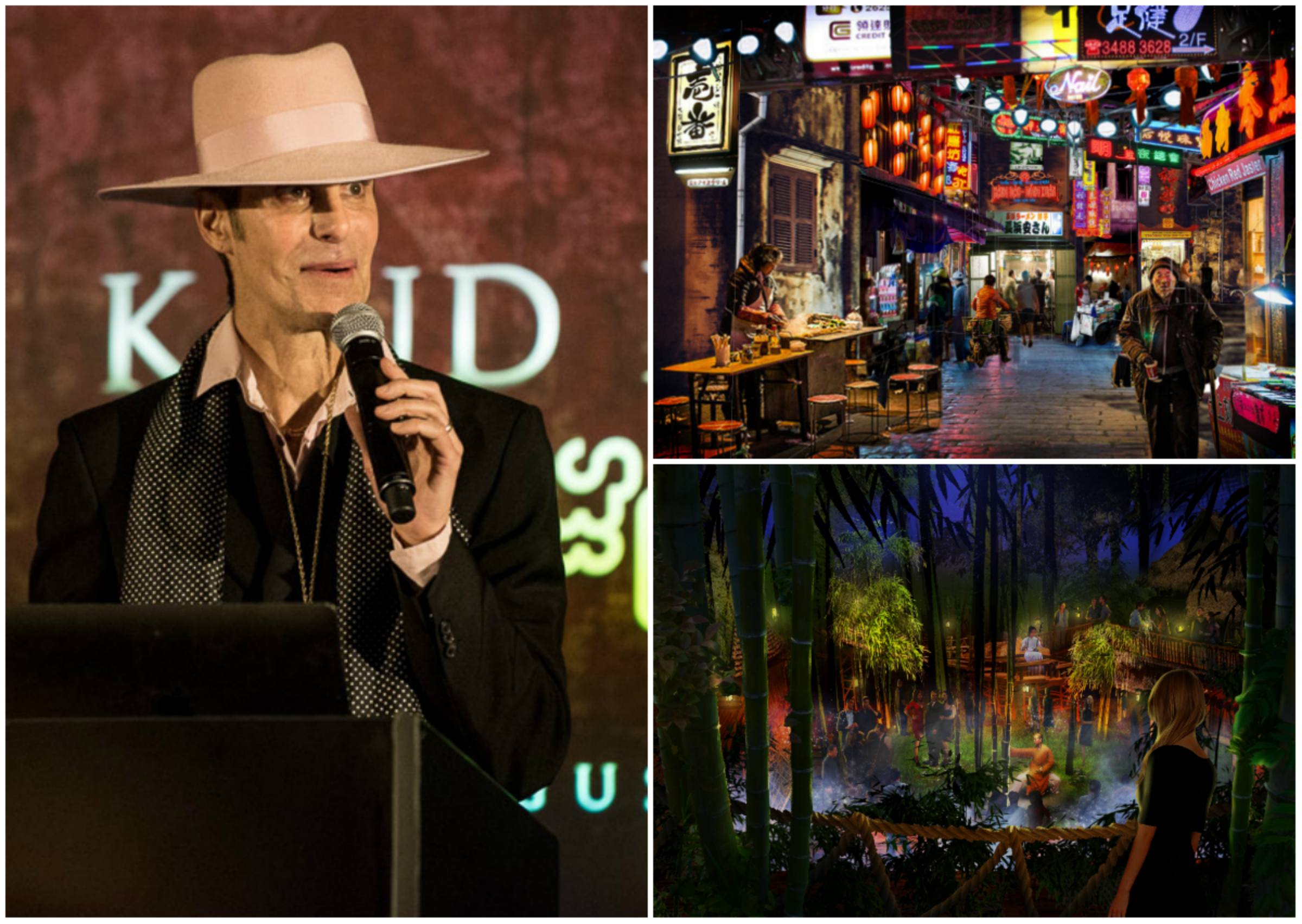 The $100 million,100,000-square-foot Southeast Asian-themed venue will have the somewhat unlikely name of "Kind Heaven." Attraction developer Immersive Artistry is the third leg of the partnership of the project, which will be accessible both from the LINQ Hotel and Casino and the Promenade. Kind Heaven is slated to open in August 2019.
A fact sheet says Kind Heaven will include "exoticism, exploration, mystery, and spiritual enlightenment." Immersive Artistry CEO Cary Granat, speaking with Las Vegas Review-Journal reporter John Katsilometes this week, described the experience thus:
"When you come in to Kind Heaven, you are entering a continuous loop or movie. Our world is a world that transports you, in all of your senses.
"You are going through … entertainment destinations and forests and rivers and waterfalls and then you're going to go through an area like Katmandu and Bhutan," Granat further explained to Katsilometes.
Whether that sounds like heaven or hell might depend on your viewpoint, and on how much legal recreational pot you may have smoked — not in a casino, of course — during your Sin City stay.
LINQ to High Heaven
Here's what we do know about the LINQ Promenade makeover: Kind Heaven will face the Las Vegas Strip, with the venue replacing the resort's current indoor sportsbook and outdoor meeting space, known as The Vortex.
Guests will pay an as-yet-to-be-determined entrance fee, and will then be equipped with a wearable device that — we are told — will allow them to seamlessly purchase food, beverage, and retail items without cash or credit cards. We'll resist the obvious punchline on that one.
Numerous stages will feature a variety of music genres, and holograms of famous musicians will play "live," or at least live-ish.
During the day, from 11 am to 5 pm, Kind Heaven will be designed as a family-friendly experience. It will then close for three hours and reopen at 8 pm as an adult venue, and remain open as such until 3 am.
Culinary offerings, we are assured, will include "over 30 different competitive high-level, almost Michelin-rated-level street food," Granat told the R-J, comparing the cuisine to what you would expect to find in Singapore, Cambodia, and Bangkok.    
Granat also revealed that there will be hologram monkey wrestling, a sport for which we've never heard a clamoring, but neither are we visionaries. He says visitors will be able to gamble on which monkey will win the fight. But of course. Caesars probably pushed for that one.
On Tuesday, Farrell said his Kind Heaven vision came to light five years ago. "I have had this secret. I couldn't contain myself. I'm happy that it's finally out," the rocker told reporters. The former frontman is also an investor, along with Caesars and Immersive Artistry, though whether all are invested equally has not been revealed.
Last fall, the LINQ announced plans to install a $20 million zipline ride above the Promenade, so shock-and-awe seems to be the name of the game there.
No Fire-Breathing Dragons
Perry Farrell and his partners will hope that Kind Heaven is more successful than previous attempts to lure in the lucrative Asian market in Las Vegas.
The Lucky Dragon filed for bankruptcy last month, after just a little more than a year in operation. The North Strip casino failed to offer player incentives thrilling enough to draw its targeted Asian demographic, and combined with its lackluster location, things went quickly from bad to worse. Although the hotel remains open for now, the gaming end of the venue is no longer operational.
And then there's Resorts World, once a $7 billion integrated resort project that was to house a live panda exhibit. After years of delays, construction recently resumed at the Strip site, albeit with a reduced investment budget of $4 billion.
Similar Guides On This Topic