North Dakota "Historic Racing" Machine Bill Poses Threat to State's Charitable Gambling Industry
Posted on: March 16, 2017, 01:00h.
Last updated on: March 16, 2017, 01:12h.
North Dakota's plans to expand gambling by creating up to six state-owned casinos have been grabbing the headlines in the local news, because of the probable impact on tribal and charitable gaming operators.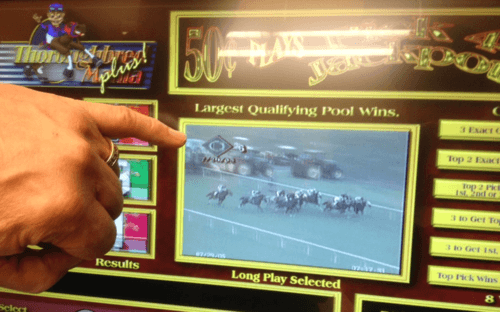 But now an under-the-radar bill, spotted by local radio host Mike McFeeley this week, poses a second threat to the 300-odd charitable gambling locations in bars and clubs across the state.
Senate Bill 2221 would authorize "historic racing" or "instant racing" machines at up to ten locations in the Peace Garden State. These machines allow gamblers to place bets on races that have already been run.
Video footage of tens of thousands of races from around the world are stored, and a race is played at random once bets have been placed. The names of the horses and dates and locations of the races, are, of course, hidden from the bettor.
Slot or Not?
Ostensibly, the machines are designed to simulate a day at the races for the happy-go-lucky bettor, but there's also another, less obvious reason for their existence. Because these races are classed as parimutuel betting, with multiple players contributing to a pool, they are not defined as "slots," or casino gaming.
At least that's the idea, although it hasn't always worked out quite so neatly. In 2006, instant racing was banned in Wyoming after the State Supreme Court ruled that "a slot machine that attempts to mimic traditional parimutuel betting" is still, at the end of the day, a slot machine.
As McFeeley points out, it may be tough to be a long-term winner at real-world racing, but at least you can study the form, which requires knowledge and skill. Not so with instant racing, where you can even ask the machine to select a horse at random for you if you get bored and choose not to do it yourself, much like a lotto ticket.
Horse Racing Wins
But the most significant point is, because the machines are defined as parimutuel betting, proceeds will go almost entirely to the horse racing industry. And SB 2221 expects $200 million per year to be wagered on the machines, if the bill passes muster in the state.
That's $200 million that might otherwise be spent on charitable gaming, to be bet instead on machines that have faced legal challenges in other states on the grounds that they are slots in disguise.
Speaking earlier this week at a hearing of the House Judiciary Committee for the proposal to create state-owned casinos, Jonathan Jorgensen, president of the board of directors for the Charitable Gaming Association of North Dakota, warned against an ill-conceived "explosion of gaming" in the state.
Latest Casino Stocks:
Retrieving stocks data...
Retrieving stocks data...
Retrieving stocks data...
Retrieving stocks data...
Retrieving stocks data...