New Jersey Lawmakers Call for Possible Atlantic City Takeover
Posted on: January 16, 2016, 01:57h.
Last updated on: January 16, 2016, 01:57h.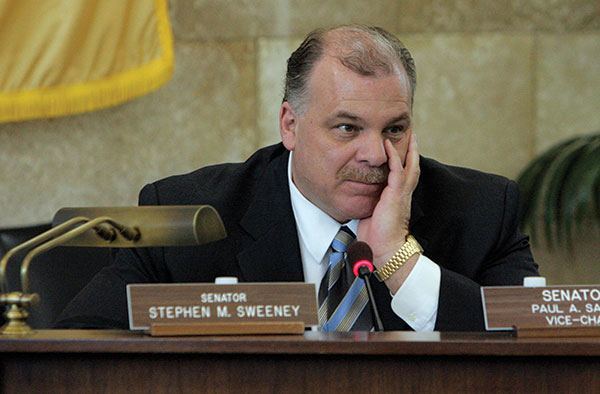 New Jersey politicians in Trenton are focusing their attention on the financial disaster currently being experienced in Atlantic City.
New Jersey Senate President Stephen Sweeney D-District 3) brought a bill to his legislative chamber this week that would give control of Atlantic City's finances to the state should local leaders fail to "clean up their act."
Cosponsored by Sens. Paul Sarlo (D-District 36) and Kevin O'Toole (R-District 40), Sweeny's proposition would seize the gambling resort town and give full control of government operations to the already-established Local Finance Board (LFB).
It would also provide the LFB with the authority to sell municipal assets and determine the city's ongoing budget.
"This is a very clear statement to Atlantic City. Get your act together, knock off the B.S. and start addressing what you need to address," Sweeney told reporters Tuesday. "The state is not going to come in and bail you out… You need to fix this."
Guardian of the City
Atlantic City Mayor Don Guardian (R) was all too quick to react, and perhaps a tad overly by linking Sweeney's plan to Pearl Harbor.
"We didn't declare war on anyone. We're not Japan or the Confederacy," Guardian replied as he explained the shocking news was Atlantic City's "Pearl Harbor."
The 1941 Pearl Harbor attack by the Japanese surprised the US Pacific Fleet and left more than 2,400 dead. The military strike led to the United States officially entering World War II.
A proposed government takeover of a city distraught and in debt might not qualify as one of the country's worst days in history.
"Certainly, no one was lost or killed," Guardian explained. "But certainly, it was that kind of a surprise to me."
Fiscal Troubles Mounting
Atlantic City is $90 million short of funding its $262 million annual budget due to casinos failing to make due on their exorbitant property taxes. Gambling revenues have fallen dramatically in the city from over $5 billion in 2006 to just over $2.5 billion in 2015.
With less money being generated and proceeds down, resort owners are falling behind on their tax obligations, with four casinos closing their doors in 2014 and several others fighting to keep the lights on.
Sweeney understands that competition from nearby states has certainly impacted Atlantic City's profitability, but he also believes the town's governance has run rampant with spending out of control.
Sweeney said a $262 million budget for a city home to less than 40,000 residents is simply out of proportion. The budget translates to the city spending over $6,700 on each citizen.
By comparison, New Jersey's largest city, Newark, another location where poverty and crime runs rampant, spends only $2,736 per resident. "It's time for them to get their fiscal house in order," Sweeney concluded.
State Knows Best?
When it comes to government-controlled overtures, success stories are few and far between. Guardian and Atlantic City Council President Marty Small (D) point to the state's track record running its tourism district, which it took over in 2010.
"They took over the tourism district in 2010. And under their watch, four casinos closed," Small said.
By all assumptions, the news from Trenton was anything but well received.
The ball is likely in Sweeney's court. How swiftly he'll act remains to be seen.