Pro-MGM Springfield Lawmaker Says Casinos Won't Be Economic 'Silver Bullet' for Massachusetts
Posted on: September 4, 2019, 12:00h.
Last updated on: September 4, 2019, 12:19h.
A Massachusetts lawmaker who has been a supporter of MGM Springfield said over the weekend that casino gaming is not going to be the engine the state needs to sustain its economy.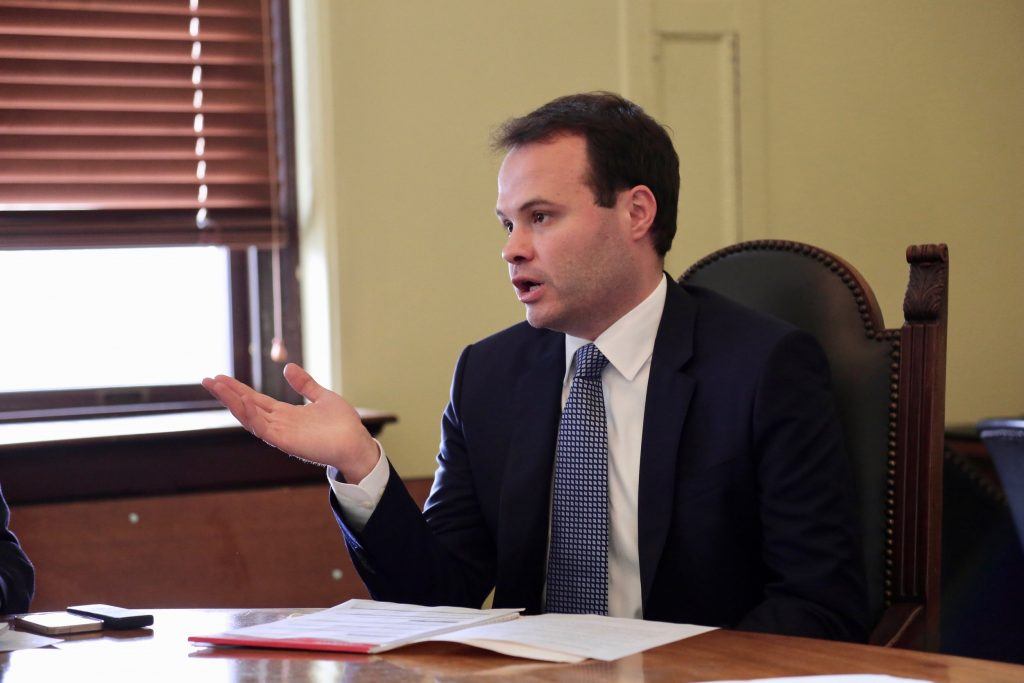 State Sen. Eric Lesser (D-East Longmeadow) was a guest for On The Record Sunday on WCVB-TV in Boston. Towards the end of the public affairs show, host Ed Harding brought up the topic of expanded gambling in the state.
Lesser's district is adjacent to Springfield, home to the MGM casino. The state's first, it represents a $960 million investment, and sits about 15 minutes away from the senator's office.
The MGM casino struggled in its first year of operation, taking in just $252.8 million in gross gaming revenue. That's only about 60 percent of what state officials expected for the first year when they pushed for casinos nearly a decade ago.
That lackluster performance has Lesser concerned.
It really was a promise, at least, to be a jobs creator, and it has been for now," Sen. Lesser said about MGM. "We're going to see what happens, but frankly … gambling is not going to be the economic development silver bullet for this state."
Instead, Lesser opined that Massachusetts needs to work on fixing traffic and housing issues and bolster infrastructure in order to keep its economy running efficiently.
Two Economies
When looking at the economies of individual states, the Bay State fares well in most studies. For example, a recent WalletHub study listed Massachusetts No. 3 overall. While it received strong marks for economic activity and innovation potential, its ranking for economic health was just 20th, which indicates there could be trouble down the road.
Lesser, meanwhile, noted to On The Record that the state has two economies. There's Boston, which is home to millions of people and has thriving technology and business sectors. Then there's western Massachusetts, with fewer people and less job opportunities.
I think that the MGM project is an important one," he said. "I want to see it succeed, because there's a lot of people now relying on that for their paycheck. But we cannot delude ourselves into thinking that casinos are going to be the answer."
Rather than push through more gaming legislation, Lesser said he's working to find other ways to bring jobs to the area, such as working on an east-west, high-speed rail project.
Encore Hurting MGM?
Harding also asked if Encore Boston Harbor, the Wynn resort casino that opened earlier this summer, was hurting MGM.
In July, Encore's first full month in operation, the property produced gross gaming revenue (GGR) of $48.6 million. MGM had just $20.4 million.
"You know the Encore project has only been open a little while, but it would make intuitive sense that if you have two (casinos) in the state, that they would begin to compete with each other," the senator said.
But MGM doesn't just face in-state competition. While Connecticut's two tribal casinos have seen revenues decline since the Springfield casino opened, MGM Springfield President Mike Mathis said MGM may have underestimated customer loyalties to Foxwoods and the Mohegan Sun.
MGM is also seeking to stop Connecticut officials from building a satellite casino for the Mashantucket Pequot and Mohegan tribes, an outlet that would run as a joint venture. Last month, MGM filed a federal lawsuit against the US Interior Department to block the proposed casino from being built south of Springfield and just 12 miles from the Connecticut-Massachusetts border.
Similar Guides On This Topic