Man Gets Flushed with $1 Million at Flamingo Las Vegas
Posted on: April 25, 2017, 04:00h.
Last updated on: April 26, 2017, 12:05h.
April 15th is usually a taxing day for most Americans, but a man made the IRS filing deadline day a lot more enjoyable.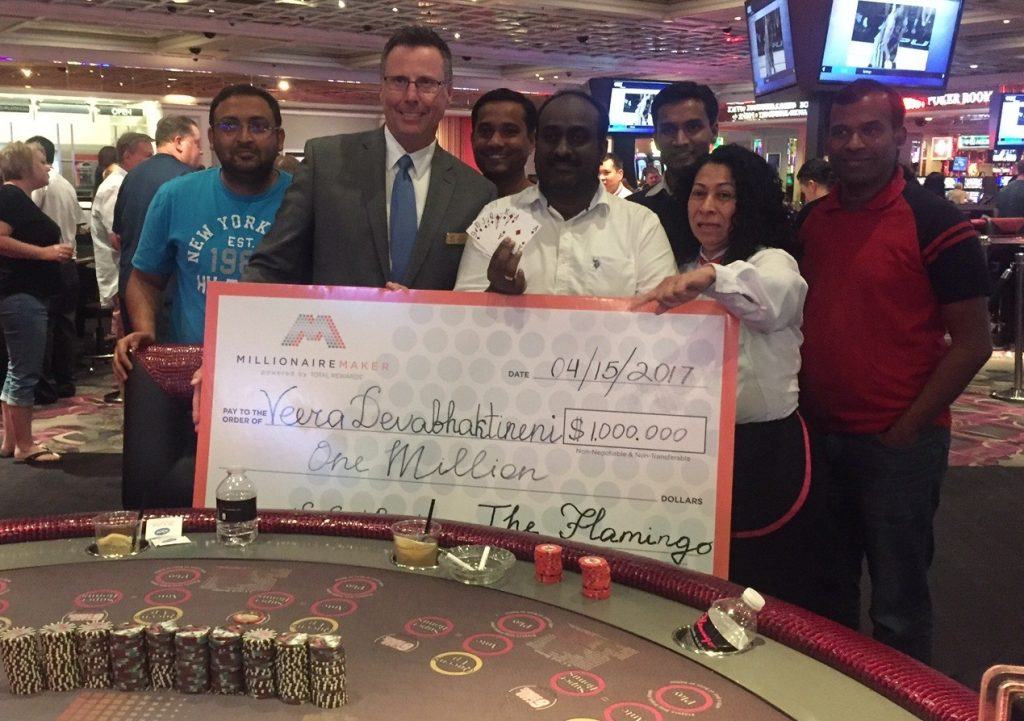 The San Diego resident was on vacation in Las Vegas and was playing Crazy 4 Poker at the Flamingo when he won $1 million competing in the specialty table game.
It took Veera Devabhaktineni less than an hour to win the jackpot. He hit a diamond six-card royal flush to become an instant millionaire. This wasn't the first time he had played, but the first time he had ever won such a big prize.
Popular Among Gamblers
The game is a variation of Three Card Poker and was invented by Roger Snow, executive vice president at Shuffle Master, on January 28, 2002. He is responsible for others, such as Ultimate Texas Hold'em, Five Card Omaha and Dragon Bonus.
Ironically, Snow wasn't sure the game would succeed and created another game, Four Card Poker, just in case the other flopped.
It turned out to be fairly successful and there are now approximately 100 Crazy 4 Poker tables in the US. Forty of them are in Nevada and most Strip and downtown casinos have one on their gaming floor.
Rules of Game
Five cards are dealt to the player and five to the dealer and contestants can decide if they want to play or fold their hand and lose their bet.
Players use four of their cards to make the best hand and compete against the dealer's best four cards. If a player wants to continue and they defeat the house, they are paid out accordingly: pair even money, flush 3-1, straight6-1, three of kind 30-1, straight flush 40-1 and four of a kind 50-1.
How Devabhaktineni got his huge payout was combining his cards with the dealer's cards to make a six-handed royal flush, 9 to the ace.