Macau Profits Continue to Rule the Casino Universe
Posted on: April 4, 2014, 05:30h.
Last updated on: April 2, 2014, 10:51h.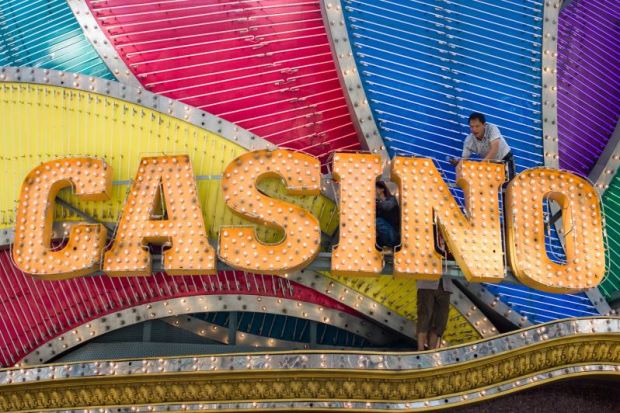 Ten years ago, when Las Vegas Sands chairman and i-gaming-hater Sheldon Adelson first invested in Macau, he claimed it would become the "Vegas of the East". Today, it looks like it's gone a step farther. While gambling revenue in Las Vegas has been falling short of expectations these days, Macau continues to go from strength to strength, as Chinese tourism drives profits sky-high.
Upbeat March
Forbes reported this week that Macau – one of the world's fastest-growing economies – raked in $4.4 billion in gaming revenues in March alone – that's up 13.1 percent from the same period last year. So far in 2014, the region has reported a better-than-anticipated $12.6 billion, up 19.8 percent from the first quarter of 2013. And all of last year was a record-breaker, with $44.4 billion pulled in in total.
To put these numbers into perspective, the Asian casino hub essentially rakes the yearly income of Las Vegas in just two months. It's no wonder that Macau – more than Las Vegas – is today considered to be the gambling capital of the world.
It's good news, however, for the US casino giants who have invested and built in Macau in recent years – they saw their shares jump this week following the announcement. Adelson, in particular, will be licking his chops. LVS shares were up 3 percent the morning after the results were posted, as were those for Wynn Resorts.
Adelson said this week: "In Macau we delivered record financial results, with strong growth and operating momentum reflected in every segment of our business."
Middle Class Moves Up
The results reflect growing wealth in Asia and a shifting of the revenue stream, as the VIP high-roller who traditionally made up much of Macau's business gives way to the burgeoning Chinese middle-class, which – newly affluent and mobile – has embraced tourism in the region.
And while Macau looks to diversify its economy and embrace non-gambling-related attractions to better cater to this new demographic, other countries in the region have embraced casino gambling themselves, eager to tap into some of that wealth. Casinos have been springing up nearby in the Philippines, South Korea and Vladivostok in Russia. Meanwhile, Japan is expected to legalize casino gambling this year and open up a gaming market which, analysts predict, could potentially become the second-biggest in the world, perhaps worth $40 billion annually. These figures prompted Adelson to say recently that he would be willing to spend "whatever it takes" to gain a foothold in the Japanese market.
While the casinos of Las Vegas make most of their revenue – about 60 percent – from non-gaming-related ventures these days – items such as restaurants, bars, hotel rooms, and shopping malls – in Macau, well over 90 percent comes from gaming, which is why the region is looking to diversify its entertainment offerings. No new casino resorts are due to be built in 2014, but eight are planned over the next three years.
The former Portuguese colony's rise has been unstoppable since the gambling monopoly held by Stanley Ho ended in 2012, effectively opening up the region for foreign investment. That investment helped to spur a boom that saw the amount of casinos triple in a decade, to 35.