Graham Expresses Concerns About College Sports Betting at Senate Judiciary Hearing
Posted on: July 22, 2020, 08:04h.
Last updated on: July 23, 2020, 10:31h.
Opponents of legal betting on college athletics found an ally in Senate Judiciary Committee Chairman Lindsey Graham (R-S.C.) Wednesday.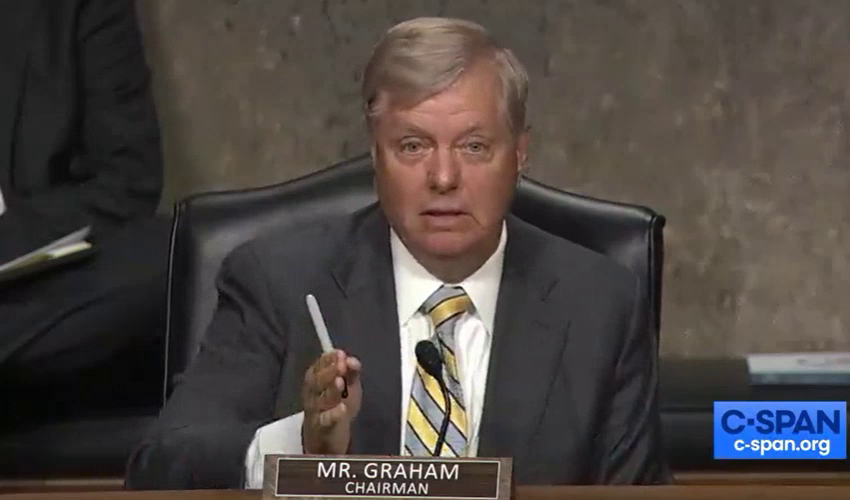 The South Carolina Republican presided over a committee hearing that examined how to protect the integrity of college sports. Most of the session focused on the rights of student-athletes and their ability to receive compensation for their name, image, and likeness. However, the last 30 minutes delved into betting on college games and the fears school administrators have on that.
University of Pittsburgh Athletics Director Heather Lyke represented the colleges. She not only talked about concerns over game-fixing, she also addressed student safety concerns, especially when they receive messages from those who lost a bet.
Imagine the messages the student-athletes will receive based on the outcome of a game," Lyke said. "If gambling is legal and money's at stake, these pressures and threats become real and undermine the integrity of college sports."
With hundreds of student-athletes, thousands of students, and thousands of boosters, schools do not have the bandwidth to monitor everyone who could make a threat, seek out confidential information, or entice someone to help win a bet.
Graham dwelled on the threat prop bets may have on college sports, even as American Gaming Association CEO Bill Miller tried to assure the senator that the type of wager he described — whether the first play is a run or pass — was far-fetched.
"I'm just saying that, I don't know, that seems to be almost uncontrollable, and that I think is going to ruin the game," Graham interrupted. "You got a bunch of people who are amateur athletes. Even with name and likeness, most of them are not going to make a bunch of money. Just how much money could you make if you're a trainer on the team and you tell somebody, 'First play's going to be a pass.' We need to do something about it."
Miller: Ban Won't Stop College Betting
In his opening statement, Miller told the panel that banning betting on college games will only drive the activity underground, offshore and away from the regulated markets that could help the NCAA monitor for unscrupulous activity. That's what happened before the Supreme Court overturned PASPA two years ago, and even today.
Before PASPA was overturned, Americans bet $150 billion a year through illegal sportsbooks.
"More Americans now have access to legal sports betting than ever before," Miller said. "Yet, the illegal market continues to thrive, driven in part because of continued restrictions and by widespread confusion around the legality of easy to access offshore websites."
Graham, though, asked Miller why some states, like New York and New Jersey, prohibit betting on in-state schools, as well as neutral-court games played in their state.
It was a topic Lyke brought up as well.
"The case for prohibiting gambling on college sports on a national basis is made by the various states that have already authorized it," she said. "Many states that have permitted sports gambling have recognized the dangers of it, and prohibited (in-state college betting)… While these states seek to protect their own students and universities, they are willing to allow the negative effects of gambling to impact the rest of the country."
Bill of Rights Proposed
Graham was joined at the committee meeting by US Sens. Richard Blumenthal (D-Conn.) and Cory Booker (D-N.J.). Both spoke about an initiative they're spearheading that would create a student-athlete bill of rights.
While neither Blumenthal nor Booker mentioned sports betting, it's possible their bill will include some type of provision regulating betting on college sports. A spokesperson for Blumenthal previously alluded to sports betting being part of such a bill. Whether it's an outright ban or limitations on types of bets, such as prop bets on college players, remains to be seen.
Graham noted that when the Supreme Court overturned PASPA, the justices ruled that the law directed certain states to ban sports betting, which is unconstitutional. While it can't tell states what to do, Congress, though, can implement a ban itself.
"I think we can fix that problem if we want to go down that road," Graham said.