From AC to DC: Donald Trump Inaugurated 45th US President, Only Former Casino Owner to Hold Office
Posted on: January 20, 2017, 10:00h.
Last updated on: January 20, 2017, 10:33h.
Donald Trump is officially the 45th president of the United States. The first commander-in-chief to have ever owned a casino took the oath of office at noon EST on Friday to become leader of the free world. His road from Atlantic City gambling mogul to Washington, DC's top dog has been as unpredictable as any run of a roulette wheel ever was.
With his wife Melania by his side, dressed in a fashion reminiscent of former First Lady Jacqueline Kennedy Onassis, Trump promised to uphold the Constitution of the United States.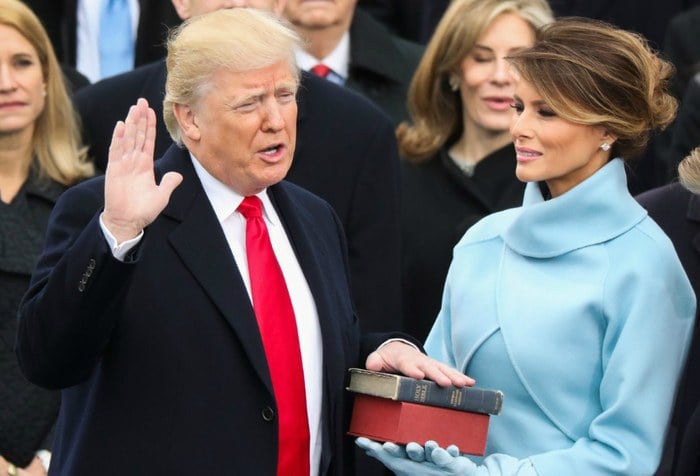 Bringing Fresh Blood to the Game
For the casino industry, Trump's rise to power raises a host of potential dilemmas.
Topics such as online gambling, sports betting, and daily fantasy sports will all make headlines in states across the union this year and through 2020. While it would be expected that Trump, who made some of his fortune off casinos, wouldn't favor legislation that would impede gambling growth, some of his top advisors might. We take a look:
Jeff Sessions: Trump's nomination for US Attorney General presents a predicament for online gambling proponents and operators, as well as those who favor states' rights.
During his confirmation hearing, Sessions responded to an iGaming question posed by Sen. Lindsey Graham (R-South Carolina). Sessions said he was "shocked" over the 2011 Wire Act interpretation issued by the Department of Justice that opened up internet betting, and told the Senate panel he would consider revisiting the opinion.
Sheldon Adelson: More cause for concern for internet casinos is determining what sort of influence billionaire Sheldon Adelson will have on Trump's governance. The Las Vegas Sands CEO gave tens of millions of dollars to groups supporting the GOP candidate, and the gaming baron is on a personal crusade to outlaw online gambling.
Lindsey Graham and Jason Chaffetz: Adelson's Batman and Robin in DC, Graham and Rep. Jason Chaffetz (R-Utah), are both ready to champion anti-online gambling legislation and have been for more than three years. But now armed with a Republican in the Oval Office who could be persuaded by Adelson, the two congressmen might have a renewed sense of enthusiasm.
Chaffetz has been a longtime supporter of the Restoration of America's Wire Act bill, which essentially returns the 2011 DOJ reinterpretation to its earlier blanket ban on online gaming. The DOJ asserted that it only applied to sports betting, the only form of "wire" betting that existed when the measure was enacted in 1961.
Carl Icahn, Steve Wynn, and Phil Ruffin: Trump may be out of the casino field, but fellow gaming industry magnates Icahn, Wynn, and Ruffin could have some indirect influence on the president.
Icahn, worth some $17 billion, will advise the commander-in-chief unofficially on regulatory issues in a non-federal employee capacity. Wynn never publicly endorsed Trump, but has recently been seen at his events and was publicly thanked by the president the night before his inauguration. Ruffin, who owns Treasure Island in Las Vegas among other gaming properties, was an RNC speaker, and is a lifelong friend of the new American leader.
Power to the People
In broader issues, Trump said in his inaugural address that today wasn't a transfer of power to himself, but to the American people.
"Today, we are not merely transferring power from one administration to another or from one party to another. But we are transferring power from Washington, DC, and giving it back to you, the people," President Trump announced.
Whether that will include the power to determine if individual states can continue to legalize online gambling remains to be seen.
Similar Guides On This Topic
Latest Casino Stocks:
Retrieving stocks data...
Retrieving stocks data...
Retrieving stocks data...
Retrieving stocks data...
Retrieving stocks data...