Chinese Online Lottery 500.com Pays Off Nicely for Investors
Posted on: January 9, 2014, 05:30h.
Last updated on: November 30, 2021, 10:50h.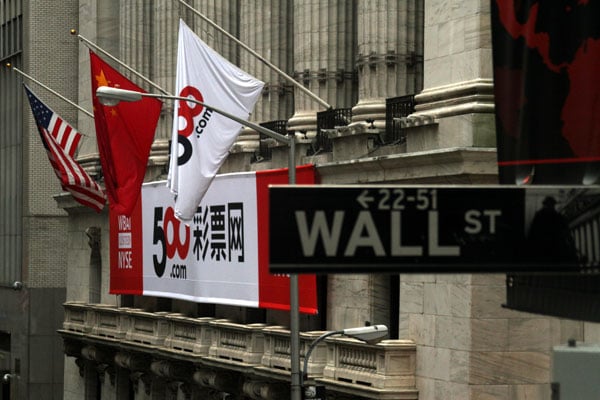 Investors in Chinese online lottery platform 500.com Ltd. are off to a happy start to the New Year;  in the six weeks since its New York Stock Exchange birth, the value of the company has almost tripled from its initial public offering price of $13.
Winning the Lottery Lottery
As the only Chinese lottery firm to be listed in the United States, 500.com is one of just a handful of companies set to benefit from the Chinese government's whittling down of thousands of private lottery operators, as they license and regulate the industry to just a small number of firms. All of these will ultimately be vying for a potential market of over 400 million lottery players in the country.
"Over the next five years it is very clear that the Chinese market will continue to grow very quickly and the government regulatory regime will become more open and transparent," explained 500.com's chief financial officer Zhengming Pan.
China's lottery market has taken off remarkably in recent years, thanks to a rise in disposable income throughout the country, as well as a national appetite for gambling and advancements in gaming technology. As a result, China's lottery spending reached $23 billion in 2012, while the U.S. – the largest lottery market in the world – was still staunchly in the #1 spot with $37 billion spent annually on tickets.
Experts expect the Chinese lottery market to grow by 20 percent over the next three years, and even predict that they will jump into the leading spot by 2015, as the U.S. is expected to see a much slower growth rate during that same time period.
Playing Asian Lottery Catch Up
The government is certainly anxious to expand on the 7-8 percent of Chinese adults who currently purchase lottery tickets, especially since the wider Asia Pacific region is currently seeing 70-80 percent of adults purchasing tickets. To increase this percentage, industry experts say that the government will be looking to improve payouts, bring new products forward, and widen distribution channels, making it easier to purchase tickets from more locales.
"The Chinese government wants to consolidate the current lottery market, making it easier to control and regulate," explained Hoffman Ma, deputy chairman of Success Universe Group Ltd., an outfit authorized to offer sports lottery sales agency services in three of China's provinces. "They are seeking operators with stable platforms and want to ensure that all bets that come through will pay tax."
While lotteries in China have largely consisted mainly of traditional paper tickets, single match games which give punters the chance to bet on the results of basketball or football – as well as video lottery terminals and scratch card games – have become more common in recent years. And since the government legalized Internet and telephone lottery channels at the end of 2012, taking part has become easier and more popular.
However, popularity in the U.S. is often garnered by enormous jackpots reaching into the hundreds of millions of dollars. China, on the other hand, still caps their jackpots at 10 million yuan ($1.65 million). As in the States, not only winners benefit;  a portion of the proceeds from the tickets – which cost between 2 yuan and 200 yuan – go towards supporting various sports and welfare charities.
Most Read