Caesars Granted "Ides of March" Deadline for Bankruptcy Control
Posted on: October 23, 2015, 05:52h.
Last updated on: October 23, 2015, 05:56h.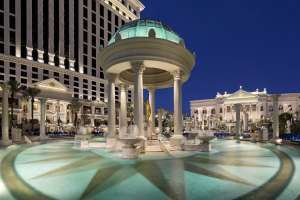 Caesars Entertainment Corp has been granted a four-month extension on control of its Chapter 11 proceedings.
It now has until March 15th to persuade its junior creditors to accept its new debt reorganization plan, the date known in the ancient Roman calendar as "the Ides of March."
Of course, the Ides of March was the date Shakespeare's Julius Caesar was encouraged to "beware!" by a snaggletooth soothsayer, advice he chose, unwisely, to disregard.
He was assassinated on the aforementioned date by his former supporter, Brutus.
Either this is a classic example of life imitating art or there is a bankruptcy judge out there with a wicked sense of humor.
In fact, it was Caesars Entertainment's lawyers, clearly unaware of the fatal connotations of the date for the company's famous namesake, who requested the deadline.
"Most Complex Bankruptcy of a Generation"
Caesars is currently engaged messy and expensive bankruptcy proceedings as attempts to reorganize some $18 billion of its debt load by putting its major operating unit, Caesars Entertainment Operating Corp (CEOC), though Chapter 11.
Caesars itself has called this "the largest and most complex bankruptcy in a generation."
The casino giant took on most of the debt following an ill-timed $32 billion leveraged buy-out in 2008, just before the global economic downturn ravaged the casino industry in the US.
The company's second-lien creditors have launched lawsuits against what they claim is a reorganization process that favors major creditors at their expense.
The lesser bondholders argue that several of CEOC's assets were fraudulently transferred to Caesar Entertainment and other subsidiaries for the benefit of its controlling private equity backers.
This left CEOC with distressed assets and an inability to pay its $18 billion debt load, they argue, while placing its most valuable assets out of the reach of the bondholders.
They accuse the company of creating a "good" Caesars and a "bad" Caesars; one to hold valuable assets, the other to hold the debt.
Lend Me Your Ears
Caesars is asking second-tier bondholders to lend their ears to a new reorganization plan, drawn up earlier this month, which has support from creditors holding around $12 billion of the $18 billion debt load.
Under the new deal, CEOC's business would be divided into an operating company and a real estate investment trust (REIT).
The company's deadline for retaining control over the reorganization process was due to elapse next month, on "the Ides of November," but lawyers argued this week that it needed more time to convince the others to come on board. The judge readily agreed.
Caesars will hope that its bondholders will come to praise its new plan, not to bury it.