Betr Signs the Cavinder Twins, Basketball and Social Media Stars, as Content Creators, Equity Partners
Posted on: April 19, 2023, 10:08h.
Last updated on: April 19, 2023, 03:26h.
Haley and Hanna Cavinder, twin sisters and social media influencers who recently left college basketball, are now partners in Betr, the US-based sportsbook focused on microbetting and original online content.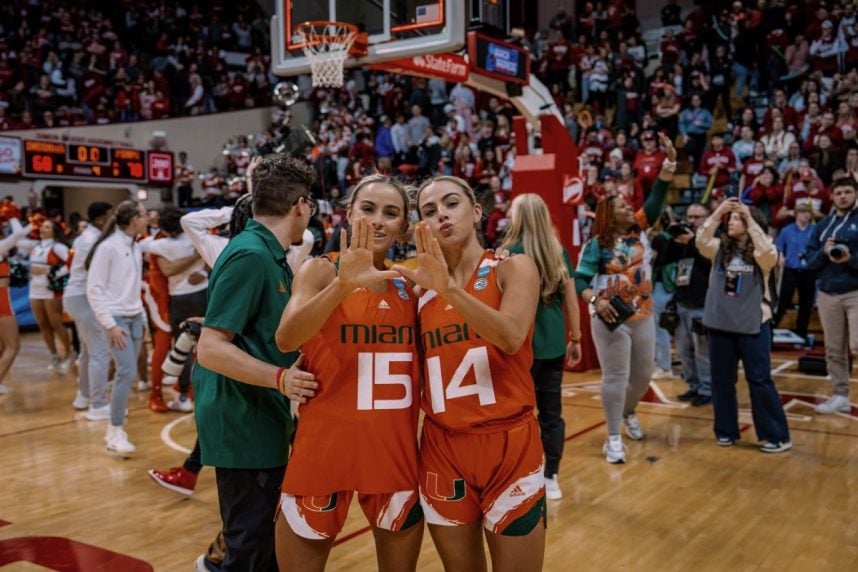 According to a Betr release, the Cavinder twins will "be foundational on-camera talent" and develop "female-centric sports content" for the $50 million company founded by Joey Levy and Jake Paul last August. Terms weren't disclosed, but the deal will make the former Fresno State and Miami (Fla.) hoopsters equity partners.
Betr gives us the ability to accelerate the growth of The Cavinder Twins brand in a focused and truly authentic manner," Haley and Hanna Cavinder said in a statement. "We love sports, thrive on competition, and enjoy creating and bringing ideas to life. Betr truly makes The Cavinder Twins and our brand that much better and bigger."
The sisters transferred to Miami last year and reportedly received $2 million from name-image-likeness deals. They helped the Hurricanes reach the Elite Eight in the NCAA Women's Tournament for the first time in a run that included upsetting No. 1 seed Indiana on its home court.
The Cavinders could have played college basketball next season because the NCAA granted athletes an extra year of eligibility if they played during the 2020-21 COVID-shortened season. They chose to forego that option and focus on "a new chapter," according to a statement they released a week ago.
Cavinder Twins Followed by Millions
The Cavinder twins will bring their podcast "Twin Talk" to Betr's content lineup as part of the deal.
They will join an outfit with more than a million followers and reached 800 million views and 50 million engagements across its social media platforms over the last eight months.
The sisters' TikTok account has 4.5 million followers and 140.5 million likes. Each sister also has an individual Instagram account, with both audiences exceeding 650K followers.
Levy, Betr's CEO and co-founder, said the site is striving to become the leading landing spot for original content creators and that the twins are "just scratching the surface" of what they can do.
Betr can and will leverage the rapidly growing Jake Paul and Betr Media audiences to make emerging talent even more famous than they already are … Betr Media's objective is to attract, enhance, and amplify the next wave of generational content creators, and this partnership is a testament to that approach," Levy said. "Our talent flywheel is continuing to get stronger, and we are just getting started."
Darren Heitner, a sports business attorney representing the twins, said in a statement that both Betr and the Cavinder twins will benefit from the partnership.
"It is a perfect fit for the twins to be a part of a quickly expanding media empire," he said. "A real win-win and a massive opportunity for Haley and Hanna to further their global reach after basketball."
Growing Interest in Women's Sports
Betr's deal with the Cavinder twins comes as more sports fans follow women's sports. The NCAA Tournament featured record ratings, with nearly 10 million watching the championship between LSU and Iowa. Millions more watched games in the earlier rounds, with those contests drawing audiences that exceeded viewership totals for NBA, NHL, and MLB telecasts.
It's not just basketball, either. The Women's World Cup in soccer takes place in July and August in New Zealand and Australia, and the US Women's National Team will look to win its third consecutive title. Interest is also picking up for the WNBA, the women's pro basketball league in the US, and the NWSL, a US-based women's professional soccer league.
Last week, Gaming Society, an emerging company co-founded by NBA star Kevin Garnett seeking to better educate sports fans about gambling, announced a deal with NBC Sports to help increase editorial coverage of women's sports.
"Awareness and excitement around women's sports continues to grow, making the need for betting education and access to betting lines and opportunities greater than ever," says Gaming Society co-founder and CEO Jaymee Messler. "Legalized sports wagering has proven to be a driver for engagement across sports, and we look forward to working with NBC Sports to showcase the wide array of voices and storylines in women's sports while also empowering the next generation of women athletes."