Two More Horses Die at Santa Anita as California Board Calls for Racing Stoppage; Attendance, Handle Plummet
Posted on: June 10, 2019, 07:01h.
Last updated on: June 10, 2019, 07:01h.
Two more fatalities occurred at Santa Anita over the weekend, pushing the number of equine deaths to 29 at the Southern California track in nearly six months. And with the meet nearly over, the California Horse Racing Board has seen enough.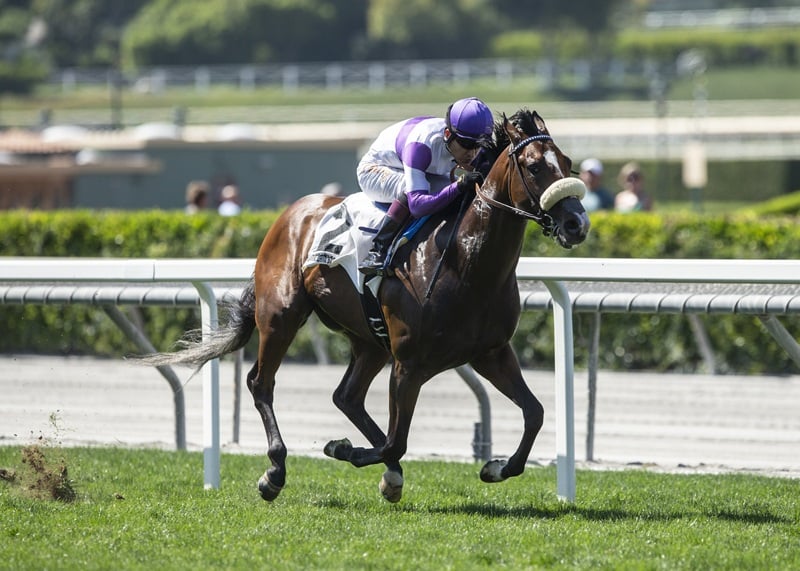 The 28th death happened Saturday after Formal Dude pulled up in the stretch of the 10th race. Media reports indicated a veterinarian put down the 4-year-old gelding after he suffered a pelvic injury. That's when state agency requested Santa Anita cancel the remainder of its racing calendar, CHRB spokesman Mike Marten told Casino.org. However, track officials declined to do so.
Then on Sunday, 3-year-old filly Truffalino suddenly slowed down during her race and collapsed before crossing the finish line. Preliminary reports indicate she suffered a heart attack.
Trainer Richard Mandella told the Southern California News Group's Art Wilson that she was a "healthy" filly. He also defended the track.
"I'm out there enough and it's in great shape," he said. "Just can't get out from under this cloud."
Racing is set to resume at the track on Friday. Santa Anita has two more weekends left in the meet, with the final racing day currently scheduled for June 23.
Stakeholders Say Reforms Working
Late Sunday, The Stronach Group, which owns Santa Anita, along with the Thoroughbred Owners of California and California Thoroughbred Trainers issued a joint statement that noted since racing resumed in late March, catastrophic injuries have decreased by 50 percent during races and by more than 84 percent during training.
They credit the reforms made during the three-week suspension to inspect the track and review records on the fatalities. Those reforms included sweeping changes to medication protocols for horses and restrictions on jockeys' use of the riding crop.
A detailed and serious epidemiological investigation of all track accidents is underway and will continue with the greatest urgency," the statement read. "Track management, owners, trainers, and veterinarians are re-doubling their vigilance and close supervision of both training and racing protocols and will consider all enhancements to the sweeping new protocols already introduced. We have great respect for Governor Newsom and the CHRB, and we look forward to working closely with them as we continue to discuss these issues."
After a death on March 31, the first weekend racing resumed after the suspension, Santa Anita did not have another fatality until Commander Coil, a gelding, went down on May 17. Two more horses then died within nine days.
In recent weeks, as the number of deaths has increased, the track has been under mounting pressure to stop racing. That's included a renewed call by U.S. Sen. Dianne Feinstein and one by the Los Angeles Times editorial board.
Since Santa Anita did not comply with the CHRB's request, the only recourse for the board would be to hold a meeting to discuss the measure. That would require a 10-day notice.
Coincidentally, the board has its regularly scheduled meeting set for June 20. Currently, nothing related to Santa Anita is listed on that meeting's agenda. Marten told Casino.org the deadline for changes to that meeting's agenda is Monday.
Attendance, Handle Decline
The rash of equine deaths have had a toll on both track attendance and betting on the races.
Over this past weekend, 21,195 people came out for the three days of racing. The on-track handle for those cards totaled $3.6 million. By comparison, the same weekend a year ago attracted 29,802 fans who bet just less than $5 million.
That's a 28.9 percent dip in attendance and a 27.5 percent drop in the on-track handle.
Interest isn't just dropping at the track. For the weekend, the combined intra-state and interstate wagering on Santa Anita's races totaled $25.9 million. That's a 22 percent decline from the same weekend last year when off-track bettors wagered $33.2 million.
While racing is set to end at Santa Anita in less than two weeks, the track is also scheduled to hold the Breeders Cup on Nov. 1-2. So far, no plans have been announced to move the event to another track.
Latest Casino Stocks:
Retrieving stocks data...
Retrieving stocks data...
Retrieving stocks data...
Retrieving stocks data...
Retrieving stocks data...