2018 Macau Casino Revenue Projections Looking Sexy and Stable, Ongoing Upward Trends
Posted on: November 6, 2017, 03:00h.
Last updated on: November 7, 2017, 02:07h.
Macau's gaming industry is having a very good year, and can expect those revenue growth trends to continue. According to the gaming enclave's Secretary for Economy and Finance, Lionel Leong, the local government is projecting that gross gaming earnings at casinos in the territory will continue to burgeon in 2018.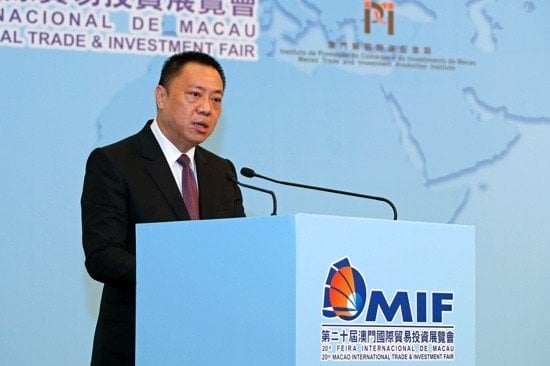 That projection follows 15 straight months of growth for Macau's casinos, which had previously faced three years of declines, due to factors including a corruption crackdown by the government of mainland China. Now, it appears that the gambling hub might someday be able to once again reach the kinds of revenue totals that the city saw at its peak in 2013.
Leong's comments didn't include a specific estimate on how much growth the government was expecting next year. However, he did say that current trends suggested an increase in both casino revenue and how much the government would subsequently collect in taxes in 2018.
On a Rush
Leong stated what has recently become obvious given the numbers so far this year: that 2017 will turn out to be the first growth year for the local gaming sector since 2013. He also noted that this growth appears to be stable.
"We believe [casino revenues] will continue to increase at a rate above one single digit and that [when tallied, 2017 casino revenues] will be better than last year's," he told reporters.
As in many parts of the world, however, these increases aren't just about players spending more time at the baccarat table. Leong said that the government expects a strong finish to 2017 thanks to a number of nongaming events that will boost numbers throughout the city, including the Macau Grand Prix, which will take place later this month.
Best October in Three Years Offers Promise
Macau's turnaround has been a long time coming. Things began to stabilize last year, when casino gross gaming revenue (GGR) declined by just 3.3 percent year-over-year, with the resorts taking in 223.2 billion patacas ($27.66 billion). That was above government projections of MOP200 billion ($24.8 billion), a sign that things might be starting to improve in the territory.
That also meant that when the government made that same MOP200 billion prediction for 2017, there was a good chance the casinos would outpace that number. Sure enough, the gaming industry has already brought in nearly MOP220 billion ($27.3 billion) in the first 10 months of the year, a 19.2 percent increase from the prior year.
Individual monthly totals have given gaming operators even more reason to cheer. In October, casinos won about $3.3 billion, the best monthly performance for the industry since October 2014. That far surpassed forecasts by analysts at Bloomberg, sending casino stocks upwards as investors began to express confidence that Macau's comeback is a lasting trend, rather than a temporary stroke of good fortune.
Similar Guides On This Topic