O'Sheas Casino Has Been Gone Five Years, But It's Not Forgotten
The beloved O'Sheas Casino closed at noon on April 30, 2012. Five years later, diehard fans of O'Sheas still feel the sting of saying farewell to what had been a 23-year run on the Las Vegas Strip.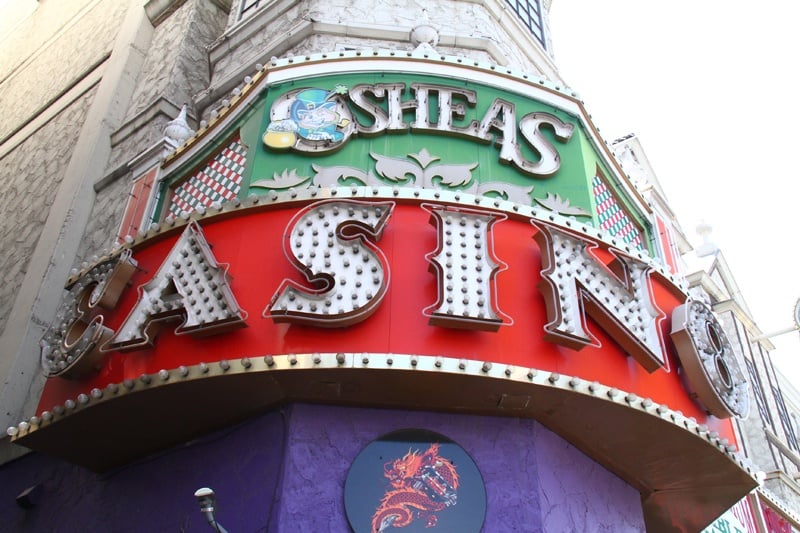 O'Sheas Casino was closed to make way for the Linq Hotel & Casino. On its closing day, O'Sheas customers came out in force to knock back one last beer, play a final hand of "Strip Poker" and wish Lucky the Leprechaun good luck.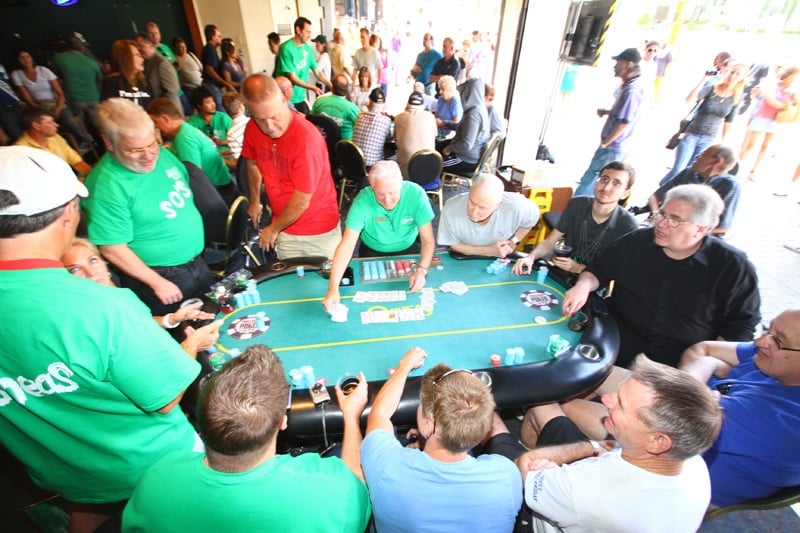 O'Sheas opened in 1989 and was a rare stand-alone casino on the Las Vegas Strip. It wasn't part of a resort and didn't have a hotel.
O'Sheas was known for its cheap eats, low table minimums, live music and beer pong.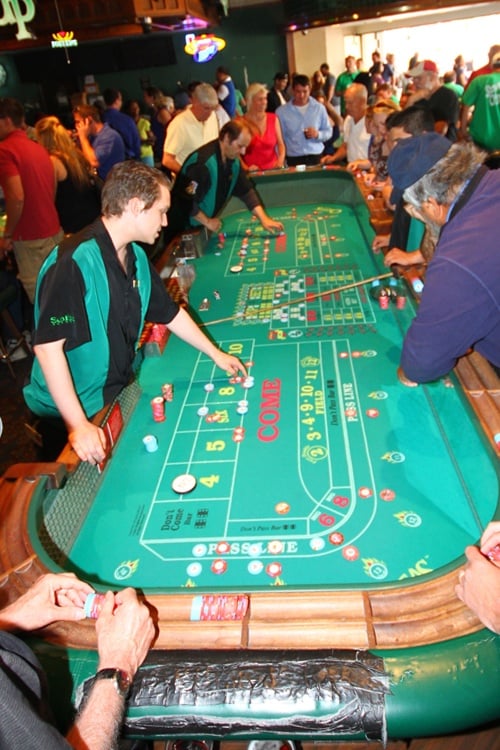 In time, a new O'Sheas would open in the Linq. The new O'Sheas opened Dec. 27, 2013, and has become the most profitable part of the Linq Hotel & Casino.
Still, it's not the original O'Sheas. Although, Lucky the Leprechaun (his real name is Brian Thomas) returned, so, in a way, the O'Sheas legend lives on through his mischievous exploits.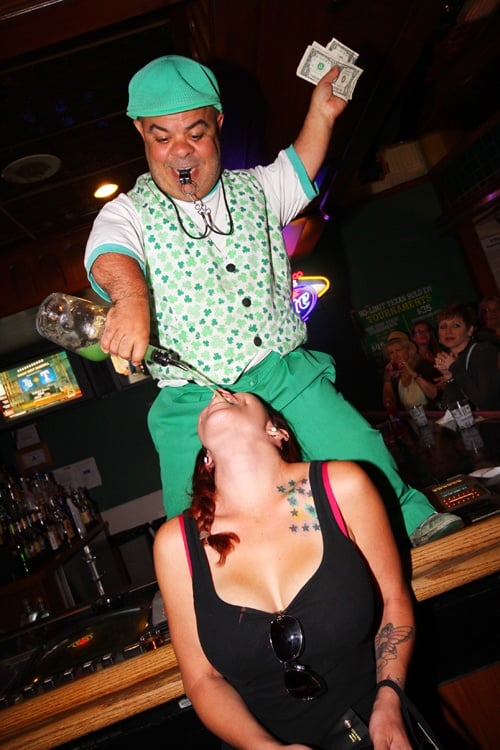 Many memories of the closing day of the original O'Sheas Casino are still surprisingly vivid.
Longtime customers said "goodbye" to their favorite dealers.
Lucky poured free shots from atop the bar.
Guests signed a memory wall that was supposed to be put up at the new O'Sheas. (It never was.)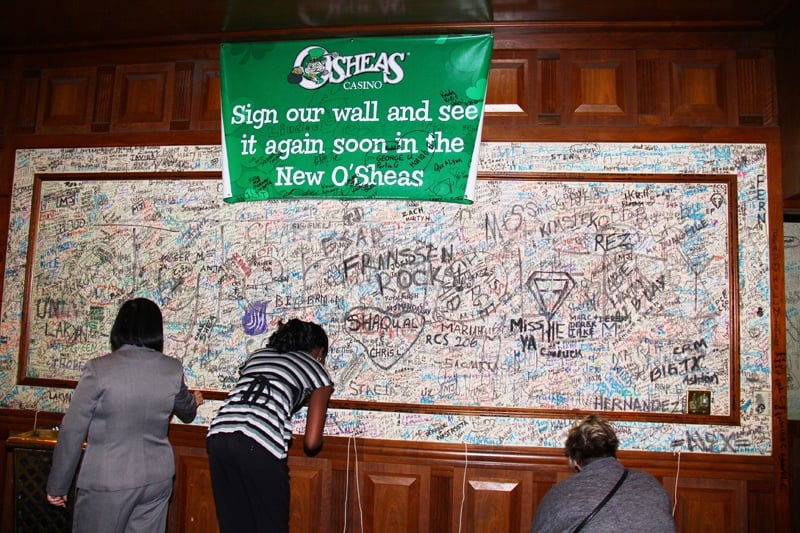 Gamblers made their bets on the final spin of the roulette wheel. The very last number called at O'Sheas Casino was 31, black.
Emotions ran high as customers were ushered out of the building and employees wondered about their jobs. Most moved on to other Caesars Entertainment resorts in town.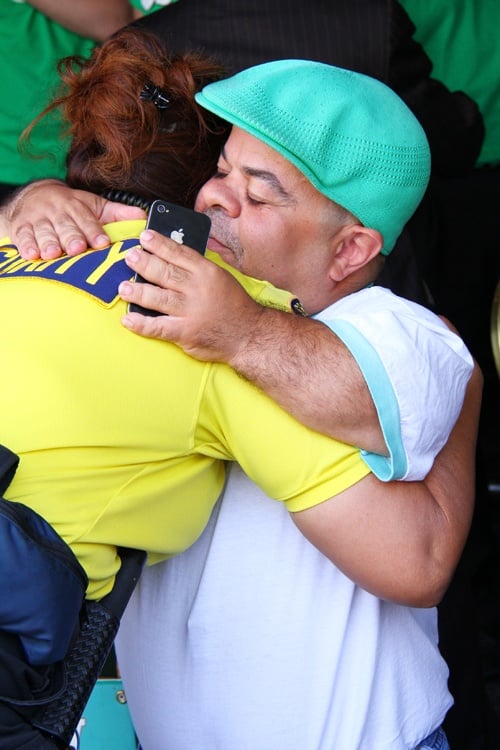 Our most vivid memory was of a reflective moment with Brian Thomas. As the doors closed at O'Sheas, it all began to sink in, and all the hugs and fist bumps in the world couldn't keep the tears at bay.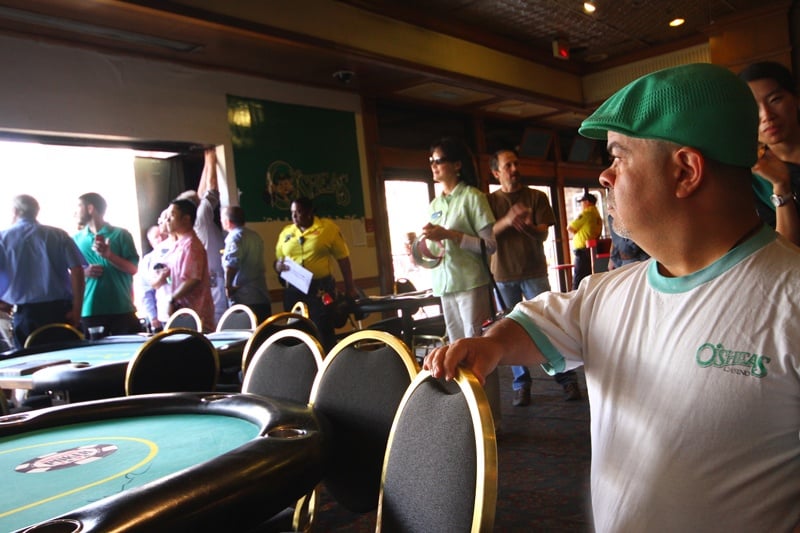 Five years on, the number of low roller-friendly casinos on The Strip has dwindled, and the closing of O'Sheas feels like a turning point in many ways. Yes, the old girl was run-down, but for its devotees, O'Sheas was a bastion of value and unpretentious, shot-fueled good times they'll always remember.
Enjoy a few more photos from the closing of O'Sheas, below.
Did you see a freak show or big cat magic show at O'Sheas? Did you ever rub the belly of the frog statue at Burger King for good luck or grab a taco at El Gringo Loco? Did you get a tattoo or have your fortune read there? We'd love to hear your O'Sheas memories.
The Original O'Sheas Casino Closes