Cat's Meow Karaoke Club Opens at Neonopolis and It Could Be a Thing
There's something we need to communicate right up front: We are not a karaoke person.
That said, we're pretty sure the new Cat's Meow karaoke club at Neonopolis in downtown Las Vegas is going to make a killing.

While Cat's Meow is new to Las Vegas, it's anything but new. The original location in New Orleans has been going strong for 30 years.

We popped into Cat's Meow Las Vegas about three minutes after it opened, and there were already signs this new venue is going to be a winner, despite what has traditionally been a challenging location.
Neonopolis has struggled for years to find the right mix of tenants, but Cat's Meow seems a perfect fit, both for the shopping complex and Fremont Street.

Cat's Meow is expected to overcome one of the challenges of being in Neonopolis (access) with a shiny new escalator.
Management says the escalator has been approved and will be installed in August. It will deliver guests from Fremont Street directly to the venue's front door. This is sure to be a godsend for another nightlife business on the second floor, The Nerd, as well.

Cat's Meow comes from the owners of the Deja Vu strip club chain, so they know a little about crowd-pleasing entertainment.
Among the many attributes of Cat's Meow: Two bars.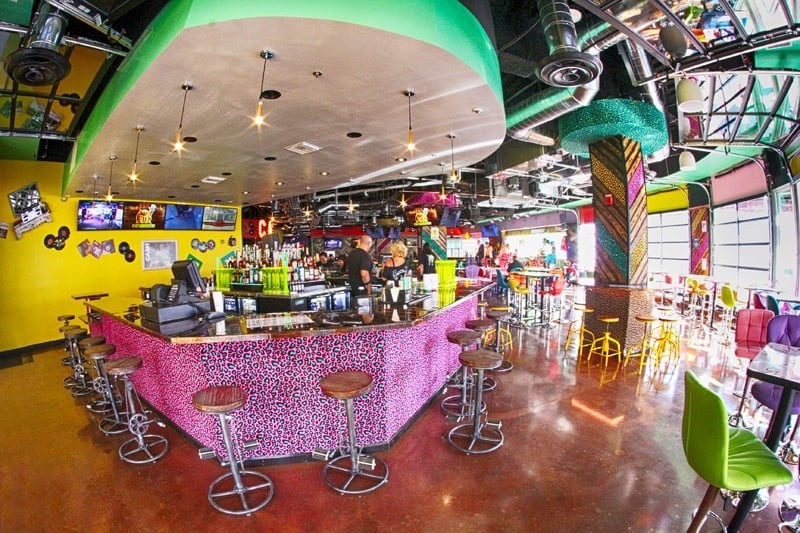 A lot of time, money and thought has gone into the interior design of Cat's Meow, including the restroom, with its unisex washroom area.

The furniture is plentiful and quirky.

Cat's Meow is massive, and the karaoke club takes up only a portion of the available space.
Rumors abound a second development phase of the space is in the works, and when we asked if it might be a strip club, we didn't get a "no." We trust there will be some hurdles if that's the plan, but downtown hasn't seen a strip club since Glitter Gulch was demolished to make way for Circa Las Vegas.
Here's a security breach of the space that's still in the works.

But back to the karaoke!
Even minutes into Cat's Meow being open, the energy was palpable. This probably has to do with the DJs in the booth and the emcee on the stage.
The emcee keeps the flow of the show going, livening up the performances of even the least talented karaoke participants.

As with any karaoke venue, you occasionally get singers you suspect must be ringers, but aren't. They're just the right kind of singer with the perfect song and liquid courage to spur them on.
From what we can tell, the staff at Cat's Meow were auditioned for their singing chops, because they frequently jump onstage between songs by guests.
This keeps the overall karaoke quality high, and seeing one's server onstage belting one out makes the whole experience more fun and interactive.
Cat's Meow provides a curated song list. This helps the energy level, too, as it prevents unfortunate song choices that can be a buzzkill.
Here's a look at the Cat's Meow song menu: Part one and part two.
Note the ingenious $50 "cut the line VIP pass." Pricey, but we get the feeling Cat's Meow knows its customers and their priorities. When you're on vacation, time is valuable, so it's a relatively small price to pay to expedite one's moment in the spotlight.
Costumes and music props add another level of silliness to the proceedings and help differentiate Cat's Meow from the competition. Although, in Las Vegas, there's not a lot of competition. For karaoke on The Strip, it's Ellis Island. Downtown, it's pretty much Cat's Meow.
We're not telling you about anywhere else as it might encourage you to sing in public.

As you might expect, the libations are plentiful at Cat's Meow. The pours are a little strict, but we suspect bartenders were following the rules closely during the soft opening.
The official grand opening of Cat's Meow is July 18, 2019.
Our lone criticism of Cat's Meow is a service charge tacked into drinks. Nuisance charges are a hot button topic in Las Vegas at the moment, so we weren't thrilled to see this one.

To the credit of Cat's Meow management, we heard back from them immediately about our concerns.
The company says the service charge is, in effect, a bonus for employees. Per Nevada law, service charges must be distributed to employees and can't be retained by the employer, according to the club rep.
Management also says service charges aren't subject to Nevada sales tax since they are distributed to employees, thus saving the venue money. Management of Cat's Meow felt the service charge "would allow employees to share in the success of the business."
We don't get it, but we're also not investing a bajillion dollars in a new business venture. We figure if it's akin to a 10% auto-gratuity, we'll adjust our tip accordingly. Management says they'll be posting signage and training staff to explain the service charge to help avoid confusion.
On the bright side, a specialty cocktail menu is in the works. The Cat's Meow in New Orleans is famous for its 3-for-1 drink specials, so expect that to be offered during the happy hour at Cat's Meow Las Vegas.
Overall, Cat's Meow looks and feels like a concept tailor made for the circus that is Fremont Street.

The party atmosphere at Cat's Meow hits all the right notes, giving guests permission to check their inhibitions and unleash their inner Gaga.
Because, as we once said in our incredibly popular Twitter feed, "Las Vegas isn't just a place to go, it's a vacation from ourselves."
Yes, we just quoted us.
If you hit Cat's Meow karaoke club at Neonopolis, tell us what you think.