Wynn Resorts and Massachusetts Regulators Bury the Hatchet to Focus on Encore Boston Harbor June 23 Finish Line
Posted on: May 7, 2019, 11:45h.
Last updated on: May 7, 2019, 11:45h.
Having hit Wynn Resorts with a $35 million fine last week for failing to disclose sexual misconduct allegations against the company's former chairman and CEO, Steve Wynn, the Massachusetts Gaming Commission (MGC) in now bending over backwards to ensure its Encore Boston Harbor can open in time.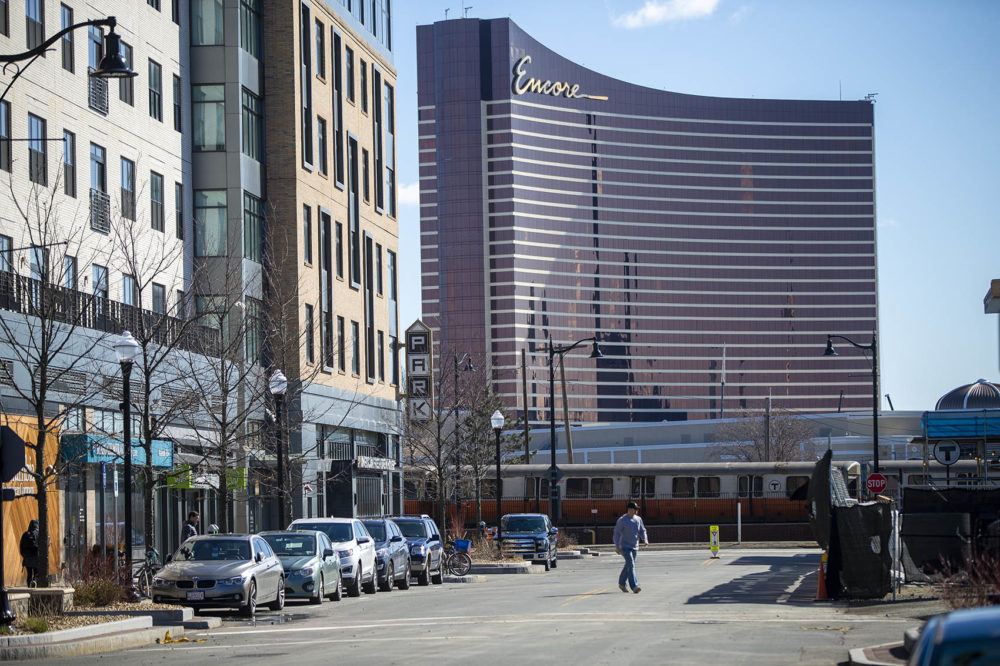 The commission could have revoked the company's license after concluding that at least one former board member had known about a $7.5 million settlement paid to a former employee who accused Wynn of sexual assault but had failed to mention it during the initial licensing process.
But instead, when the commission met with company representatives on Monday, the focus turned from licensing suitability to issues like traffic monitoring, minority workforce compliance, environmental concerns, and — most importantly — getting the $2.6 billion project open by its scheduled deadline of June 23.
It is after all, the largest single-phase private development in the history of Massachusetts.
Project on Track
South Coast Today reports that after receiving updates on the status of construction work, MGC Construction Project Oversight Manager Joe Delaney said there was "no reason right now to think that won't happen."
Wynn Resorts' head of design and construction Peter Campot, and Encore Boston Harbor vice-president, Jacqui Krum, reported that the convention space and hotel are almost complete, while slot machines have already been installed on the gaming floor. Construction is expected to be completely finished on June 1, although landscaping work might run right to the wire.
We've got this covered — air, land and sea," said Wynn Boston Harbor President Bob DeSalvio said Monday, as per SCT.
"We know that first week for sure is going to be a challenge, after that we're going to wait and see what the midweeks are like … There's clearly going to be a new kid on the block syndrome, you're going to have a lot of initial trial and all of our partners have said that they will work with us all the way through that," he added.
$35 Million Outstanding
In the meantime, Wynn Resorts has yet to agree to pay the $35 million fine, although that issue is expected to be resolved this week during a meeting of the Wynn Resorts board of directors.
In its conclusion to the suitability investigation, the MGC found there was "no substantial evidence to support a finding that … Wynn Resorts … willfully provided false or misleading information to the Commission at any time during the licensing process."
However, THE MGC added it was "difficult to fathom why the existence of the allegations and settlements was not disclosed" during the process, particularly by former executive vice-president and general counsel Kim Sinatra, who the MGC concluded knew about the $7.5 million settlement.
Current CEO Matt Maddox, who had been described as Steve Wynn's right-hand man for nearly 20 years, was personally fined $500,000 by the MGC and ordered to attend several leadership training programs.
How Much is $35 Million to Wynn Resorts?
According to its last reported financial results, Wynn Resorts was generating an average of $18.7 million per day, based on the $1.69 billion in revenues reported for the quarter.
In terms of net income, the company booked $476.6 million in Q4, or $5.2 million per day, which means it should be making enough profit to clear the fine completely in just under a week.
If you listen carefully, you can just about make out the sound of a gentle slapping of wrists reverberating across the Mystic River.