Trump Taj Mahal Liquidation Sale Underway, Casino and Resort Relics Up for Grabs
Posted on: July 6, 2017, 01:00h.
Last updated on: July 6, 2017, 11:33h.
Everything from the Trump Taj Mahal's crystal chandeliers and hotel room furniture, to the casino's poker room tables and embroidered chairs, can now be yours through a liquidation sale currently underway.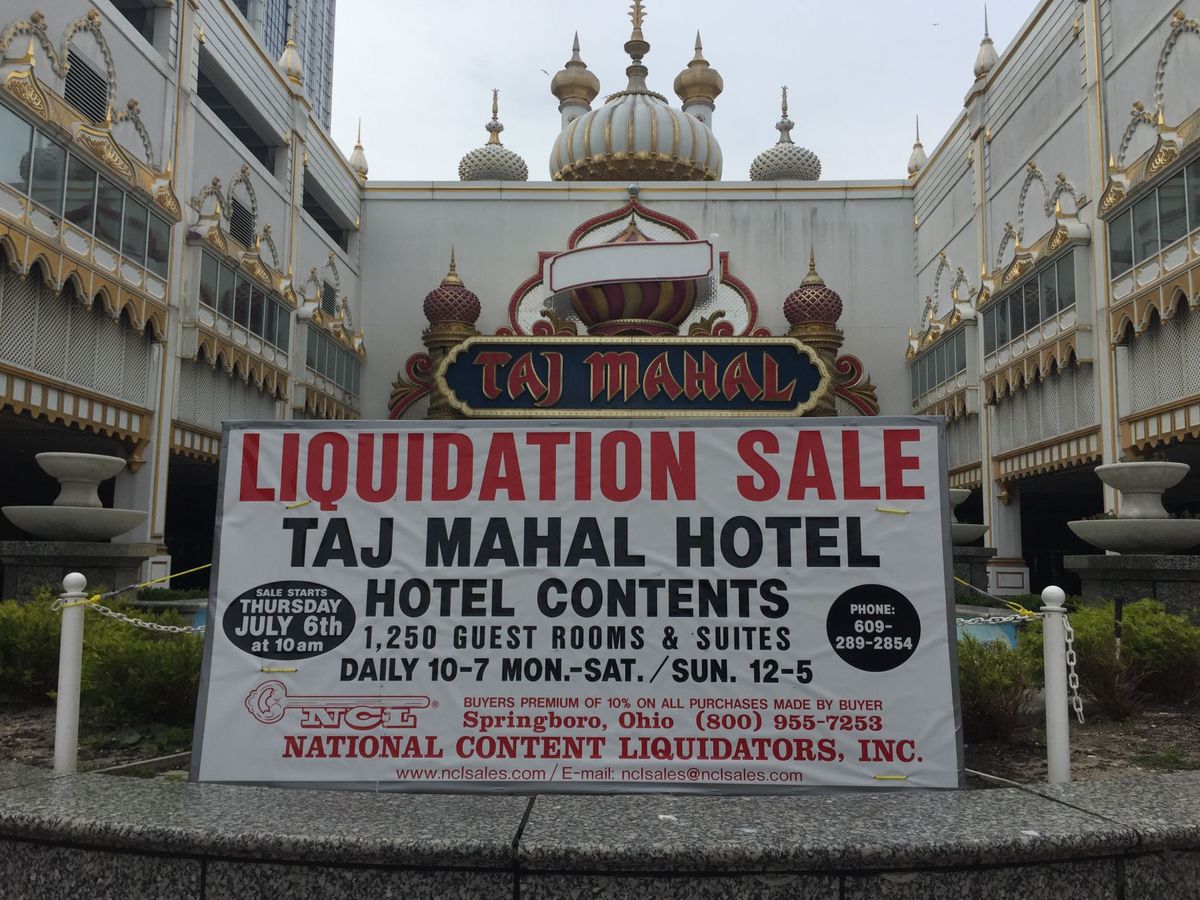 The selloff began Thursday morning at 10 am, and nearly everything under the roof has a ticket price and is being sold as-is. But anything with President Donald Trump's name on it, the former casino developer who opened the Taj in 1990 at a cost of $1.2 billion, isn't up for grabs. Slot machines and non-poker tables have also been removed and are not available for purchase.
Hard Rock International acquired the shuttered Boardwalk resort in March for just $50 million. That equates to about four cents on the dollar compared to what it cost to construct the property.
After undergoing a renovation that is expected to total $500 million, Hard Rock plans to reopen the resort Memorial Day weekend next year.
Long Lines Likely
The Trump Taj Mahal liquidation sale is expected to attract hundreds of people each day during the 60-day sale. From now through early September, the resort will be open 10 am to 7 pm Monday through Saturday, with Sunday's hours going from 12 noon to 5 pm.
Former patrons and guests, those looking to own a piece of Atlantic City nostalgia, and simply bargain hunters, are predicted to flood the liquidation.
"We don't let all the people in at once," said Don Hayes, whose company National Content Liquidators is running the sale. "It's a controlled public sale so we have a few people go in at a time. There will be lines inside and outside."
About 50 people at a time will be permitted entrance. The resort largely sits as it did when it closed last October, the exception being anything with the Trump name has been taken down and removed.
Hayes says it will likely take weeks before everything is sold. He also added that Trump being president didn't inflate prices, and listings rival costs at similar resort liquidations.
For Sale
Those in the market for a bedroom set will have plenty to choose from. The furniture from the 1,250 guestrooms and suites are being sold, with king and queen beds, end tables, sofas, daybeds, lamps, entertainment centers, drapes, and mini fridges priced to sell.
There's also large embroidered Burmese Thai tapestries framed with hand-threaded beads and sequins, a baby grand piano, and crystal sconces. Wall furnishings and artwork from the main casino and resort entryway are listed, too.
Chairs from guestrooms are going for about $15 to $25, bedside lamps are just $3, and clothes irons are $8.
Those fortunate enough to grab one of the limited number of poker tables will have to ante up $550 for a nine-person table. A lone 10-player table is selling for $650.
Dubbed the "Eighth Wonder of the World" by Trump in 1990, 27 years later, buyers can now walk through the resort and snag almost whatever keepsake they wish.
Similar Guides On This Topic