SLS Las Vegas Sale Price Tussle Means Final Deal Likely Delayed Until Q1 2018
Posted on: October 30, 2017, 04:30h.
Last updated on: October 30, 2017, 02:24h.
Sales price haggling over the SLS Las Vegas may have pushed back the deal's anticipated closing date, a spokesman for the transaction announced over the weekend. Negotiations between purchaser Alex Meruelo's company and seller Stockbridge Capital Partners were expected to be finalized by September, but will now probably be delayed until at least early 2018.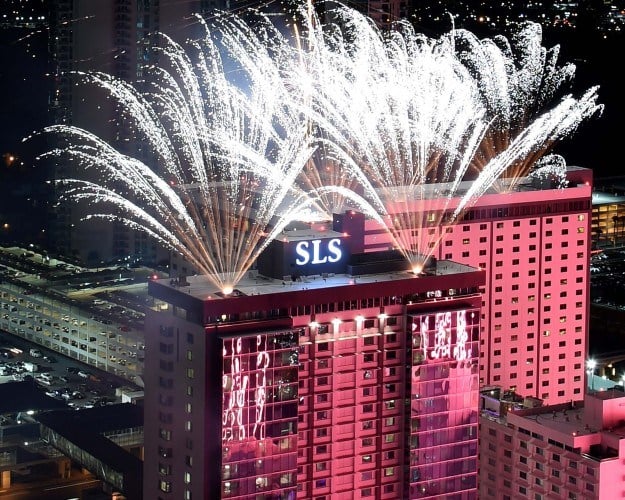 San Francisco-based real estate firm Stockbridge, and Meruelo (who owns construction and real estate development firm Meruelo Group) bantered over the price after the two first announced the deal back in May.
Andrew Diss, director of government affairs for Meruelo's Grand Sierra Resort in Reno, Nevada, told the Las Vegas Review-Journal that everything is now back on track.
"The financing is all worked out at this point," he said, after announcing the latest status of the sale. "We are just waiting for [Nevada] Gaming Control Board approval."
Strip Sales Could Have Impact on Sales Price
Recent sales of other Las Vegas casinos, including Red Rock Resorts' $313 million purchase of the Palms in 2016 and Penn National's $360 million buyout of the Tropicana in 2015, most likely will have had an effect on the final SLS price Meruelo Group was willing to pay Stockbridge.
A purchase price has not been disclosed by either party, but may have been lower than the $400 million that Sam Nazarian bought the former Sahara Hotel for in 2007, based on the more recent sales numbers for the Palms and the Trop.
Meruelo has a history of buying distressed properties and turning them around. The Cuban-American began with a Southern California pizza chain and used the profits to acquire construction, banking, media, and gaming companies. His only stumble was a failed bid to buy the NBA's Atlanta Hawks in 2011.
Negotiating Power
Likely in Meruelo's camp is the simple fact that the SLS has had a tough time turning a profit almost from the day it opened on August 23, 2014. Original purchaser Nazarian envisioned a chic, hip resort that would attract millennials and club goers. The company spent $415 million to renovate the venue and put in restaurants with celebrity chefs, three nightclubs, and a 3-D ceiling video screen above the Center Bar near the main entrance.
But the concept never took hold with the targeted demographic. Part of that was due to the SLS's awkward location at the north end of the Las Vegas Strip. The resort was completely surrounded by failed or stalled resorts, such as Alon, Fontainebleau, and Resorts World, and nothing says "not hip" more than a wasteland.
Getting a gaming license was also a problem for the Los Angeles-based Nazarian because of past misdeeds. He was ultimately given a one-year limited license, but was not allowed to run day-to-day operations. He sold his 10 percent stake in the facility on October 15, 2015.
The SLS suffered a steady stream of deficits, and during the first six months of 2015, the casino resort reported a net loss of nearly $84 million. Another shortfall of $39 million was announced for the next three months, after which financials ceased to be shared at all.
Similar Guides On This Topic