Sam Nazarian Granted Gaming License Despite Checkered History
Posted on: December 19, 2014, 06:30h.
Last updated on: December 20, 2014, 04:26h.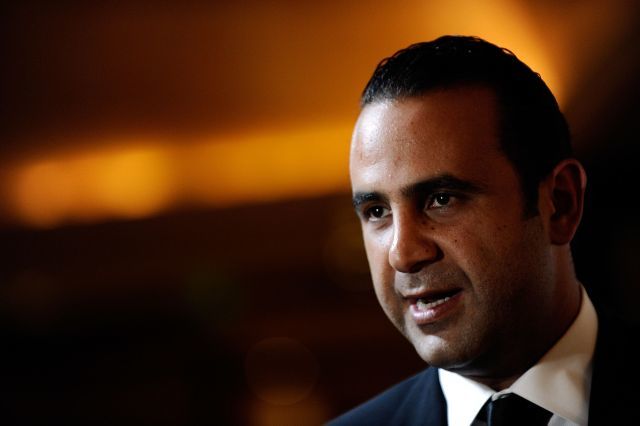 Sam Nazarian, the man who redeveloped the Sahara into the boutique casino hotel SLS Las Vegas, was awarded a limited gaming license on Thursday following a three-hour grilling by the Nevada Gaming Control Board about his private life and business deals.
The LA nightclub mogul had been expected to be refused a license following disclosures during a recent routine hearing that he had lied about cocaine use and had made around $3 million in payments to a man called Derrick Armstrong, a shadowy figure with a criminal history.
Some of this money had found its way to convicted racketeering criminal Suge Knight, the founder of Death Row records, investigators discovered.
In one particularly surreal moment during Thursday's hearing, Armstrong actually turned up demanding to address the Gaming Commission himself, but was arrested outside the building on suspicion of grand theft and passing bad checks.
Substance Abuse
As owner of a ten percent stake in SLS, Nazarian is required by law to possess a gaming license, as does anybody who owns more than 5 percent of a casino in Nevada.
Three of the four-member Control Board panel said they had initially planned to deny a license but softened their stance during the hearing, awarding a one-year limited gaming license with a raft of conditions, one of which stipulated that Nazarian must refrain from involving himself in the day-to-day management of the casino.
He must also undergo regular drug-testing.
Nazarian apologized to the Control Board for his dishonesty about his drug-taking and admitted past use of ecstasy, cocaine and cannabis and he is seeking help from a substance abuse specialist in LA.
"It's not been easy looking into the mirror," Nazarian told the hearing. "I apologize to the gaming agents for not being candid. I also apologize to the board members. "My parents are disappointed, but they are very supportive," he added.
The Nazarian family, which left its native Iran for the US in the wake of the Iranian revolution, is one of the richest Mizrahi Jewish families in the world, with an estimated fortune of $2 billion.
Extortion Claim
Nazarian said in a previous hearing that his relationship with Armstrong, who was convicted of drug offenses and money laundering, was based on extortion.
Nazarian said he met Armstrong in 1999 when he employed him to customize his collection of exotic cars.
Armstrong then borrowed money from Nazarian to open a car shop, before demanding $1 million more while threatening to harm or embarrass him.
Nazarian reported the threats to the police in 2005 but continued making payments up until 2013.
"All I ask for is a chance to regain your trust," Nazarian said. "You have my commitment, and I apologize for the mistakes I made."
"I want the board during this investigation to drive you crazy," responded Tony Alamo, chairman of Gaming Commission, who admitted this he had "never been this close" to a vote for denial in six years in the job. "I think during this limited period we've given you enough rope to hang yourself."
Gaming Commissioner John Moran Jr said: "I've listened to you today and you swayed me a bit. I want to put enough conditions on you so that you don't mess up."