Cordish Companies Seek Philadelphia Casino Project Control, Plan Parx Buyout
Posted on: November 23, 2018, 07:00h.
Last updated on: November 22, 2018, 03:52h.
The long-delayed Philadelphia casino set for the city's stadium district has been in a state of flux for months, but it now appears the project is moving forward.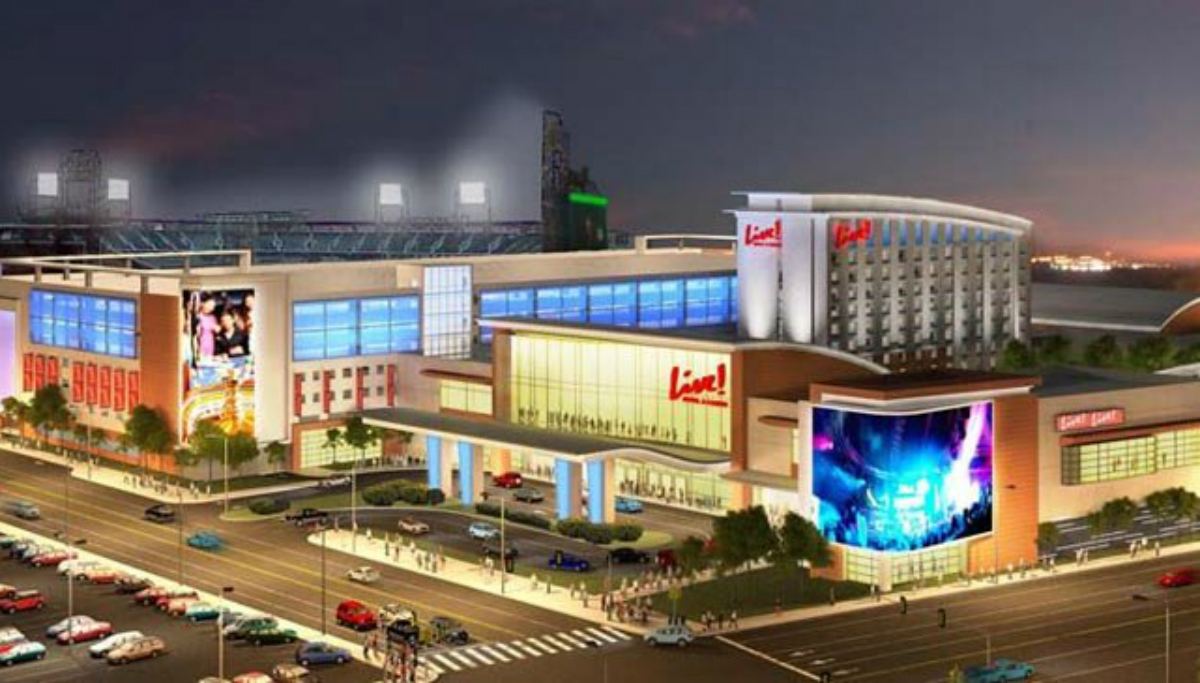 The Cordish Companies, a Maryland-based real estate developer that owns and operates the Live! Hotel and Casino, is hoping to buy out its former partner in the Philly project and assume full control.
Stadium Casino LLC is a joint venture between Cordish and the owner of the Parx Casino. In filings made with the Pennsylvania Gaming Control Board (PGCB) this week, Cordish asks the state agency to approve a "corporate restructuring" and allow it to buy out Greenwood Racing, the parent company to Parx.   
Terms of the deal between the privately held companies were not revealed, but it's presumably a buyout that ranges into the tens of millions of dollars.
Costly Breakup
The relationship between Cordish and Greenwood was rocky from the start. The two struggled to finalize their vision for the casino located adjacent to the city's four major professional sports teams – Eagles, Phillies, 76ers, and Flyers – as well as Cordish's Xfinity Live! entertainment complex.
They decided on a $600 million development that would offer 2,000 slots, 125 table games, and 240-room hotel.
Stadium Casino LLC paid the PGCB $50 million upfront for its license, plus a $24.5 million add-on for table games. The entity later ponied up a $40.1 million winning bid for a satellite casino. The entity chose Westmoreland in Western Pennsylvania for the site of the mini casino that will be permitted to house up to 750 slots and 30 tables.
All in, Stadium Casino has handed over more than $114 million to the state in license fees.
We at Cordish are excited to now immediately get to work on constructing and opening two first-class casinos for Pennsylvania, which will create thousands of new, quality jobs for local residents, and hundreds of millions of dollars in new taxes for the commonwealth," Cordish executive Joe Weinberg said in a statement.
Along with the licenses, Stadium Casino bought a former Holiday Inn where it plans to build its casino and hotel. The purchase price was not disclosed.
Project Resumes
Rumors began circulating last month that the Philadelphia stadium casino was off.
"Sources are telling us that the Philly Live! casino project is dead in the water," Global Gaming Business insider Roger Gros said. "The two owners, Cordish and Parx, will ask permission from the PA gaming board to sell the license. No confirmation yet, but very reliable source."
If the rumors were true, it appears Cordish had a change of heart and will now proceed with the two Pennsylvania casinos.
No state has recently liberalized its gaming laws more than Pennsylvania. The massive expansion passed last fall called for as many as 10 satellite casinos (only five successful bids occurred), online gambling, daily fantasy sports, slot machines in truck stops, airport gaming lounges, and sports betting.
Sports betting is now up and running, with Penn National's Hollywood Casino taking the first wager last week. While sports gambling is expected to grow gaming revenues for casinos in states where it's becoming legal in wake of the US Supreme Court's May decision, Pennsylvania's effective tax of 36 percent has been criticized as excessive.
Similar Guides On This Topic