Pennsylvania Casinos Set Table Games Record, MGM Still Eyeing Sands Bethlehem
Posted on: May 21, 2017, 10:00h.
Last updated on: May 20, 2017, 11:08h.
Pennsylvania casinos pull in more total gaming revenue than Atlantic City, and nearly a third of what Nevada does each month. And April was yet another strong month for Commonwealth's 12 gambling destinations.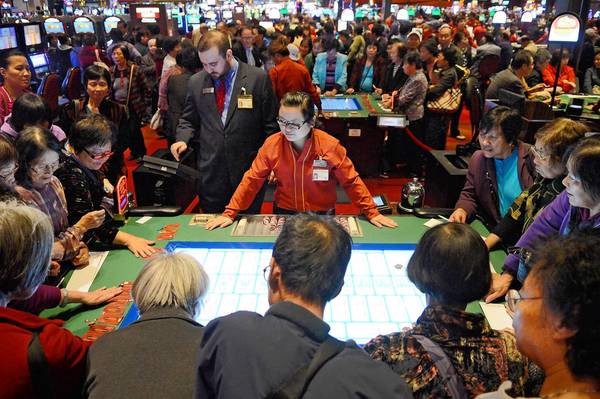 The dozen casinos collected $285.25 million in April, a 1.44 percent increase compared to 2016. Table games were responsible for the bump, as they set an all-time monthly high by winning $79.5 million, their best 30-day period since the state legalized tables in 2010.
Slots accounted for the remaining $205.7 million, but that total represents a 1.6 percent drop year over year. Meanwhile, tables were up more than 10 percent. April's take for games like blackjack, roulette, and craps was the second straight record-setting month.
Behind only Nevada, Pennsylvania is America's second richest casino revenue state.
Sands Storm
Sands Bethlehem, Las Vegas Sands' only non-Nevada domestic property, led the way in table revenue during April. The Allentown-area property pulled in the lion's share with $21.9 million, a nearly 24 percent bonus on its 2016 win.
Philadelphia's Parx Casino was the top overall earner. Its combined table games and slots revenue clocked in at $49 million.
Billionaire Sheldon Adelson, who controls 52 percent of Las Vegas Sands stock, is reportedly in discussions with MGM Resorts to sell his Pennsylvania cash cow. The rumored price is somewhere around $1.3 billion, though both sides are staying quiet on the negotiations.
Sands Bethlehem recently halted construction on a $90 million expansion project.
It isn't exactly clear why Adelson is rumored to be looking to unload Sands Bethlehem. The casino posted yet another gain in 2016, as slots revenue totaled $305 million and tables came in at $230.2 million. That equates to $21.3 million more in 2016 revenue than in 2015, or a 4 percent gain.
Gaming Expansion
Adelson might be bearish on Pennsylvania due to ongoing legislative efforts to expand gaming in the state. With Harrisburg facing a mounting fiscal problem, and Democratic Governor Tom Wolf looking to increase spending on education, the Republican-controlled General Assembly is scurrying for ways to generate new revenue without raising taxes.
Politicians have floated numerous ideas. Sports betting, daily fantasy sports, gaming machines at bars, slots at airports, and most despised by Adelson, online casinos.
The billionaire has been on a self-described "moral crusade" to impede internet gambling expansion in the US. A host of states are currently mulling iGaming legislation, but Pennsylvania is seen as the most likely contender to join Nevada, New Jersey, and Delaware.
Another critical issue facing the state is how to deal with the local share assessment casinos have been forced to pay since Pennsylvania legalized gambling back in 2006. The state's Supreme Court ruled last year that the law mandating casinos pay their host communities $10 million each year violates uniformity law.
The high court initially stayed its ruling, and later postponed it, but the current deadline is May 26 for lawmakers to make sure vital revenue continues being distributed to local governments. Some casinos have verbally said the $10 million payments will continue regardless of whether the state finds a resolution. One that hasn't: Sands Bethlehem.
Latest Casino Stocks:
Retrieving stocks data...
Retrieving stocks data...
Retrieving stocks data...
Retrieving stocks data...
Retrieving stocks data...