Powerful NCAA Commissioners Express Concerns Regarding Legal Sports Betting at Football Media Days
Posted on: July 16, 2019, 08:23h.
Last updated on: July 16, 2019, 09:40h.
The NCAA football season is just around the corner, and at this week's media days, the discussion of legal sports betting expansion across the country took the field.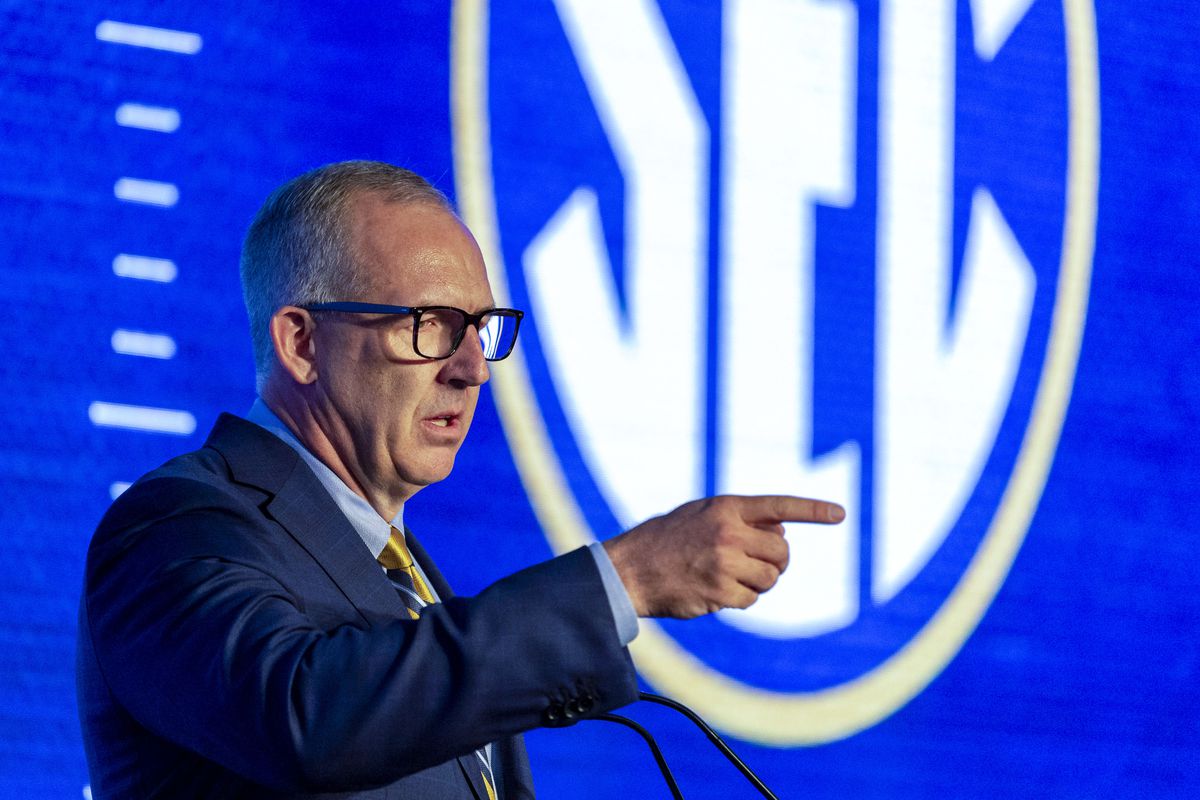 The SEC and Big 12 – two of the Power Five conferences in the Football Bowl Subdivision – opened their media days Monday, and reporters in attendance wasted little time in bringing up the topic of sports betting.
SEC Commissioner Greg Sankey and Big 12 Commissioner Bob Bowlsby expressed varying trepidations regarding the impact legal sportsbooks in states where their games are being contested might have on players, students, and fans.
Sankey focused on sports betting and mental health. "The perspectives on mental health represent not a ripple of change, but a wave of new reality, which faces all of us in intercollegiate athletics and higher education," Sankey declared.
The Supreme Court in May 2018 repealed the federal sports betting ban that had limited the activity everywhere but Nevada. Legal sports gambling is now operational also in Delaware, New Jersey, Pennsylvania, Rhode Island, West Virginia, Mississippi, Arkansas, New York, and New Mexico.
Federal Intervention 
The SCOTUS decision freed states to set their own laws on sports betting. However, any future federal legislation on the matter would supersede state laws, meaning Congress could shakeup legal markets should they decide to create some sort of regulatory framework.
Sankey, as well as NCAA President Mark Emmert, have called on Congress to set basic sports betting conditions that each state wishing to allow such gambling adhere. "While we recognize the critical role of state governments, strong federal standards are necessary to safeguard the integrity of college sports and the athletes who play these games at all levels," Emmert said following the SCOTUS decision.
Sankey maintained that position this week.
"The SEC presidents and chancellors have expressed strong support for NCAA national office efforts to seek federal legislation that will regulate sports gambling," Sankey said. "Ideally, there would be uniformed practices applicable across states throughout the country governing gambling on college sports, particularly eliminating specific in-game betting and proposition bets on college sports."
The American Gaming Association, the gaming industry's leading lobbying group in DC, has said an added regulatory layer will only allow offshore sportsbooks to thrive.
No More Roster Surprises
Bowlsby was asked about mandatory roster reporting prior to each week's kickoff of games.
Due to the Health Insurance Portability and Accountability Act (HIPPA) – and the fact that college football players are still considered "amateurs," they're entitled to health privacy. But there are widespread concerns that keeping status quo will allow a player or person close to the team who has unpublicized knowledge of a star player's inactive status to share that news with rogue outside influences.
"The case for doing it is really a protectionist case," Bowlsby said. "There will be lots of people around who are talking to assistant trainers or kids on the football team or friends in the dorm or others that may think have information.
"Mandatory reporting would eliminate people skulking around trying to find a leak that could give them inside information, so there could be a case made for it," the Big 12 boss concluded.