MGM Resorts Misses Fourth-Quarter Projections, but Springfield Casino Construction Ahead of Schedule
Posted on: February 16, 2017, 05:00h.
Last updated on: February 16, 2017, 04:36h.
MGM Resorts posted improved fourth-quarter revenues in 2016 compared to the previous year, but the generated income fell far short of projections.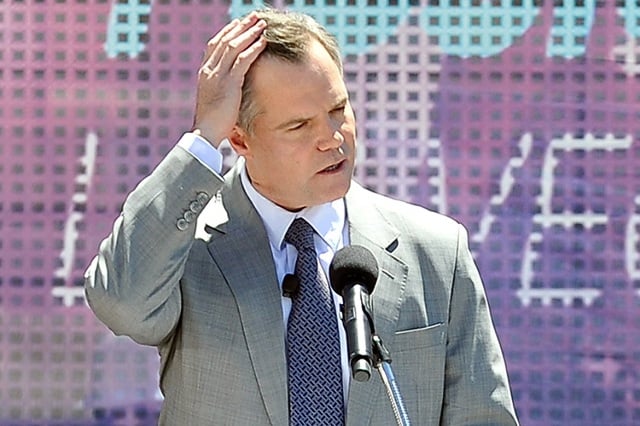 The Las Vegas-headquartered gaming and hospitality company reported net income of nearly $70 million for the final three months of the year. That translates to four cents per share, a far cry from the analysts' consensus estimate of 21 cents for the quarter.
Though the company's new property in Washington, DC, appropriately named National Harbor, brought in big money for MGM, and performance improved at the conglomerate's 10 venues in Las Vegas and Atlantic City's Borgata, the convention space underperformed.
Regardless of coming in well under fiscal expectations, CEO Jim Murren painted the earnings data in a rosy light.
"The achievement of key financial and strategic milestones demonstrates our continued focus on driving profitability," Murren said in a release. "We are excited about the outlook for 2017."
Investors on Wall Street don't normally take the bait, and value numbers over words. Traded on the New York Stock Exchange, shares of MGM Resorts fell as much as nine percent following the financial announcement.
For the complete year, MGM generated a net income of $1.24 billion, or $1.94 per share. That's a substantial improvement on the net loss of $1.05 billion MGM reported in 2015.
Springfield Awakening
Though revenues disappointed, a bit of good news from MGM is that construction on its $950 million resort casino in Massachusetts is ahead of schedule. Originally planned to open sometime in the fall of 2018, the venue is now rumored to be considering a summer ceremony to first welcome guests.
The expedition is a result of the Massachusetts Department of Transportation exceeding expectations on refurbishing an elevated two-mile stretch of Interstate 91 near the casino. Highway officials say the road will be ready for full use in May 2018.
MGM Springfield has been under construction for 18 months. Per compliance documents filed earlier this month, the project is now more than 50 percent complete.
MGM Remains Optimistic
Investors may be running from MGM this week, but many financial analysts believe the long-term outlook continues to be bright for the company. MGM National Harbor has been a smashing success in the nation's capital, and with Springfield on the way, MGM is expanding its reach into new US gambling markets.
Macau's overall revenues are also seemingly stabilizing, as the city's resorts switch focus from the VIP gambler to the mass market. MGM has been invested in the special Chinese gambling zone since its entry in 2007 with MGM Macau.
The company is doubling down on its Macau holdings by venturing into the Cotai Strip, a term coined by Sheldon Adelson and Las Vegas Sands to describe the new gaming hotbed area that sits atop reclaimed land. MGM Cotai, a 1,500-room hotel and casino with a price tag of $3 billion, is expected to open in the second half of 2017.
Murren hopes the continued investment pays off for MGM shareholders and revenue continues to grow.
Similar Guides On This Topic